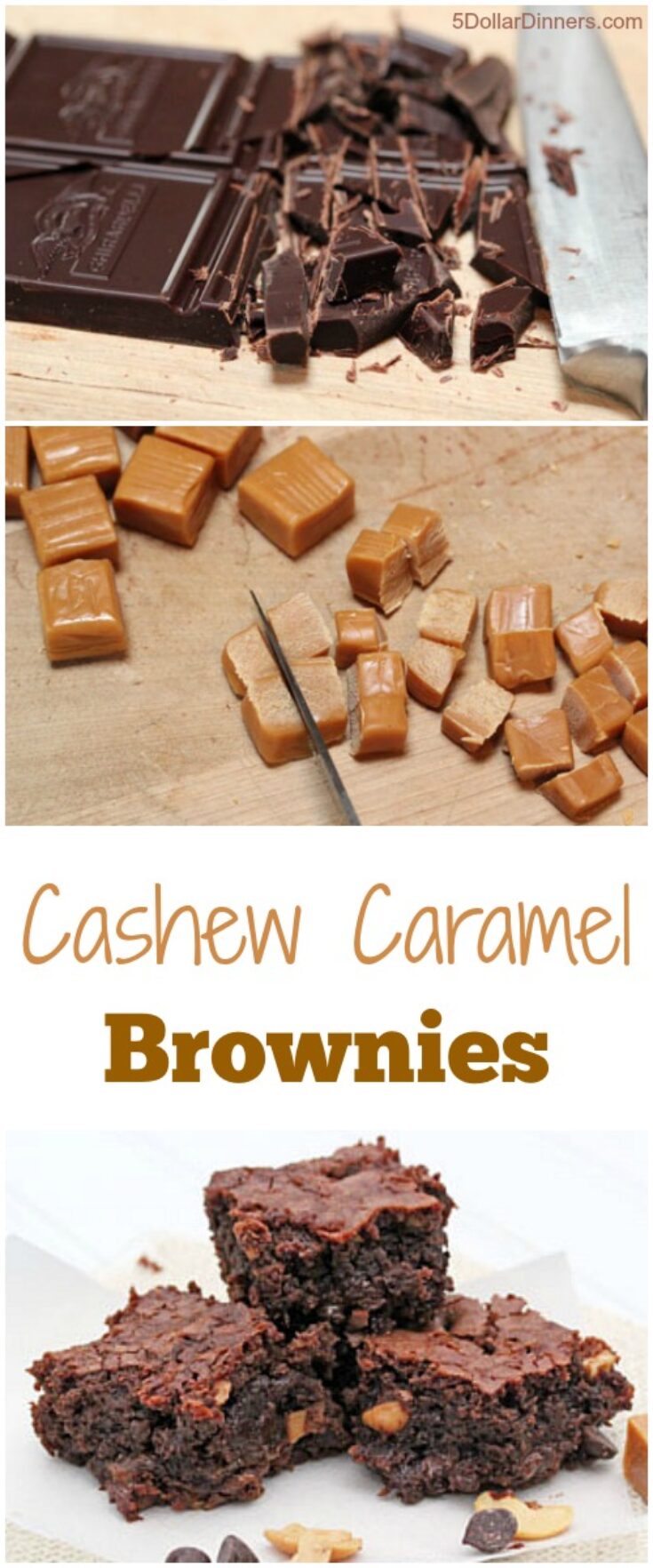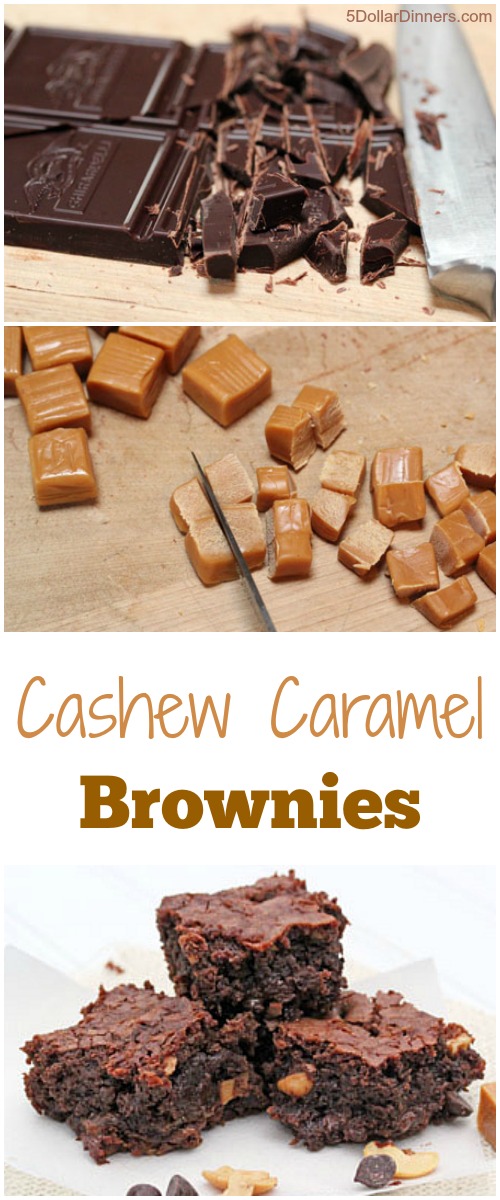 I have had these brownies bookmarked since I started this whole "dessert of the month" thing back in January. And when it came time for a sleepover this past Friday night, I thought a pan of these was in order!
Now the question…was I making these for the kids, or for me?!
(5 boys, 6 & under…husband out watching the hockey game with a friend…a pan full of brownies…testosterone running high. Literally running. In circles. Around me.)
Please pass the pan of brownies. I'll eat the rest of what's left.
And while you're at it, could you please bring me some estrogen to balance out all this testosterone.
Please.

No really…in all seriousness…I absolutely love having all the boys over…and I look forward to many more nights filled with rambunctious, brownie stuffed boys, running circles around the house, jumping off couches, crashing into bean bags and organizing wrestling matches. It brings me much joy.
(And kinda makes me want a daughter too!)
So back to the brownies. The picture captured my heart. But as I read the recipe more closely, I knew I had to "time doctor" it. As I didn't have 2 1/2 hours to make these. The afternoon got away from me, and I had to get these done in 45 minutes or less. Including the bake time!
So I changed it up a bit…used all the original ingredients…just put it all "in" the batter, as opposed to "on top" of the brownies.
Whatever…chocolate, cashews, caramels…all together…however you do it, it's just gonna work!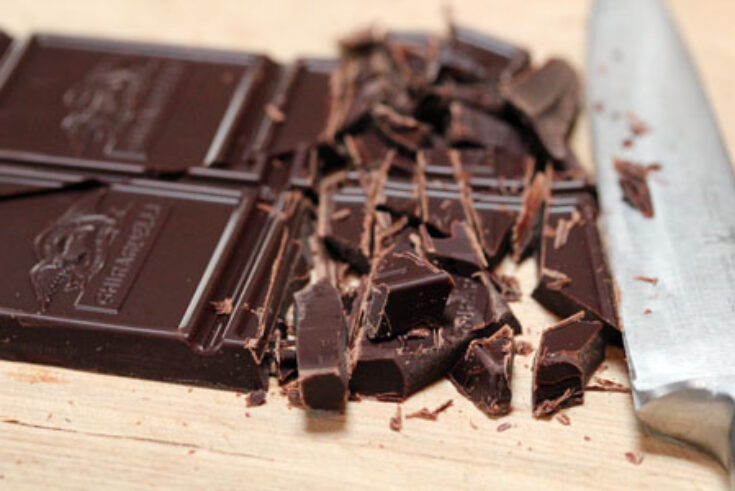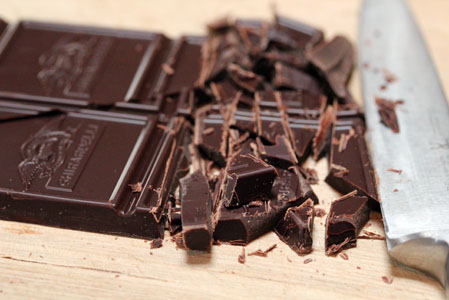 Chop the baking squares.
(When I went to get the ingredients on Friday, the "richer" Ghiradelli baking chocolate was on sale, at almost the same price as the generic brand…so I chose the Ghiradelli. (Yes, I went to the grocery store twice in the same week. A rarity. But these were a late addition to the menu for the sleepover.) (And if you must know, I decided to use my "blow money" for these more expensive ingredients.)(One or two less Chai Teas for me this month!)(Well. Worth. Every. Bite.) )
(Did I do those parentheses right?!)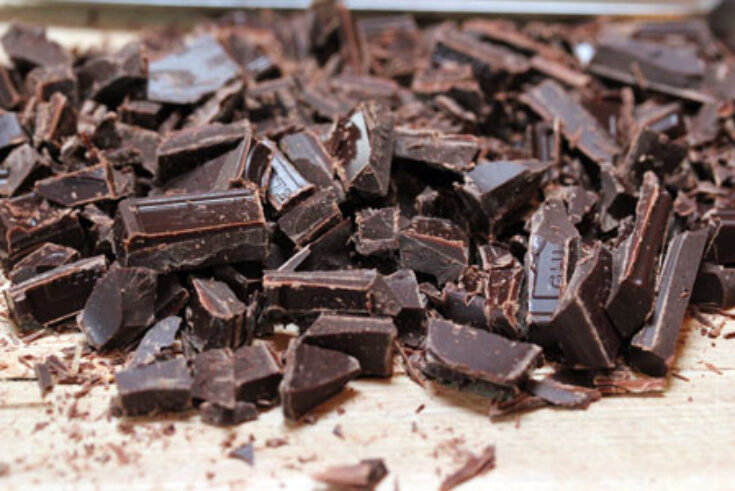 About like this.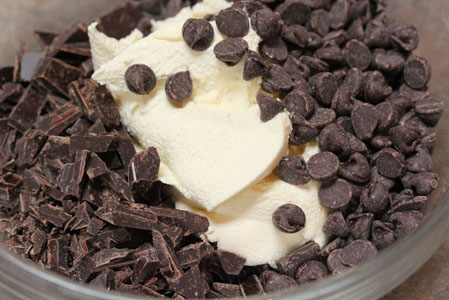 Add to the bowl with the butter/margarine and chocolate chips.
Time for the bittersweet to meet the semisweet.
Nuke. Or melt in a double boiler.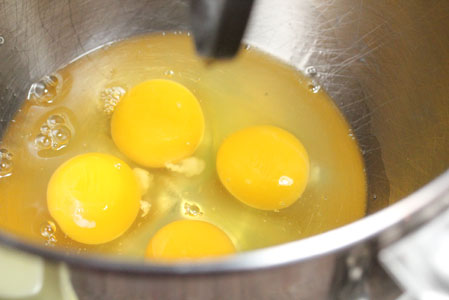 Stand mixer or mixing bowl…
Eggs, sugar. A lot of sugar.
But this is a once a month kind of dessert. So it's okay.
Right?!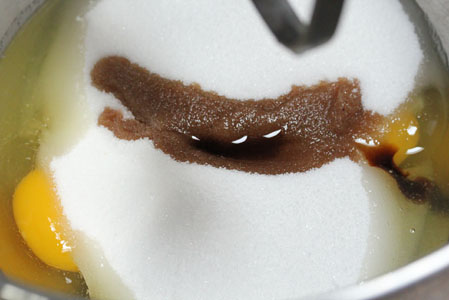 Vanilla.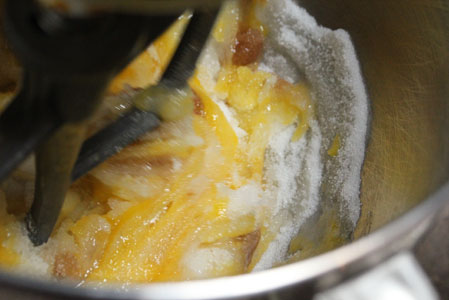 Give it a whirl.
Until it looks like this.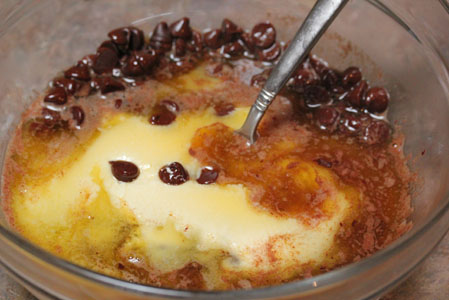 Not all the way melted, but it will…as you stir it…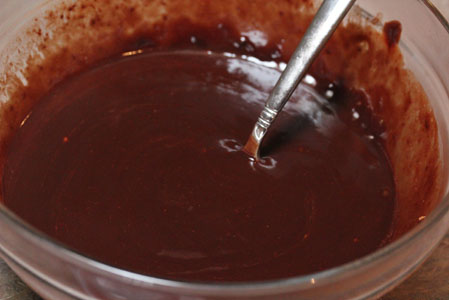 I don't recommend tasting it. But if your child insists, let them. They won't ask again.
It's not entirely bitter, but it's not sweet either!
Let cool.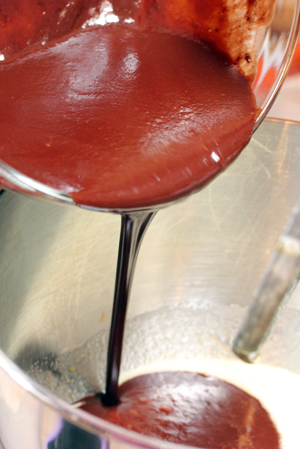 Pour into egg mixture.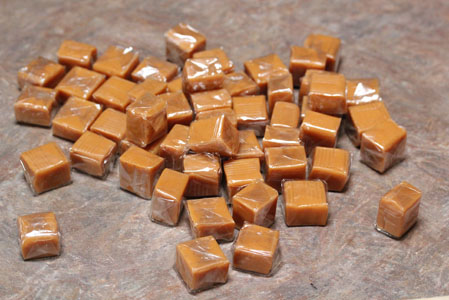 Meanwhile. You're going to need to enlist a little help with this task.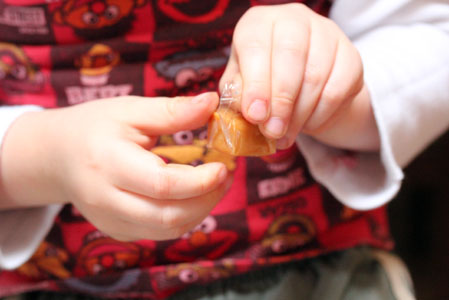 Gather up all the little people and have them open the caramels.
While you work on the other parts of the recipe.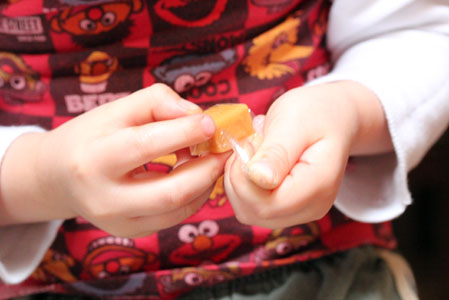 It speeds things along!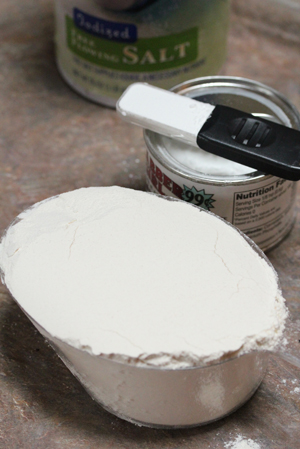 Measure out the dry ingredients.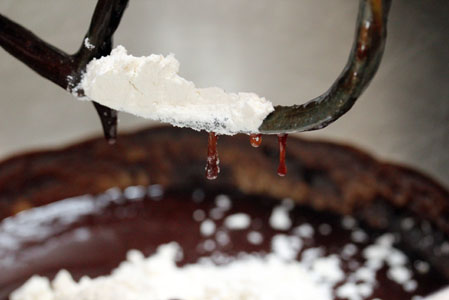 Add to the chocolatey mix. And give it a whirl.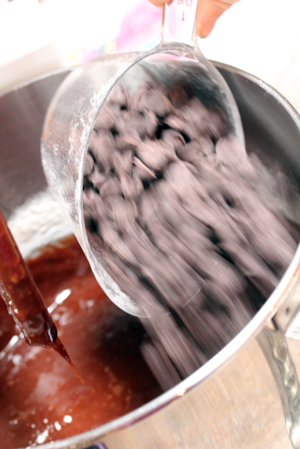 Add the chocolate chips.
Whirl again.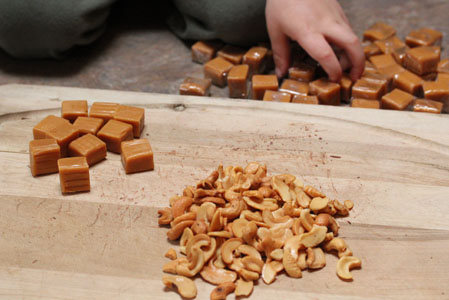 Chop the walnuts cashews. (Walnuts would work too!)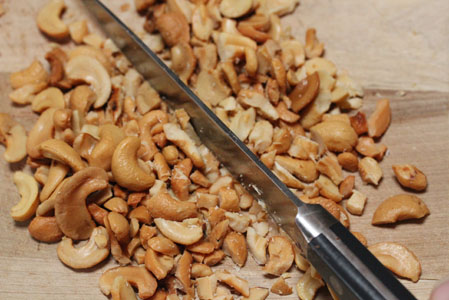 Just run a knife through them. Lightly chop.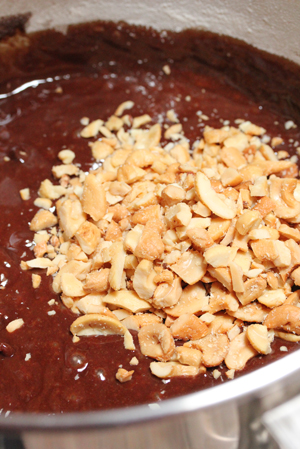 Add those.
And whirl again.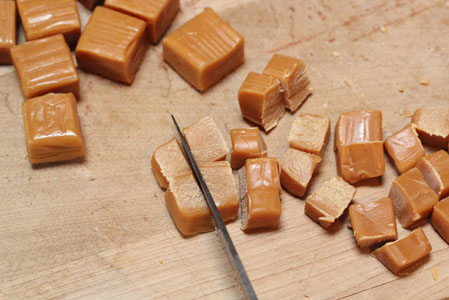 Cut the caramels into quarters.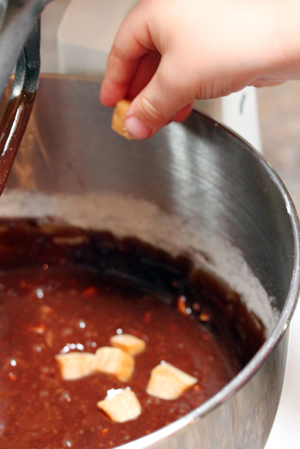 And have your helpers add them to the brownie batter while you cut them.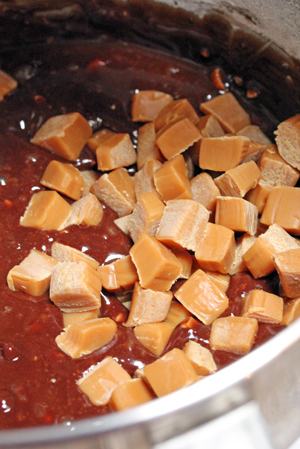 Give the batter a final whirl.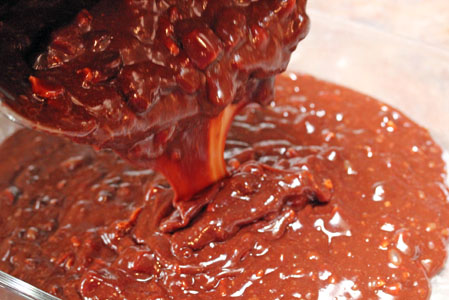 Pour into a greased and floured baking dish.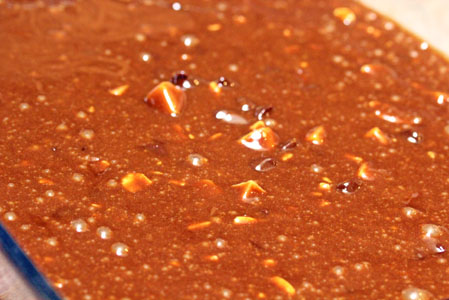 I'll have that piece in the middle…with all those caramels and chocolate chips!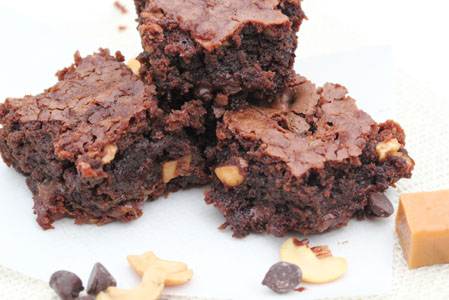 Bake. Cool.
Eat.
And I dare you to eat just one! Only one!
(And if you do/can manage to eat only one, please send some of your self-control my way. I need some for these brownies!)
Ingredients
4

oz

bittersweet baking chocolate, chopped

1

cup

(dairy-free) margarine or butter

2

cups

chocolate chips, divided

4

eggs

1 3/4

cup

sugar

2

tsp

vanilla

(or use homemade vanilla extract!)

1

cup

flour

1

tsp

baking powder

1/2

tsp

salt

20

caramel chew candies, cut into quarters

1

cup

cashews, chopped
Instructions
Preheat the oven to 350 and grease and flour a 9x13 inch baking dish.

Melt the chopped baking chocolate with the margarine or butter and 1 cup of the chocolate chips in a glass bowl in the microwave for 1 1/2 minutes. Stir together. Let cool while you start on the next part.

In a stand mixer or mixing bowl, beat together the eggs, sugar and vanilla. After the chocolate mixture has cooled, beat it into the eggs mixture. Stir in the flour, baking powder and salt.

Then gently fold in the rest of the chocolate chips, the caramel candy pieces and the chopped cashews. Pour the batter into the prepared baking dish.

Bake in the preheated oven for 30 to 35 minutes, or until toothpick comes out clean in the center.

Let cool slightly before cutting and serving. Serve warm so the caramels are ooey, gooey good!

To serve after cooled, warm them in the microwave for 8 to 10 seconds, or long enough to make the caramels soft again!