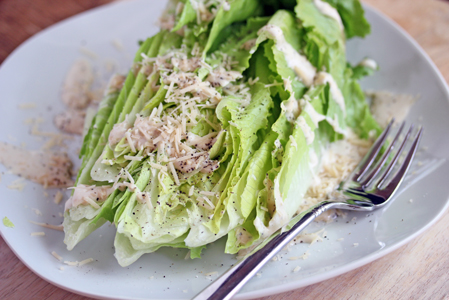 So I have been racking my brain, trying to figure out what to do with this week's Grow. Eat. $ave. post about lettuce. I feel like I've been eating or talking about salads for weeks. (See Strawberry Spinach Salad, Asian Spinach Salad with Mandarins, plus I've been making lots of the salad dressings that are in my Breakfast and Lunch Cookbook over the past 2 months!)
But I wanted to do something with either buttercrisp lettuce, or Romaine…as those were the two varieties that I grew this year. Then it dawned on me…rather than an iceberg wedge…why not a Romaine wedge?!?
I'm sure you've been doing this for years…but I haven't. This Romaine wedge concept is new to this girl.
It's simple, takes 2 minutes to prepare, and it will leave you wanting another!
Ingredients
1 Romaine lettuce head

1/4

cup

Caesar salad dressing

Couple pinchfuls of shredded Parmesan cheese

Fresh cracked pepper

Other topping ideas: grilled and sliced chicken, bacon crumbles, tuna, finely chopped tomatoes
Instructions
Chop a head of Romaine lettuce (another of the less expensive varieties of lettuce at the grocery store too...I see them for as little as $.99 per head.)

Drizzle with Caesar dressing.

Sprinkle on some shredded or grated Parm.

Crack some peppercorns on top.

Devour.
What fun salads have you been enjoying this summer?! Please share your links or ideas below!