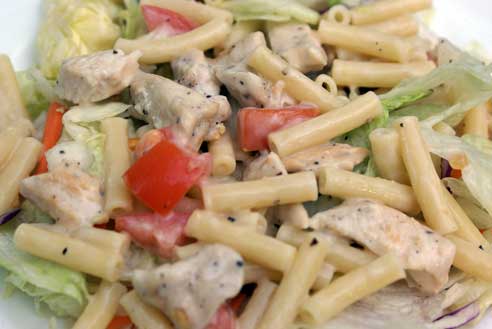 Tonight's meal is based on this recipe from Amy at Mom Advice.
To be honest, I wasn't sure how I'd feel about pasta on lettuce. I was quite pleasantly surprised! We both really enjoyed it. And there's plenty leftover for my "Chicken Caesar Pasta" lunch tomorrow!
Because the Caesar dressing has milk in it, I separated out this dish for the boys and gave them Italian dressing on their salad!!!
(And please ignore the fact that I used a simple garden lettuce mix and not Romaine. I do realize this breaks all the "Caesar Salad" rules!)
Ingredients
About 1 lb. (2 large or 3 small) of boneless, skinless chicken breast ($1.79)

1 tsp olive oil ($.03)

Salt and pepper

2

cups

penne or ziti noodles ($.30) Remember my $.50 boxes of pasta!

3

small

tomatoes (from the garden)

1

bag

of garden salad lettuce ($.98) OR 1 head Romaine lettuce ($1.50)

1/2

cup

light Caesar Salad dressing ($.40) (Substitute Italian or other favorite salad dressing if dairy free!)

1/2

cup

parmesan cheese ($.50) Omit if dairy free!

Some Italian dressing for the boys ($.05)

Fresh baked bread, garlic toast, or muffins (We had Cinnamon Butternut Squash Muffins) ($.50)
Instructions
Cut chicken breast into 1/2 inch cubes. Place in skillet with olive oil and season with salt and pepper. Saute over high heat for 6-8 minutes, or until chicken has cooked through. Remove from heat and let cool.

In small saucepan, cook pasta noodles according to package directions. Drain and rinse with cold water.

Chop lettuce, if necessary, and seed and dice tomatoes.

In mixing bowl, toss cooked chicken, pasta and tomatoes with Caesar salad dressing. Serve on a bed of lettuce. Sprinkle parmesan cheese over the top.

Serve Caesar Chicken Pasta Salad with a side of bread or muffins.