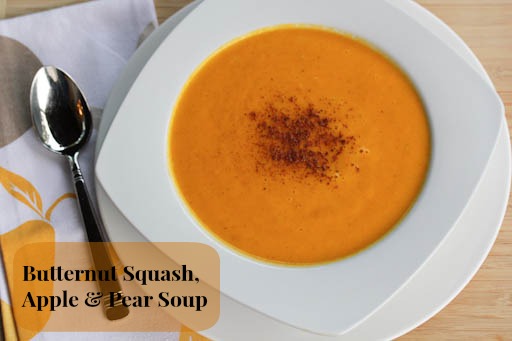 I heart, heart, heart Butternut Squash soup.
Last week, I was in Las Vegas for the Pillsbury Bake-Off and while there, we had some lovely meals. At the awards dinner, they served an amazing Butternut Squash Soup with Sage Croutons. They laid down a shallow bowl with the croutons resting in the bottom, and then circled the table pouring the soup for each guest. I asked for a second serving, it was that delicious. It had a hint of sweetness to it and just enough nutmeg and I said in that moment that I'd make this as soon as I got home.
This butternut squash soup has fabulous. It is on the sweeter side, thanks to our friends the apple and the pear. But the bite from the nutmeg and squash help balance the dish.
Also, use veggie broth if you want to make it vegetarian.
It comes together in less than an hour…if you time it right!
Steam bake the squash. (See details on #1 in my article on SCJohnson.com)
Meanwhile, saute the apple, pear and onion. Then add the broth & milk/cream.
Once baked, scoop out the seeds, add the squash.
Add to blender, puree and serve.
Add salt, pepper and nutmeg to taste.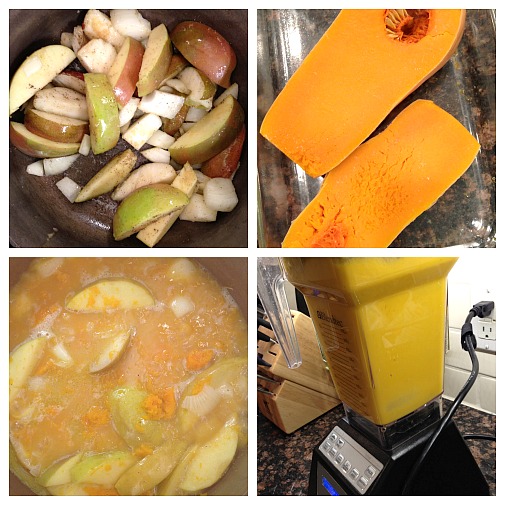 This recipe easily makes 8 soup servings. I served half to the family for dinner along with some rolls and baked chicken.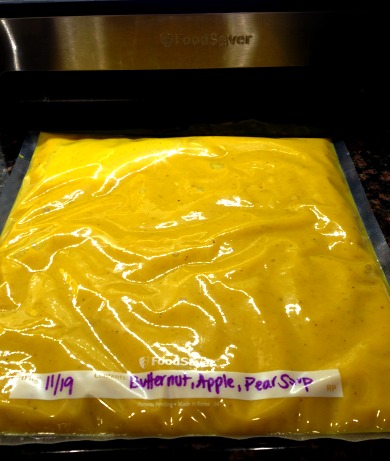 And the other half, I added to a freezer meal bag and sealed it up. It's currently in the freezer, waiting for "one of those afternoons" when I need dinner on the table in minutes. I can thaw it quickly in a bowl of warm water and then reheat and serve.
Are you a butternut squash soup fan?! If so, add this one to your "to try list!"
A delightful soup, worth every step it takes to make it!
Ingredients
1

medium

butternut squash

2

Tbsp

olive oil

1

large

apple,

cored and sliced

1

Anjou pear

cored and sliced

1

onion

sliced

4

cups

chicken broth

2

cups

whole milk or cream

2

tsp

garlic powder

1/2

tsp

ground sage

1

tsp

salt

1

tsp

pepper

1

tsp

ground nutmeg, to taste
Instructions
Preheat the oven to 400.

Cut off the top stem of the squash. Then cut lengthwise in half and place in a glass baking dish, facing down. Add about 1/4" of water to the baking dish. Cover with foil. Bake in the preheated oven for 45 minutes, or until completely soft. Check to make sure the squash is tender in the thickest portion by poking with a fork. Cooking time may vary depending on thickness of the squash.

Meanwhile, add the olive oil to a large saucepan and saute the apples, pear and onion for about 5 minutes. Then pour in the chicken broth and milk/cream and bring to bubbling. Add the seasonings and spices. Reduce heat to low and keep simmering until squash is ready. (If longer than 10 minutes, cover tightly while it simmers so too much water doesn't boil off.)

When the squash is cooked through, carefully flip it over (you will need an oven mitt!) and scoop out the seeds. Then scoop the soft flesh out and add to the bubbling soup.

Transfer to a blender and puree.

Serve with a nutmeg garnish. Season to taste.