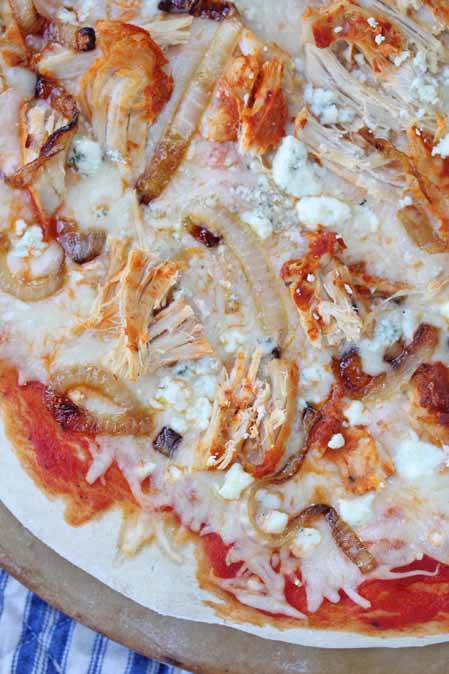 Ever since making those Buffalo Chicken Blue Cheese Enchiladas, I've been itching to put the same flavors on a pizza. And now that I have, I'm kicking myself for not doubling this pizza. Because it needs to be doubled. Because it deserves to be doubled.
About a week ago, I was talking to my cousin …and we got on the subject of pizza. I told him how I've been wanting to make this pizza ever since making the enchiladas (which he has tried and loved!). Then he starts bragging about this "meat lovers" pizza that his brother makes. So we decided that a "Pizza Bake Off" was in order!
His Meat Lovers vs. This Buffalo Chicken
So to make sure that it was going to taste as fabulous as it seemed in my head, I had to test it out before this bake off. And I have no doubt in my mind that this Buffalo Chicken Pizza with Blue Cheese and Caramelized Onions will be the hands down winner! 😉
Spice from the chicken. Sweet from the onions. Tang-gent from the blue cheese. (That would be tangy-pungent.)
Pizza perfection achieved!
Ingredients
1 homemade pizza crust recipe ($.96)

2

Tbsp

olive oil ($.10)

1

Tbsp

sugar ($.01)

1 white onion, sliced ($.30)

2

cups

shredded chicken ($1.50)

1/4

cup

Frank's red hot sauce ($.10)

1/2

cup

pizza sauce ($.50)

2

cups

shredded mozzarella cheese ($1.25)

3 oz. crumbled blue cheese ($1.79)
Instructions
Get homemade pizza crust started in the bread machine, dough cycle. Follow manufacturers directions for your bread machine.

Caramelize the onions. In a skillet, add the olive oil and sugar, along with the sliced white onions. Let cook over low heat for 30 minutes, stirring often. They will be ready when they are soft, browned and sweet to taste.

Toss the shredded chicken in the red hot sauce. Let soak for a few minutes if you have time.

Once the pizza dough is finished, rolled it out onto a clean, floured surface. Then sprinkle a little cornmeal on the counter and place the dough on top. Add the pizza sauce (I spread this really thin...thinner than normal...because I wanted the Franks red hot sauce to be the predominant flavor, not the pizza sauce!), mozzarella cheese. Then sprinkle the shredded chicken, caramelized onions and blue cheese crumbles over top of the mozzarella.

Bake at 350 for 12-15 minutes, or until cheese is melted and dough has cooked through.

Prep a small side salad, carrot sticks or other simple veggie.

Serve Buffalo Chicken Pizza with Blue Cheese and Caramelized Onions.