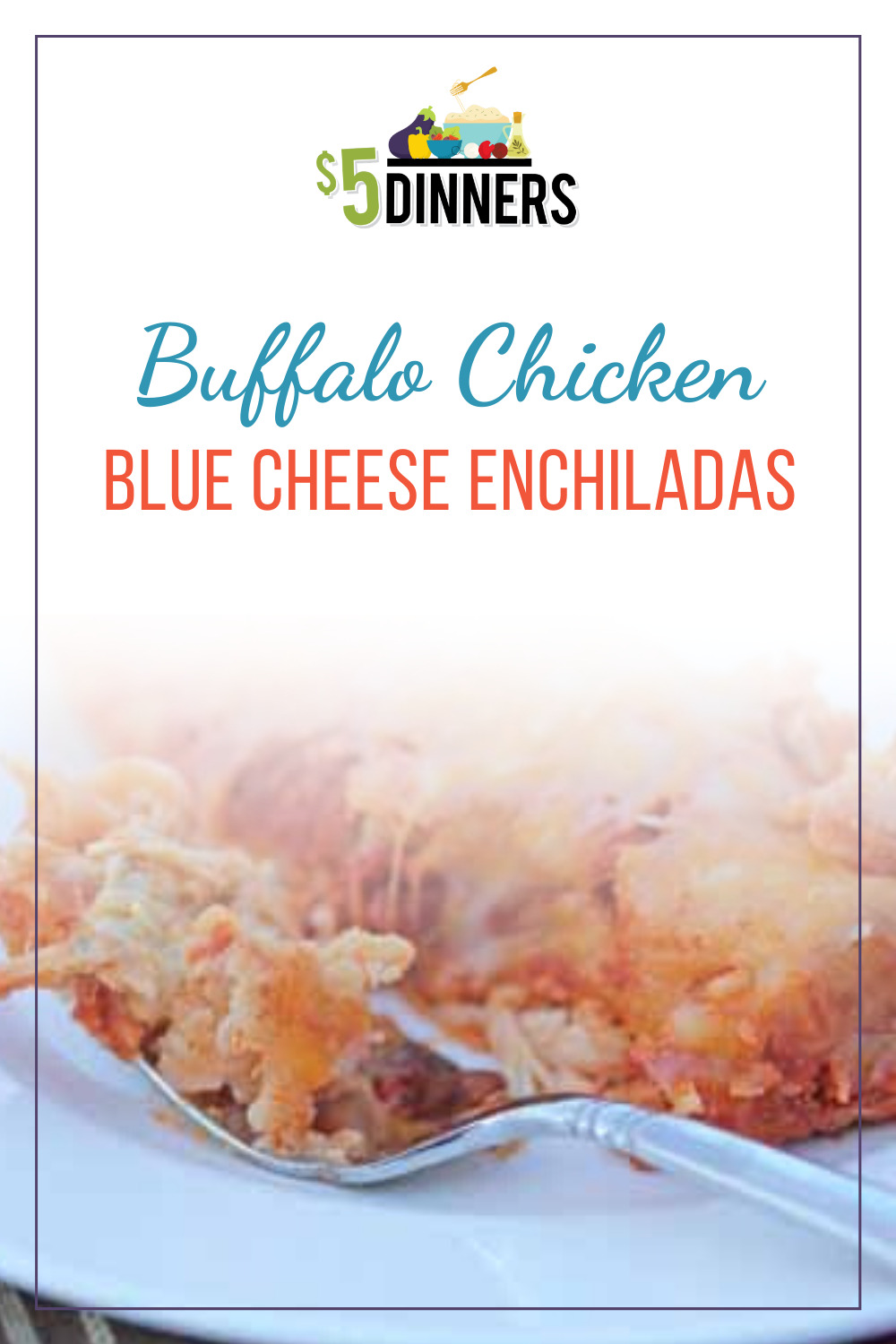 I have distinct memories of blue cheese lingering on my taste buds. The flavor has been lingering for a few weeks…every since the Spicy Chicken Chili.
In clearing out the freezer, I found 2 baggies of chicken breasts that I had frozen with Frank's red sauce as a marinade. Trying to figure out how to use it up in a fun, clever way wasn't too hard. These blue cheese memories were lingering in the forefront of my brain. And with all the buffalo chicken dip talk with the Super Bowl happening this weekend…these enchiladas seemed to be in order.
I had corn tortillas leftover in the freezer from the last enchiladas I made, as well as the shredded cheese. I had the canned tomato sauce in my stockpile, so the only ingredient I needed to purchase for this meal was the blue cheese. I managed to squeeze that into this past week's very small grocery budget.
And even though our green couch is in the dining room, our (we cleared out our playroom to do some painting and deep cleaning…then rearranging before we list the house) dining table is covered with toys, an Ikea trofast shelf and more. But we needed a night in, after a few meals out earlier in the week…so I made these enchiladas for my husband and I…and I made the kids some "cheeseless" buffalo chicken wraps, using the last of the flour tortillas that we had.
So here's how it went down…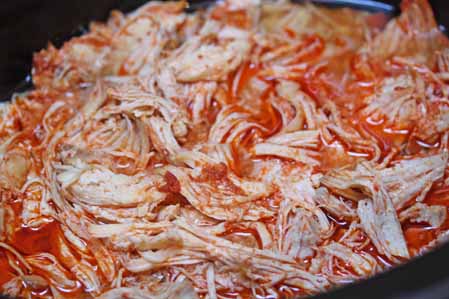 I dropped the partially thawed chicken and Frank's hot sauce marinade into the slow cooker, high for 6 hours. Once finished, I shredded it with 2 forks.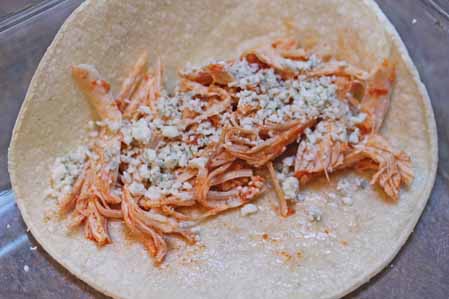 Drop a couple forkfuls of shredded chicken into a corn tortilla, then sprinkle blue cheese crumbles on top.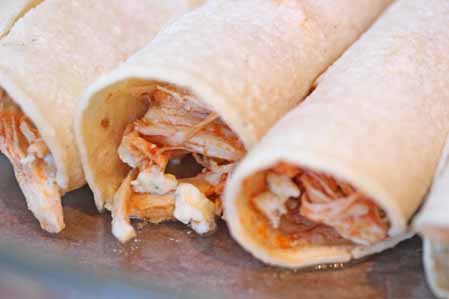 Roll, seam side down…and stuff the pan full. I got 12 enchiladas into a 9×13 comfortably…probably could have squished in 2 or 3 more.
Mix taco seasoning into the tomato sauce (like I did here)…this is not lazy, it's efficient!
Pour the tomato sauce over top. Then the cheese. Then the bake. Then cool a bit. Then let the taste bud explosion begin.
Buffalo chicken and Blue cheese wrapped up in a corn tortilla with sauce and melty cheese on top!
Ingredients
2

chicken breasts

or 2 cups shredded chicken

Frank's hot sauce

as marinade

4

oz

blue cheese crumbles

12

corn tortillas

15

oz

can tomato sauce

2

Tbsp

homemade taco seasoning

2

cups

Mexican blend shredded cheese

Side of veggies

We had frozen green beans!
Instructions
Marinate the chicken breasts in the Frank's hot sauce. (I used 1 jar to marinate 4 chicken breasts, in 2 bags for 2 meals.) Or if using already cooked shredded chicken, add 1/2 cup-ish of sauce to the chicken. Combine in a bowl.

Slow cook the uncooked chicken and sauce for about 4 - 6 hours on high, if needed. Shred with forks when cooked through.

Preheat oven to 350.

Spoon shredded chicken and red sauce into the corn tortillas. Sprinkle blue cheese crumbles over top. Roll and place in baking dish seam side down.

Stir the taco seasoning into the tomato sauce.

Once the pan is full, pour the tomato sauce over top of the enchiladas. Then top with the shredded cheese.

Bake at 350 for 20 to 25 minutes, or until cheese has melted and sauce is bubbling. Let cool slightly before slicing and devouring.