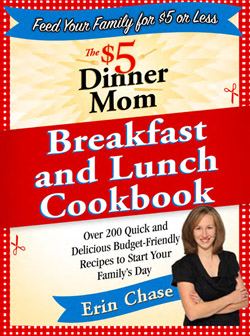 The $5 Dinner Mom Breakfast and Lunch Cookbook: Over 200 Quick and Delicious Budget-Friendly Recipes to Start Your Family's Day
The $5 Dollar Dinner Mom–savings guru, savvy supermarket shopper, and mommy extraordinaire Erin Chase–does it again! With the same fool proof system she used to cut your weekly food budget and put a healthy and delicious $5 meal on the dinner table for your family, she takes it one step further with "The $5 Dollar Dinner Mom Does Breakfast and Lunch". Tailoring her tips at how to size up supermarket deals, clip coupons, and create weekly menu plans, she helps you start your day the right way.
With the help of Erin–whether at home or on the go–you can use all the same tools you learned in "The $5 Dollar Dinner Mom Cookbook" to create breakfasts and lunches for less than $5 that are easy and kid-friendly too!
Breakfast favorites include:
Chocolate Chip Raspberry Pancakes
Bacon and Egg Quesadillas
Vanilla Almond French Toast
Overnight Honey Nut Granola
Lunch favorites include:
Curried Chicken Salad Sandwiches
Swiss Tuna Melts
Lasagna Roll-ups
Chuckwagon Chili
And if you are wondering what to do now that breakfast, lunch and dinner are all covered, well don't worry, "The $5 Dinner Mom Does Breakfast and Lunch" also includes a bonus section for $2-4 snacks like pumpkin applesauce and oatmeal cranberry cookies to tide you over in between!
Let Erin Chase show you how to have tasty, economical meals, all day, every day.
Order now through the following retailers:
Choose any of these fine retailers to pre-order your copy (or copies!!! Think friends and family!)!!!
I'd be honored to share breakfast and lunch with each of you!
Disclaimer: As an Amazon Associate, I earn commissions on qualifying purchases. Reviews, opinions are my own.