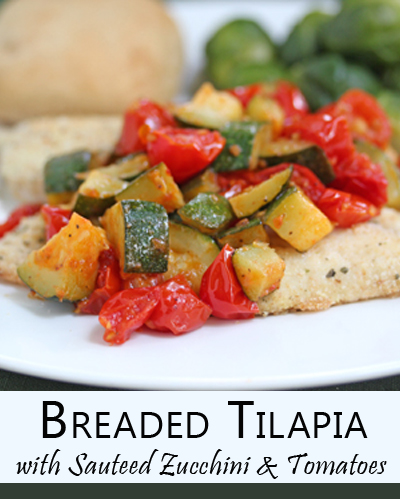 Clearin'. It. Out.
We enjoyed this tilapia (on sale for $1.99/lb!) with Brussels sprouts from the freezer, and rolls from the freezer.
Summertime Pantry Challenge continues…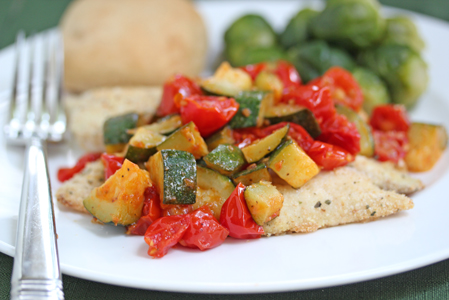 Ingredients
4 tilapia fillets, about 1.1lbs ($2.12)

1 egg whisked ($.10)

1/2

cup

bread crumbs ($.25)

1 zucchini, diced ($.59)

1 pint grape tomatoes, halved ($1.99)

1 12 oz bag frozen Brussels sprouts ($.80)

Sister Schubert's frozen rolls ($.75)

Butter and jelly ($.25)
Instructions
Preheat the oven to 350.

Thaw the tilapia fillets if necessary.

Dip the tilapia in the whisked egg, then dust with the bread crumbs.

Bake for 7 minutes, then flip and bake for another 6 minutes, or until the tilapia has cooked through.

In a skillet, saute the diced zucchini and halved grape tomatoes with some salt and pepper. Saute over medium heat for 5 to 7 minutes, or until the tomatoes have popped and wilted and the zucchini has turned opaque in color.

Prepare the Brussels sprouts and bread as directed.

Serve Breaded Tilapia with Zucchini and Tomatoes on top, along with Brussels sprouts and Bread.
(This would have been well under $5 if I'd waited and used tomatoes from my garden!)