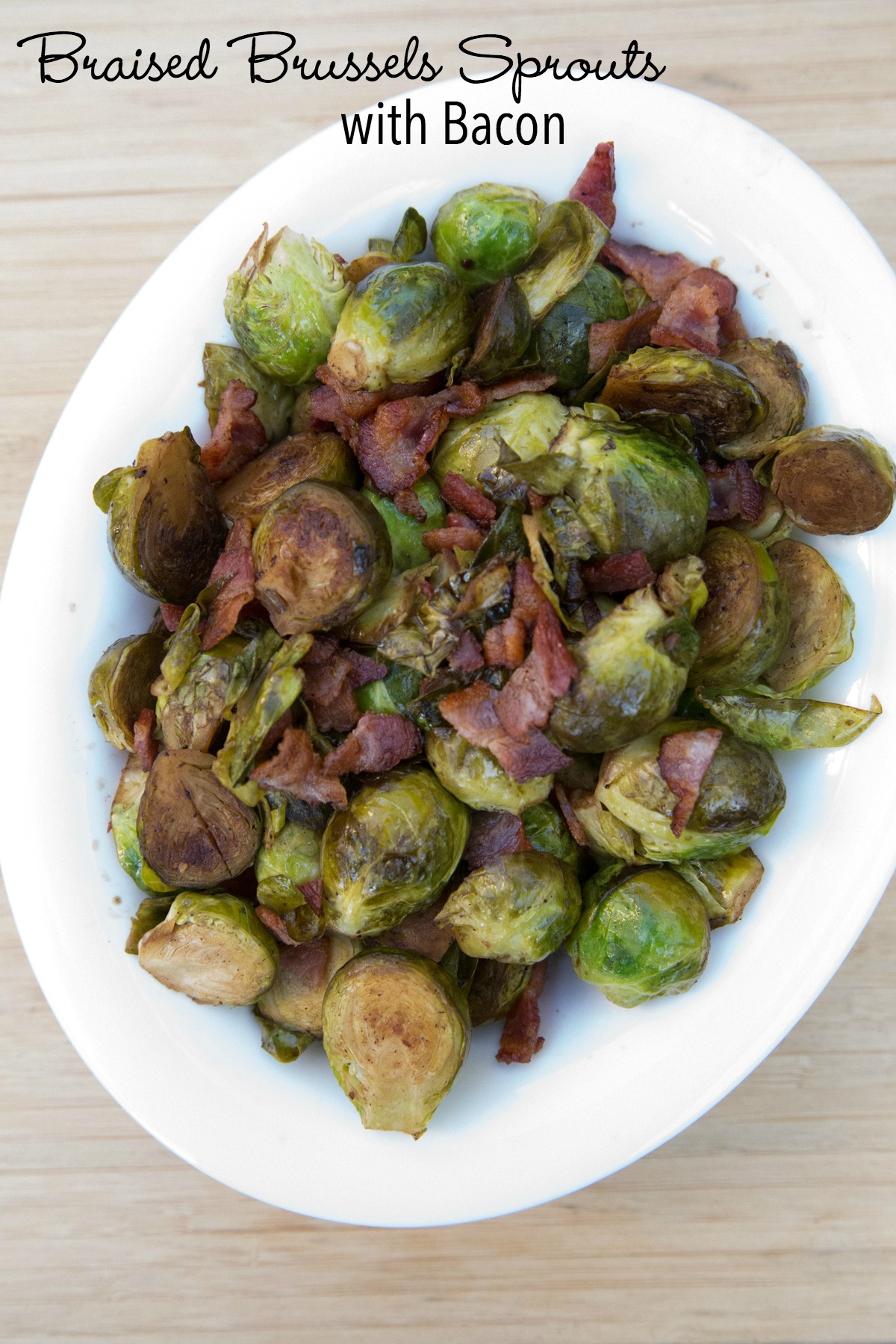 I love Brussels sprouts. But for some reason, we don't eat them regularly. They aren't part of our regular veggies with dinner rotation. (They should be!)
I seem to always want them around the holidays. I also seem to always want them with bacon. Because bacon makes everything better, especially Brussels sprouts!
With this recipe, we are going to cook the bacon, drain off most of the fat…leaving just a little in the skillet. Then we will brown the halved Brussels sprouts in the bacon grease, and finally we'll pour in a bit of liquid to braise them. Before serving, we'll toss them with the bacon that we crumble up into tiny pieces!
The end result is perfectly cooked Brussels sprouts (not overcooked and mushy, but bright green and perfectly tender) and perfectly flavored with the bacon crumbles to balance it all out.
I HIGHLY recommend adding these to your holiday feast spread or buffet!
Perfectly cooked Brussels sprouts ,and perfectly flavored with the bacon crumbles to balance it all out to make the perfect side dish.
Ingredients
4

slices

bacon

1 1/2

lbs.

fresh Brussels sprouts

halved

1

tsp

minced garlic

1

cup

chicken or vegetable stock

Salt and pepper to taste
Instructions
In a large skillet, cook the bacon slices until crispy, then set aside on paper towels to drain. Pour off most of the bacon fat.

While the bacon is cooking, halve the Brussels sprouts.

Toss the halved Brussels sprouts and minced garlic into the same skillet with a little bacon fat and saute over medium high heat for 4 to 5 minutes, or until Brussels sprouts begin to turn bright green.

Pour in the chicken stock and bring immediately to bubbling, then cook the Brussels sprouts in the stock for 4 to 5 more minutes. Remove from heat immediately.

Crumble the cooked bacon and sprinkle over top of the Brussels sprouts.

Serve Braised Brussels sprouts with bacon, as holiday side dish.