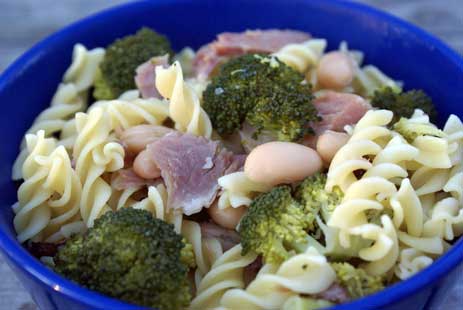 A big thanks to Justine for sharing this recipe with me! I tossed in some diced ham I had in the freezer.
Easy. Quick. Delicious!
And by quick.  I mean less than 15 minutes quick!  Just get the pasta boiling and work on the rest while the pasta is cooking.  15 minutes.  That's it!!!!
This would be fantastic with leftover holiday ham! If you're planning/thinking that far ahead!!!
Pasta with Ham, White Beans and Broccoli

Yield – 4 servings

Preparation Time – 5 minutes

Cooking Time – 15 minutes

Ingredients

1 pound bow-tie pasta, but I used fusili because it's what I had! ($.50) Bought recently with $1/2 coupon on sale for $1
1 Tbsp vegetable oil ($.05)
1 bunch broccoli (about 1 lb) florets ($.76)
1 Tbsp minced garlic ($.05)
2 cups chicken broth (free if homemade!) **See my note below
2 cups cooked, diced ham ($1.50) **This was not in the original recipe!
1 15 oz. can of cannellini or white beans, rinsed ($.79) 

(Or learn how to cook your own beans here.)

1 Tbsp fresh lemon juice ($.05)
1/4-1/2 cup grated Parmesan cheese ($.25)
16 oz. bag of frozen corn ($.88) On sale this week!

**I used water instead of broth because I used ham. I figured the ham would give the water some flavor and didn't want the chicken and ham flavors to clash! If you want a vegetarian version, then use vegetable broth and omit the ham.

Directions

Bring a large pot of lightly salted water to boil. Add pasta and cook according to package direction.
While pasta cooks, heat oil in a large nonstick skillet.
Add broccoli and garlic; stir over medium heat 3 to 4 minutes until broccoli is bright green. Add broth (or water) and cook 2 to 3 minutes until broccoli is crisp tender.
Stir in diced ham, beans and lemon juice.
Drain pasta and put into a warmed large serving bowl. Add broccoli mixture; sprinkle with cheese. Toss to mix well.
Cook frozen corn as indicated on package instructions.
Serve Pasta with Ham, White Beans & Broccoli and Corn.

**I only sprinkled the cheese into Steve and mine's bowls. Easy to keep this meal dairy-free by omitting the cheese!

Cost $4.83