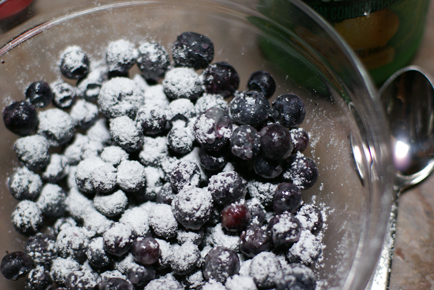 Breakfast for dinner…a smart way to reduce your grocery budget…simply incorporate 1 of these meals into your weekly meal plan and be on your way to spending less!
Making pancakes from scratch has been something I have done for many years! I had lots of fun coming up with (and tasting) a bunch of different pancakes for my Breakfast and Lunch Cookbook. This is not a recipe in the cookbook, but will give you a sense of the pancake recipe goodness that awaits you in the next book!!!
Here's the trick. And you must do it this way.
Toss some blueberries, fresh or frozen, with some lemon juice…then sift some powdered sugar over the top before folding them into the batter!!!
Gives plain old blueberry pancakes an extra burst of lemony sweetness!
The perfect fruit and citrus combination in your pancakes!
Ingredients
2

eggs

1/3

cup

oil

2 1/4

cups

milk

1/2

cup

sugar

2

cups

flour

2

Tbsp

baking powder

1

tsp

salt

2

cups

blueberries

2

Tbsp

lemon juice

2

Tbsp

powdered sugar
Instructions
In a mixing bowl, whisk the eggs, oil, milk and sugar.

Stir in the flour, baking powder and salt. Whisk until batter is smooth.

In another small bowl, toss the blueberries with the lemon juice and then add the powdered sugar. Toss gently.

Carefully fold the coated blueberries into the pancake batter.

Heat griddle or skillet over medium high heat. Spray well with non-stick cooking spray. Cook the pancakes for 2-3 minutes per side. Repeat until all batter is used.