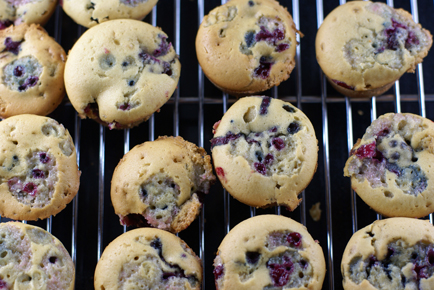 Blackberries. I love their sweetness and their tartness. I grabbed a few packages for a buck at the store last week. And I just had to make some muffins, or are they cupcakes?
I'm not sure what to call them. Because they really could be both. They are that versatile.
I love how when berries bake, their little juice pods pop and the juice runs all over! Mmm.
Now scroll through the delicious-ness and then help me figure out where these little goodies belong in the next cookbook!
Ingredients
cup butter or margarine, softened ($.80)

cup white sugar ($.05)

2 eggs ($.20)

2 teaspoons vanilla extract ($.10)(or use homemade vanilla extract!)

1

cup

milk ($.10)

2

cups

white flour ($.40)

1 teaspoon baking soda ($.03)

teaspoon salt

2

cups

blackberries, halved ($1)

2 Tablespoons lemon juice ($.10)

2 Tablespoons sugar ($.01)
Instructions
cup butter or margarine, softened ($.80)

cup white sugar ($.05)

2 eggs ($.20)

2 teaspoons vanilla extract ($.10)(or use homemade vanilla extract!)

1 cup milk ($.10)

2 cups white flour ($.40)

1 teaspoon baking soda ($.03)

teaspoon salt

2 cups blackberries, halved ($1)

2 Tablespoons lemon juice ($.10)

2 Tablespoons sugar ($.01)