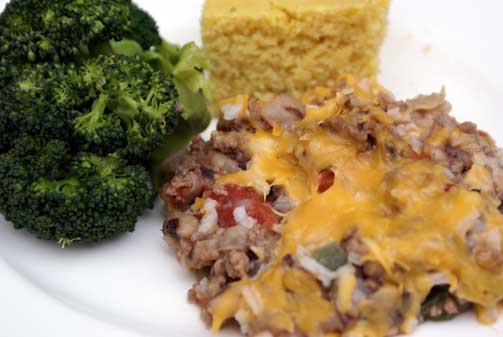 Jeannine emailed this great gluten free Black Eyed Pea Casserole recipe to me a few weeks ago and I knew we had to try it! It's not dairy free, but the cheese could certainly be omitted, or just added to individual servings! And although we are not eating entirely gluten free at the moment, I do try to keep the gluten to a minimum!
It's so easy to get in a rut or feel like "there's nothing to cook" when dealing with food allergies and tolerances. I enjoy trying new GF and dairy free versions of recipes like this one!
And Jeannine suggests adding a dollop of sour cream to each serving!
A budget friendly, easy dinner dish!
Ingredients
1

cup

dried black-eyed peas, cooked and drained

1

lb

ground beef

1/2

yellow medium onion

1/2

green pepper, diced

1

cup

white rice

16

oz

can diced tomatoes with roasted garlic

1

cup

cheddar cheese, shredded

Omit if dairy free!

1

tsp

garlic powder

Salt and pepper to taste

Serve with fresh veggies and bread
Instructions
Soak the black eyed peas in bowl of HOT water for at least 2 hours, or ideally, overnight. Drain soaking water, rinse and add to large saucepan with 6-8 cups of water. (The peas should be covered by at least 2 inches.) Bring to a boil, then reduce heat, cover and simmer for 1-1.5 hours. In a time crunch? Substitute with 2 15 oz. cans of black eyed peas. When beans are soft, drain cooking liquid and place black eyed peas into 9x13-inch baking dish.

In small saucepan, cook 1 cup of rice in 2 1/2 cups of water. Bring water to boil, add rice and return to boil. Reduce heat to medium, cover and cook for 20 minutes. Fluff with fork and then add 1 1/2 cups to the glass baking dish with the black eyed peas. (I saved the leftover cup for tomorrow's breakfast: Rice Pudding!)

In medium saucepan, brown ground beef with chopped onion. Drain, rinse and add to 9x13-inch baking dish with the black eyed peas and rice. Add undrained canned tomatoes, shredded cheese, garlic powder, salt and pepper. Stir together.

Bake at 350 for 15-20 minutes, or until cheese melts and sauce bubbles. Season each serving with salt and pepper, to taste.

Steam broccoli in stovetop steamer or in microwavable bowl covered with plastic wrap for 4-5 minutes.

Serve Black Eyed Pea Casserole with Steamed Broccoli and leftover Cornbread.