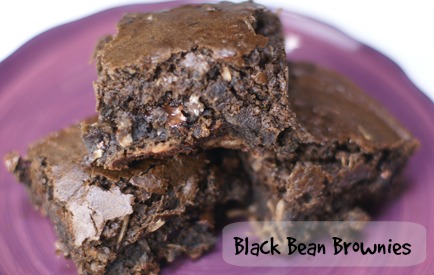 I think I only got a few shots of these little beauties before little people hands started showing up in the viewfinder of my camera. (See below!)
Let's talk about these brownies for a minute.
While some of you have probably been making brownies with black beans for years, I have just been enlightened. My mouth thanks you Pam, not so much my waistline!
Pam's version used a box mix and since I recently rid of all my box mixes, a from scratch version it would have to be! I took my basic brownie recipe and added some pureed black beans…and it was all better!
By far, these are the BEST "from scratch" brownies I've ever made!!!
I have tried to make "box like" brownies from scratch over and over and over…to no avail.
Alas, these are quite close!!!
They have an OBSCENE amount of sugar. But I'm OK with that.
Because the protein and fiber in the black bean puree outweighs the calories from the sugar. Right?
Please tell me so!
Le photos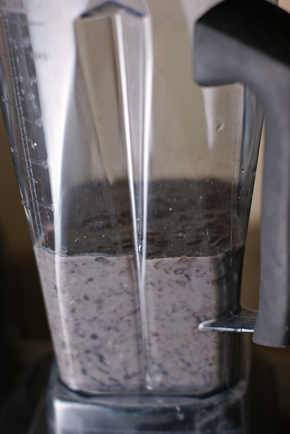 Puree black beans.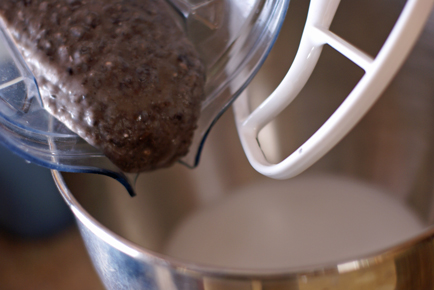 Add to mixer. Mix with sugar, vanilla, milk.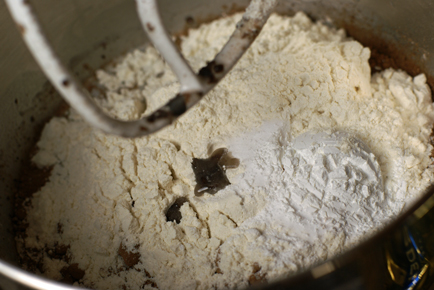 Add dry ingredients.
(Can you see the reflection of the chocolate chips bag!?)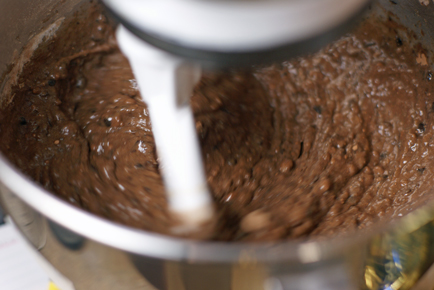 Mix away.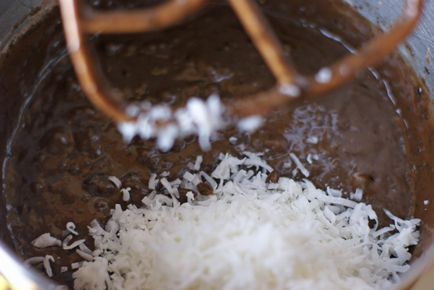 Add coconut.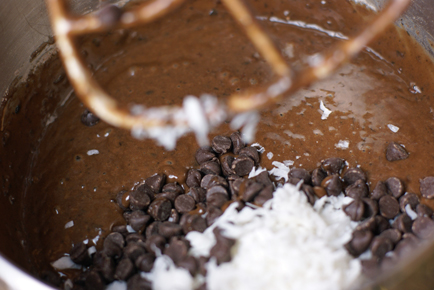 Add chocolate chips.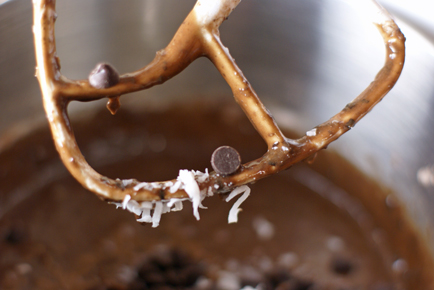 And if a few don't make it into the bowl and get stuck on the mixing tool, feel free to snack on those.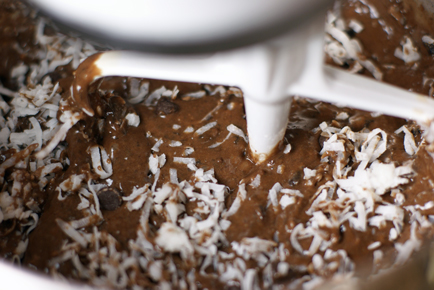 Mix on low.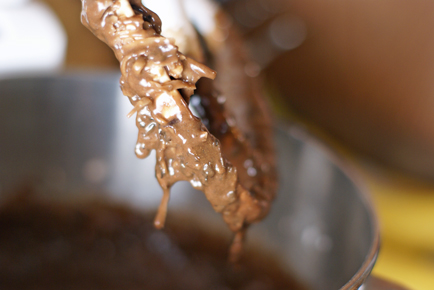 Pour and bake.
And enjoy…pretending they are not loaded with sugar. 😉
Ingredients
3

cups

pureed black beans (I filled up the blender to the 4 cup line and added a little water)

2

cups

sugar

1 tsp vanilla(or use homemade vanilla extract!)

1/2

cup

milk (or rice milk)

1 1/2 cup flour

1/2

cup

cocoa

1

Tbsp

baking powder

1 tsp baking soda

1 tsp salt

1

cup

shredded coconut (unsweetened) (and optional)

1 tsp instant coffee granules (optional)

2

cups

semi-sweet chocolate chips
Instructions
Preheat oven to 350. Grease a 9x13 baking pan with cooking spray.

Puree black beans with a little water. I went for a "smoothie" like consistency.

Add the sugar to the mixer or mixing bowl and then pour in the pureed black beans. Mix until smooth, adding the vanilla and milk as it mixes.

Dump in all the dry ingredients, flour, cocoa, powder, soda and salt.

Mix up, then toss in the coconut and chocolate chips.

On the lowest speed, mix in the coconut and chocolate chips for 10-20 seconds.

Pour the brownie batter into the greased pan and bake in the preheated oven for 35-45 minutes, or until toothpick comes out clean in the center. Let cool on a cooling rack before cutting.