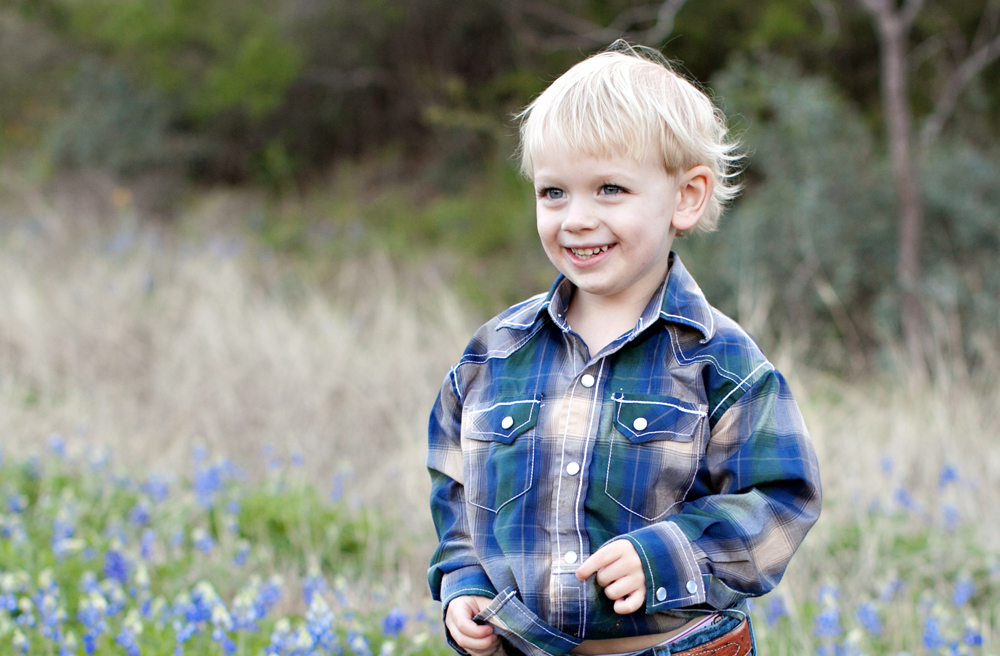 So y'all, this is Tyler and he is quite the little heartbreaker. Not only in this photo, but in life too. He is a character, so full of fun and personality and he's just a delight to be around! A few weeks ago, I met up with my long time friend in Fredricksburg to take pictures of the boys in the bluebonnets. My mom had purchased each one of the older boys an adorable cowboy outfit when we moved here and I thought if we're gonna do this bluebonnet photo thing, let's do it up right!
In my excitement to gather up all the belongings and get out the door, I didn't take the time to look up exactly where we were meeting up. I knew that we were in for at least an hours drive…but turns out it was more like an hour plus another 30 plus more down a tiny little road. I also didn't take the time to look at the gas gauge. Doh!
I heard the "chime" when we were pulling onto the tiny little road, that was actually a loop…in the middle of nowhere Hill Country. Cyndea pulls out her phone. No cell signal. I pull out mine. No signal either. I don't usually let my van get to the "chime stage," so I'm really not sure how many miles I can get after it dings. We made the decision to keep driving further out to the patch that was "just down the road." We passed a few cow herds, the boys mooed out the windows. And we finally came to "the spot." Still no cell signal. No way to look for nearby gas stations (turns out we were a good 30 miles from the nearest one!)…and no way to call our husbands to have them look or tell us our options.
We embraced the adventure. Took some great photos and managed to get back into town, literally coasting on fumes! So next year when I call Cyndea, I promise to check the gas gauge before we head your way…I'm thinking an entire family picture for 2014 🙂
Onto the recipe, shall we…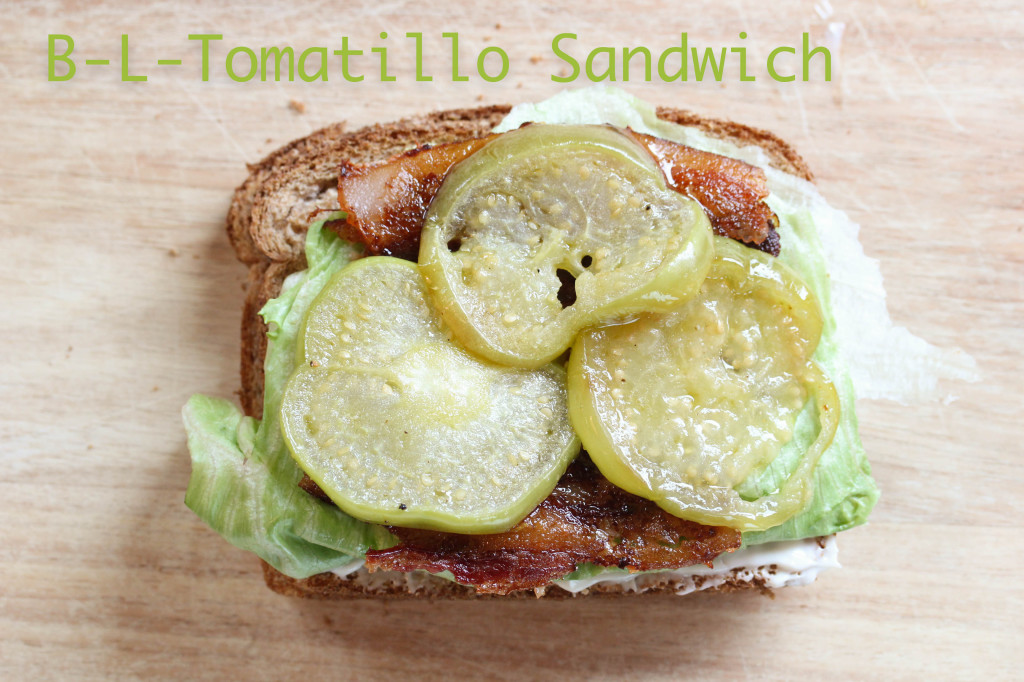 My original intention with this recipe was to make a Fried Green Tomato BLT Sandwich. I adore fried green tomatoes, I love their tang and their overall flavor and thought they'd be the perfect replacement for a red tomato in the traditional BLT sandwich. Well…..I can't find green tomatoes…any. where. I've called every single grocery store in town…no one has them. The farmer's market is a little far away for me to drive out for just a tomato, and the other one (that I know of!) nearby has the same hours that we were in church. I'm sure there are others and I'm hoping to discover them this summer. So I decided to try the sandwich with a tomatillo instead.
It goes like this…pull off the leafy outside. Slice. Saute with salt and pepper. Put on sandwich.
Loved the tangy flavor that the tomatillos added to the sandwich…great complement to the slight tang in the mayo, plus the crisp from the bacon. Delightful sandwich here y'all!
Loved the tangy flavor that the tomatillos added to the sandwich...great complement to the slight tang in the mayo, plus the crisp from the bacon. Delightful sandwich here y'all!
Ingredients
8

slices

bacon

3

large

tomatillos

1

Tbsp

olive oil

Salt and pepper

8

slices

bread

Couple iceburg lettuce leaves

Mayo for spreading

Side dish: Fresh fruit, carrot sticks, chips
Instructions
Cook the bacon. (I cooked an entire package in the oven. Saved some for next day's breakfast.)

Remove the leafy outside and slice the tomatillos. Add the olive oil to a skillet and saute the tomatillos over medium-high heat for about 3 minutes, or until begin to turn opaque. Flip and saute another minute or two, remove from heat. Season with salt and pepper.

Pull apart the lettuce and fold into sandwich size pieces.

Spread mayo on both pieces of bread (or one side if you want less mayo), assemble sandwich with lettuce, 2 slices of bacon, broken to fit, and sauteed tomatillo slices.

Serve B-L-Tomatillo Sandwich with sides.