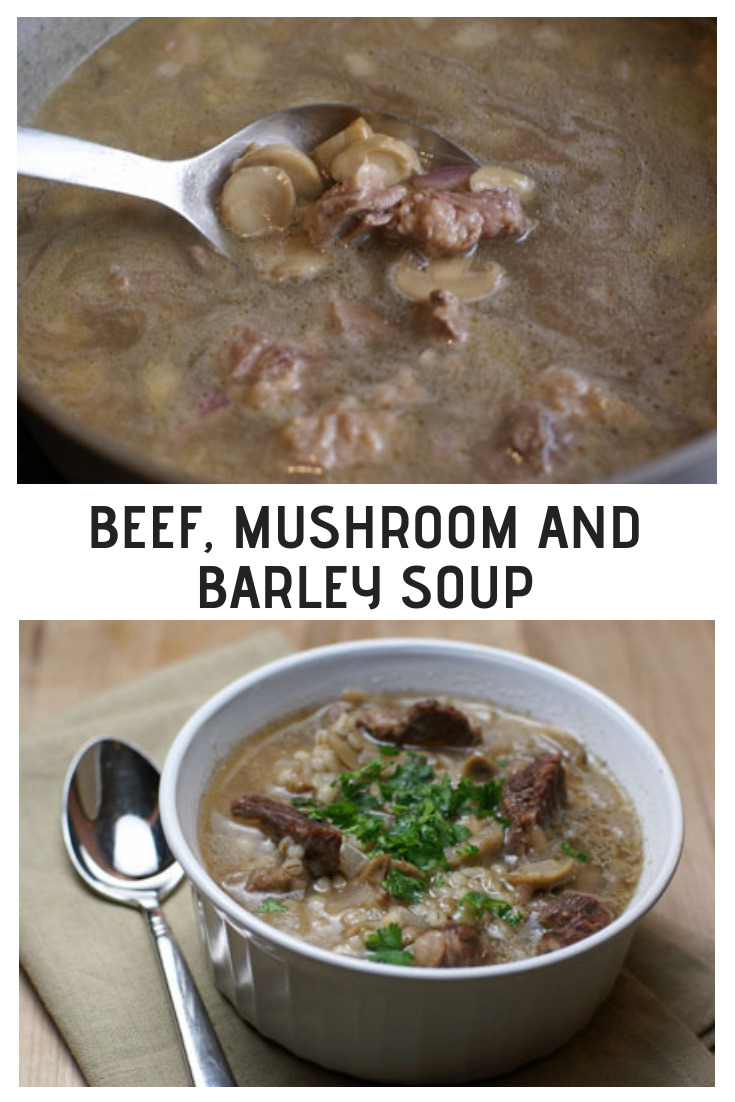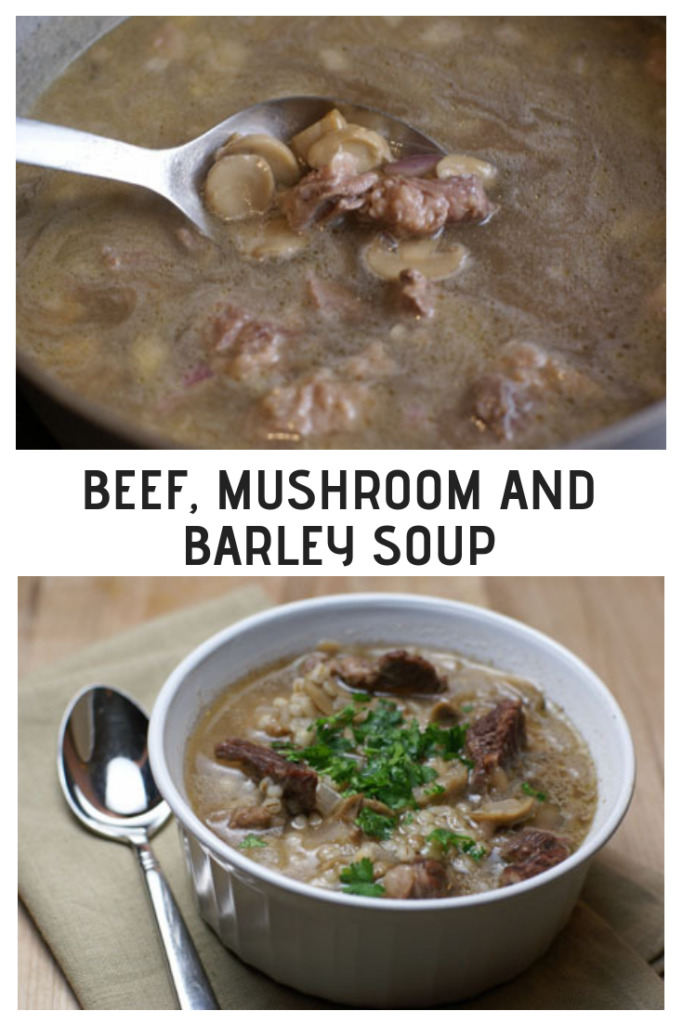 So what seems like yesterday, but was almost a year ago, I made a Mushroom and Barley Soup. I remember it well. Because of its taste, and the ease in making it.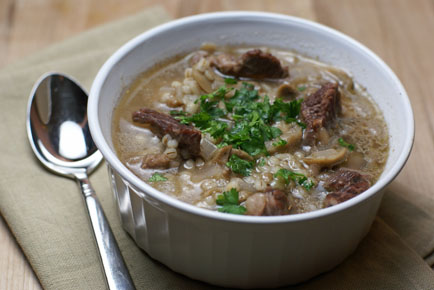 So I'm minding my own business in the kitchen, getting dinner ready while the kids are playing in the playroom. When I hear some squealing from the room behind the kitchen…which houses my newly reorganized stockpile.
Uh. Oh.
More squealing. (How'd he get in there. I didn't even see him go by.)
At the moment that I first heard the squealing I had just finished cutting the beef for the stew off of the chuck roast. Hands were covered in raw meat, so my first stop had to be the sink for a quick wash up. And it was quick!
Still more squealing. And maybe a little giggle.
As
I rounded
the corner into
the back room,
I found…
Wait for it.
Wait for it.
This.
Adorable.
Little.
Monkey.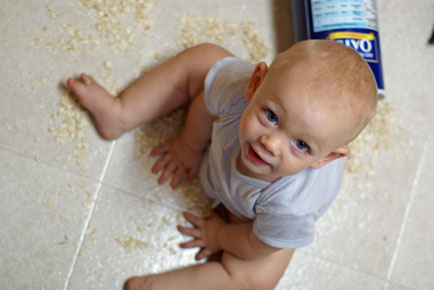 Playing.
In raw oatmeal.
(The camera was within arms reach, and since he wasn't trying to eat the raw oatmeal, I grabbed it to capture the moment!)
So apparently in my reorganizing, I placed the already opened large can of oats on the bottom shelf. I thought it was closed. Doh!
Somebody showed me otherwise.
Tyler has recently taken up the art of walking. He's quite efficient since taking his first "official" steps just 3 weeks ago. I'm sure it has nothing to do with the 2 older brothers he has to keep up with. (Nothing at all!)
So while I'm in the middle of cutting the meat for the soup, he wandered through into the back room to play. It's baby code.
You know the code…where they poop right after you change their diaper. Or when they start screaming or squirming right before the photographer says CHEESE. So much for Christmas photocards this year!
It's like they know.
Back to the beef.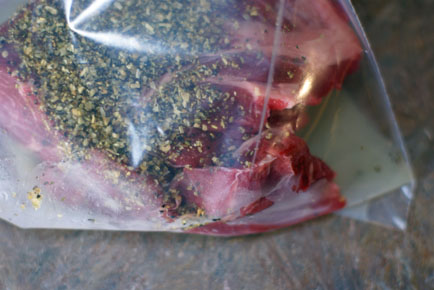 This is the rest of the chuck roast after I cut off the meat for the soup. I seasoned it with some lemon pepper, and added a smidge of lemon juice and olive oil. Beef roast with red potatoes, carrots, celery and onion (similar to this one) is in our future.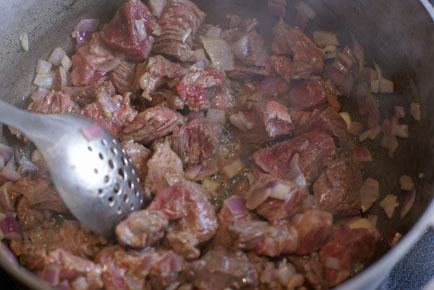 This is the meat that I cut off of the 2.5 lb. chuck roast from last week's shopping trip. Brown the beef cubes on all sides with the red onion and garlic.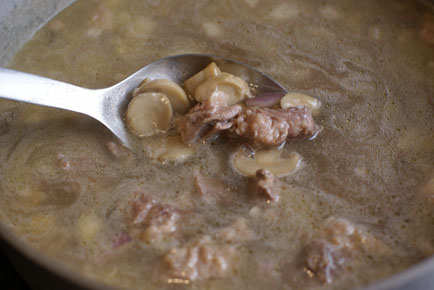 Stir in the beef broth and mushrooms and bring to boil.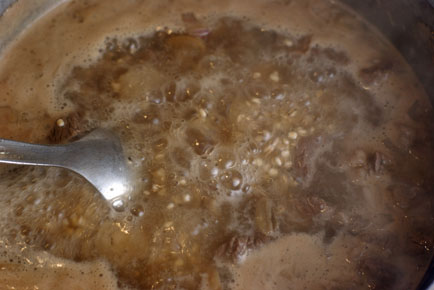 Once bubbling, add the barley and cook at a rolling boil for about 20 minutes, or until barley is cooked.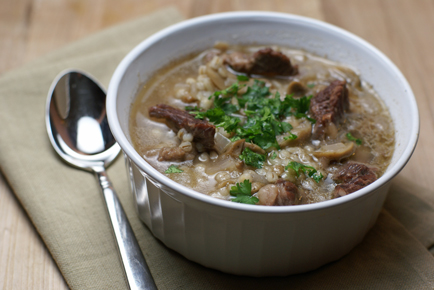 Garnish with fresh parsley. (I have a tiny bit left, hanging on in the garden.)
Melt in your mouth beef makes a hearty soup!
Ingredients
1

lb.

beef cubes

cut from chuck roast, or beef for stew

1/4

red onion

chopped

2

garlic cloves

crushed

1 15

oz

can mushrooms

drained

2

cups

homemade beef broth

2.5

cups

water

Use however much you need to get the "soup-i-ness" that you want

1/2

cup

pearled barley

Salt and pepper to taste

Fresh parsley to garnish

optional

Homemade Bread from the freezer

15

oz.

can corn
Instructions
Brown the sides of the beef cubes in a large saucepan with red onion and crushed garlic.  Once all sides have browned, add the beef broth and water.

Bring to a boil, then add the pearled barley.  Let cook at a rolling boil for 20 minutes.

Season with salt and pepper to taste.

Prepare rolls, or pull bread from the freezer.

Warm corn as directed on the can.

Serve Beef, Mushroom and Barley Soup with bread and corn.