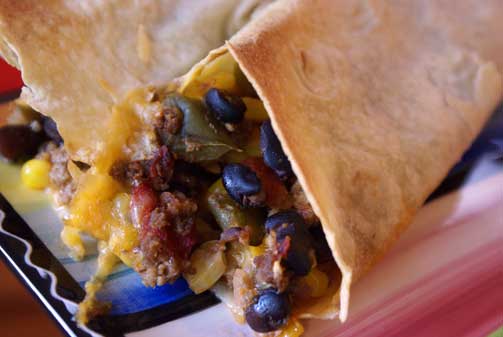 Today is Thursday. That means I'm doubling up the dinner recipe and putting half in the freezer! I plan to do this every Thursday until baby boy #3 arrives. I chose Thursday because its my "lightest" day and I can spend some extra time in the kitchen.
This recipe from Carrie at Carrie's Cooking called for a ground beef, green peppers and onions mix…so I decided that I'd kill 2 birds with 1 stone and brown up some extra ground beef mix and freeze it for an easy spaghettti sauce or a skillet dinner post-baby…or even pre-baby!!! And what's even more perfect…green peppers were on sale (their lowest price around here!) for $.50 each this week!
So tonight I was able to get an extra meal, plus 6 portions of ready-made ground beef mix into the freezer!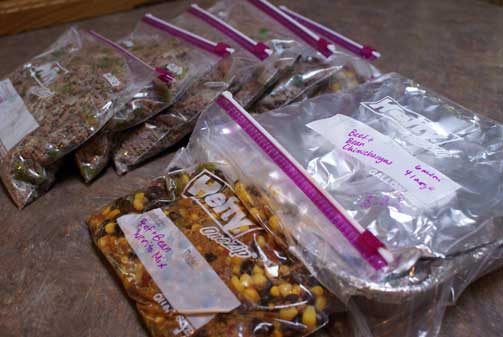 The recipe below is the "single" dinner recipe for 4. I noted the freezer directions below as well.
Ingredients
1 pound lean ground beef ($1.39)

1/2 yellow onion, chopped ($.15)

1 green bell pepper, diced ($.50)

1

cup

frozen corn, thawed ($.33) On sale for $1/16 oz bag this week!

1 15 oz can tomato sauce ($.59)

2 teaspoons chili powder ($.05)

1 teaspoon garlic powder ($.05)

1 teaspoon ground cumin ($.05)

Salt and pepper

1/4

cup

dried black beans ($.10) Bought on sale with coupon and store promotion!

8 burrito size flour tortillas ($.69) Bought on sale with coupon and store promotion!

2

cups

of shredded Mexican cheese blend (Omit if dairy free!) ($.85) Bought on sale with Kroger store coupon!

1 tablespoon butter or dairy free margarine, melted ($.10)

Shredded lettuce ($.20)

1 tomato, diced (From the garden)
Instructions
Soak beans overnight or for at least 2 hours in HOT water. Drain, rinse and then add to saucepan and cover with 2 inches of water. Bring to a boil, cover and reduce heat to medium. Cook for 1.5 - 2 hours, or until beans are soft. Drain juices. Substitute 1 15 oz. can of black beans if prefer.

Brown the ground beef with green pepper, onion and corn. Drain.

Stir in the tomato sauce and chili powder, garlic powder, cumin, salt and pepper. Cook for 4-5 minutes, allowing flavors time to mingle. Add cooked black beans.