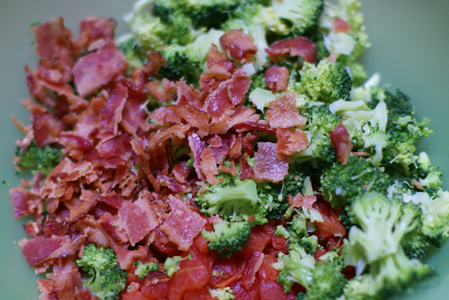 Pictured above: the mixins.
This is a quick and easy pasta salad. And quite refreshing too.
(Too bad, it's cool and wet outside today!)
Ingredients
2

cups

elbows or penne pasta noodles ($.50) Almost out of my $.50 boxes of pasta!

6 strips of bacon or turkey bacon ($.50) (Try cooking bacon in the oven.)

2 heads broccoli, cut into florets ($.79)

1 15 ounce can diced tomatoes ($.19)

About 1/2 cup homemade ranch dressing (or your favorite store bought!) ($.40)

Fresh fruit ($.50) We had apple slices.
Instructions
Cook the pasta as directed on the box. Drain and rinse with cool water.

Cook the bacon in a skillet or in the microwave on paper towels. Let cool, then crumble.

Steam the broccoli florets for just 2 or 3 minutes, in a stovetop steamer or in the microwaveable bowl with 1/2 cup of water, covered with plastic wrap.

Place the cooked and cooled pasta in a large mixing bowl and toss with the crumbled bacon, broccoli florets, diced tomatoes and homemade ranch dressing. Toss. Toss. Toss.

Serve BBT Pasta Salad with fresh fruit.