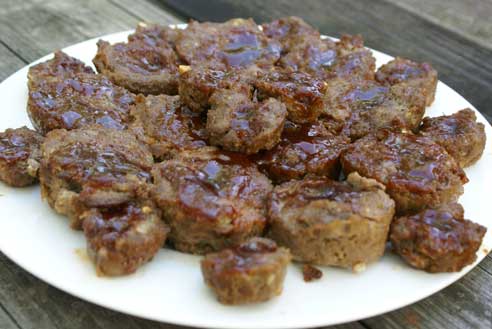 I intended just to make mini meatloaves tonight. With a "blop" of BBQ sauce on each mini-loaf. But there was extra meat mixture left after filling the "12 muffin tin", so I went to grab my "6 muffin tin" for the rest of the meat…but ended up pulling out the mini-muffin tin instead…to make "meatloaf bites!"
The boys LOVED the meatloaf bites!
We did NOT eat all 12 mini meatloaves and 12 meatloaf bites tonight…so I froze the leftovers for a future lunch or dinner!
Ingredients
1.7

lb.

ground beef ($2.19) On sale for $1.29/lb a few weeks back...the LOWEST price I've EVER seen on ground beef!

1 egg ($.10)

1/2

cup

bread crumbs (I prefer homemade) ($.20)

1/4 (HUGE) red onion, finely chopped ($.20)

4 garlic cloves, finely chopped ($.20)

"Blops" of BBQ sauce on each mini-loaf (FREE) Back when Kraft put out the high value coupons (June, I think!), I stocked up on free BBQ sauce!

1

lb.

green beans ($.68) On sale this week! I've NEVER seen fresh green beans priced so low!

1 tsp olive oil ($.05)

Salt/Pepper

6

slices

bread ($.30)

6

Tbsp

margarine ($.20) (dairy free...Smart Balance with Flax is the only dairy free margarine I've found...if you know of another, I'd love to know!)

Dash of garlic salt for each toast ($.05)
Instructions
In mixing bowl, combine ground beef, egg, bread crumbs, finely chopped red onion and finely chopped garlic. Scoop into regular size (or mini size) muffin tins, filling about 2/3-3/4 full. Press your finger into each meat muffin to create a small "well" for the BBQ sauce. Add a "blop" (about 1 tsp) of BBQ sauce to each muffin...regular size and mini!

Bake mini meatloaves and meatloaf bites at 350 for 30-35 minutes, or until no longer pink in the middle. Remove from muffin tin and place on plate.

Saute green beans in skillet with olive oil for 4-6 minutes, or cooked to your preferred "crunchiness" or "softness." Stir often! Season with salt and pepper to taste.

Make garlic toast in toaster or toaster oven.

Serve BBQ Mini Meatloaves and/or Meatloaf Bites with Sauteed Green Beans and Garlic Toast.