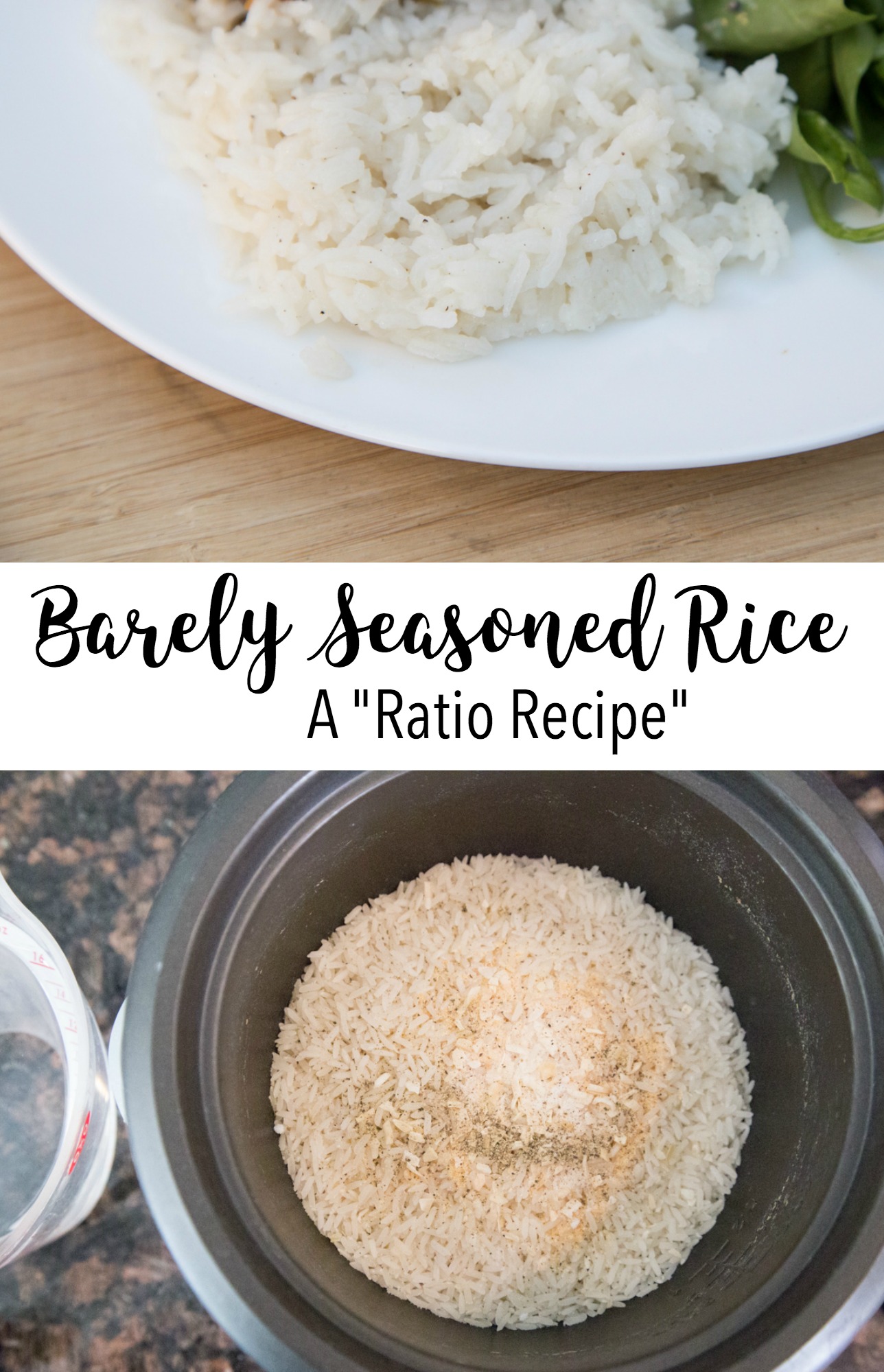 Rice – it's one of our favorite side dishes.
Because it's easy. It's cheap. It's filling (hello, 4 growing boys!!!). And it's super 'customizable.'
As a kid, we grew up eating simple rice as a side dish. I think it was minute rice, cooked in water. I liked to add butter and garlic salt to mine. Just a smidge.
My brother would drown his in salad dressing/vinaigrette – in the 'would you like a little rice with your salad dressing' fashion.
And my mom would add a swirl or three of ketchup to hers.
(This is what my aging brain remembers, at least.)
I remember trying the ketchup once. Meh.
I couldn't get into it.
I've made rice in many ways, with many appliances and many seasoning combos.
But I keep coming back to this one.
Because it's simple. All the boys enjoy it. And it goes with just about anything you'd serve it with. Because it's barely seasoned and won't mess up the other flavors and foods.
I've shared this as a "ratio recipe" – meaning I've written it as "per 1 cup dry white rice." You can just adjust the seasoning amounts, depending on how many cups of white rice you'd use. Works with with any type of rice too – brown, basmati, jasmine.
And works no matter how you cook it – baked, slow cooker, instant pot, rice cooker, saucepan.
Here you go…
The best side dish for just about everything!
Ingredients
1

cup

dry white rice

2 1/4

cups

cups water

1

tsp

minced/dried onion

1/2

tsp

garlic powder

1/2

tsp

salt

1/4

tsp

pepper
Instructions
Mix together the seasoning.

Add the rice to the dish/appliance you are using to cook it. Add the seasoning and stir to combine. Add the water.

Cook as directed on the bag, or by appliance manufacturer.

If you want a deeperflavor to go with the seasoning, use 1 1/8 cup water and 1 1/8 cup vegetable or chicken stock.

Serve as simple and barely seasoned side dish. 🙂