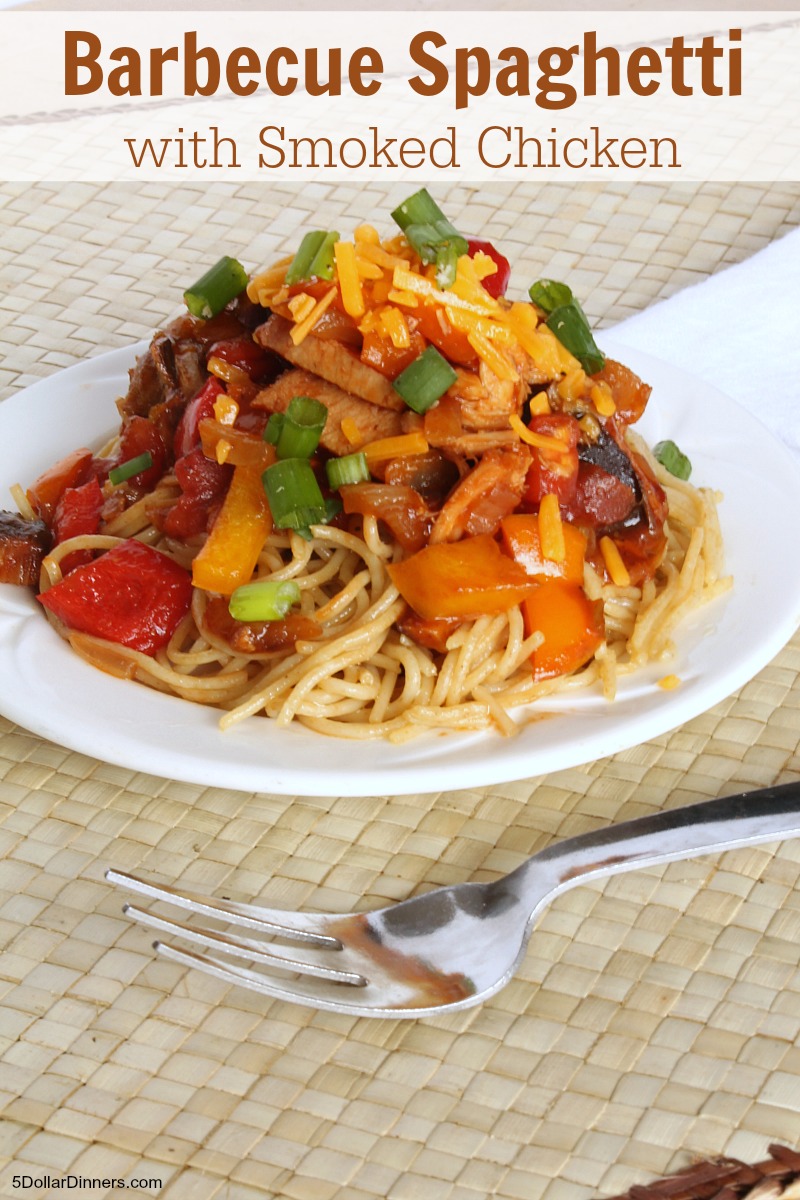 Flavor overload my friend. This right here will make your taste buds explode!
Amazing smoked chicken doused in BBQ sauce and mixed with a bunch of fresh summer veggies…then topped with cheddar cheese (I'd suggest sharp cheddar for this one!)…piled high over a plate of pasta.
Drooling.
Seriously, I might have had to wipe a little drool off my chin while I typed this up! You'll want to add this to your meal plan ASAP!
P.S. If your store doesn't have precooked smoked chicken, you could grill 2 chicken breasts coated in BBQ sauce, then chop them up and mix them in.
Superb flavor in this dish!
Ingredients
6

oz

whole grain spaghetti (about half a package)

4

Tbsp

olive oil, divided

1

stalk celery, diced

1/2

cup

bell peppers, chopped

1/4

cup

onion, chopped

1/2

cup

barbecue sauce

1/2

cup

diced tomatoes, canned, undrained

2

cups

smoked chicken breasts, precooked, cut into chunks

1/2

cup

shredded cheddar cheese

2

green onions, chopped
Instructions
Boil the pasta according to package directions. Drain. Do not rinse. Drizzle with 2 tablespoons of olive oil. Set aside.

In a medium skillet, heat two tablespoons ofolive oil over medium heat.

Add celery, bell peppers, and onions and saute until vegetables are tender.

Stir in barbecue sauce, tomatoes, and chicken. Stir and bring to a low boil.

Simmer for 2 minutes to let the flavors meld together.

Plate the pasta and top with chicken mixture. (Or mix it all together.)

Serve Barbecue Spaghetti with Smoked Chicken sprinkled with cheese and green onions.