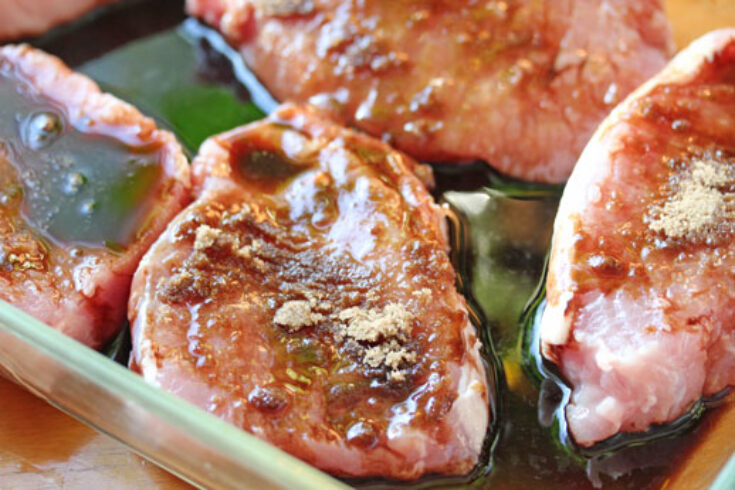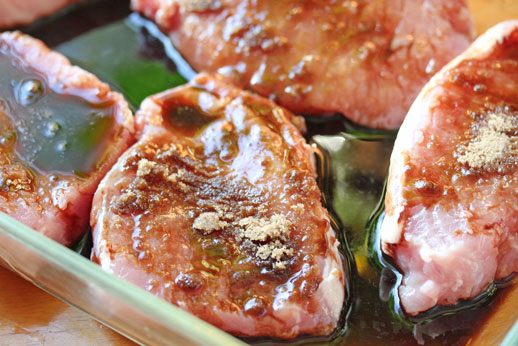 Remember this Slow Cooker Brown Sugar and Balsamic Pork Roast from Slow Cooker week?
I've been dying to try it. I'm a huge balsamic fan and was intrigued by the pork, brown sugar, balsamic flavor combination.
(See: Balsamic Chicken with Caramelized Onions, Chicken Wraps with Balsam-melized Red Onions, Slow Cooker Beef Roast with Balsamic Onions)
I recently bought a boneless pork loin when it was on sale for $1.99/lb and decided to cut it up to use for 3 different meals. I sliced off a piece large enough for a roast, then sliced the rest into enough pork chops for 2 more meals. One of those meals was this one.
My "never pay more than price" for pork loin is $1.99/lb. so when I see it at that price, I take advantage of the savings and the fact that I can get 3 meals from 1 large cut of pork.
We devoured these. Devoured. They had the perfect combination of tang and sweet. Could very well be our family's new favorite pork chop recipe!
I give you the next of many more to come…"House on the Market Bakes!"
(In an attempt to keep the stovetop clean, I'll be baking more in the oven while our home is on the market!)
ENJOY!
These are a family favorite in my home! It's extra great because it's so easy to make!
Ingredients
4

pork chops

about 1 1/4 lb

Salt and pepper

2-3

Tbsp

balsamic vinegar

4

tsp

brown sugar

Favorite potatoes

we had a dairy-free version of mashed red potatoes

Favorite side of veggies
Instructions
Place the pork chops in the bottom of a glass baking dish. Sprinkle some salt and pepper onto both sides of the pork chops.

Then drizzle the balsamic vinegar over the top. Add 1 tsp of brown sugar on top of each pork chop and spread into the vinegar.

Let marinate for at least 30 minutes in the fridge.

Preheat oven to 350.

Bake the pork chops for 30-40 minutes, or until cooked through. Cooking time will depend on the thickness of the chop.

Prepare potatoes (or bread), and veggies.

Serve Balsamic & Brown Sugar Pork Chops with potatoes/bread or veggies.