Looking for something to spruce up your holiday side dishes and meal?!?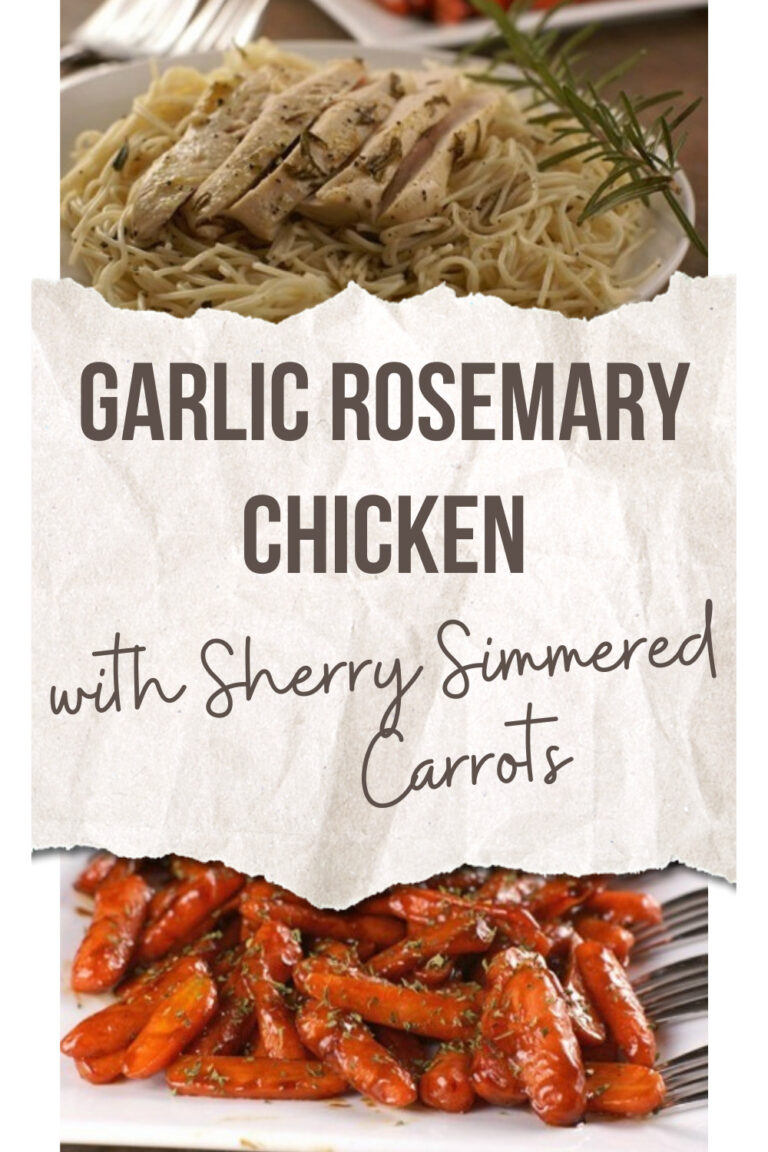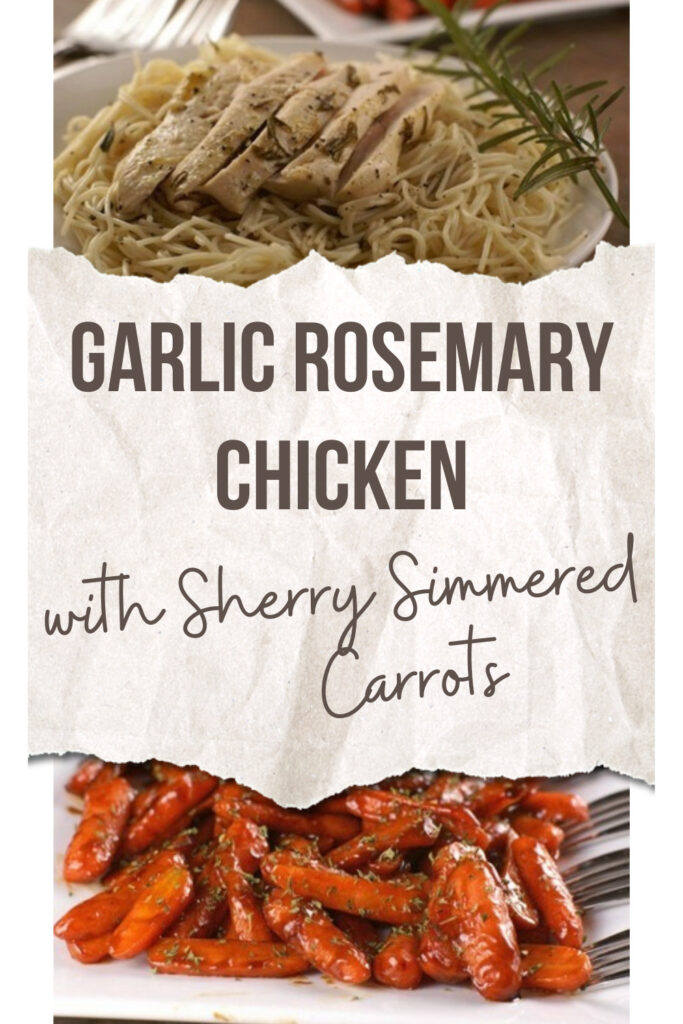 Might I suggest adding a splash (or a cup!) of Holland House cooking wines to your marinade, or a splash of Holland House vinegars to a homemade salad dressing. Make your home merry this holiday season with the delicious flavors of Holland House Wine for Cooking and Premium Vinegars. They will bring rich and bold flavors and smells to your holiday meal, that you likely won't forget!
The Holland House products are also priced so that you can add that "gourmet" touch to your meal, without pushing the overall cost of your meal or side dish over the edge! I've made a simple Rosemary Garlic Chicken…marinated with some of the white cooking wine and white wine vinegar (among other things…see recipe below), as well as the Sherry-Simmered Carrots, using the Sherry Cooking wine. Simple recipes, simple ingredients, but a bold and delicious outcome!!!
And I will say this one thing about these 2 dishes. Ok. Maybe 2 things.
1. I'll take the Sherry-Simmered Carrots over typical "glazed carrots" any night of the week.

2. I'm not sure I'll ever be able to marinate without cooking wine ever again. I absolutely l-o-v-e-d the richness that it added to the cooked chicken. Rich-ness. Just that 1 ingredient added to the marinade transformed this into a gourmet meal for us.
Below you'll find a listing of all the Holland House wines and vinegars, along with some suggestions on how you can use them in your kitchen…to "gourmet-ify" your favorite recipes!
Holland House® Wine for Cooking Products
Red Cooking Wine – Add to soup made with beef stock, or to your favorite homemade red sauce for pasta

Marsala Cooking Wine – Swirl into gravy, creamy carrot or butternut soup, or cream of mushroom soup for a deliciously
nutty flavor
White with Lemon Flavor Cooking Wine – Marinate fish, shrimp or scallops in white with lemon cooking wine. Refrigerate 30 to 60 minutes depending on size and thickness. Drain, then cook as desired.
White Cooking Wine – Include a splash in light cream sauces and cream soups
Vermouth Cooking Wine – Marinate boneless chicken breasts in vermouth cooking wine. Refrigerate 3 to 4 hours. Drain.
Sprinkle with dried basil, tarragon, or thyme and saute in olive oil with a touch of butter
Sherry Cooking Wine – Add character to stir-fry sauces with 1/4-cup sherry cooking wine
Holland House® Premium Vinegar Products
Red Wine Vinegar – Combine with mayonnaise and ketchup for a flavorful Russian dressing
White Wine Vinegar – When poaching eggs, add a teaspoon of white wine vinegar to the water to keep the white intact
Malt Vinegar – Sprinkle on batter-fried zucchini sticks, onion rings, French fries, or baked potato skins
Balsamic Vinegar – Mix with a little brown sugar or honey; sprinkle over fresh berries
Garlic Flavor Red Wine Vinegar – Combine with olive oil and salt; sprinkle over hot-cooked spinach or chard
There you have it…their products, and some great tips for how to best use them!
Also, with the exception of the Malt Vinegar, all these Holland House products are gluten-free. (Can I get a woot-woot from all those with celiac, and other GFers?!)
You can also find more great Holland House Merry in the Making Holiday Recipes on their FB page, and you can find other everyday recipes on their website!
And of course, I've got a coupon for you all! You can request a recipe booklet that includes money saving coupons!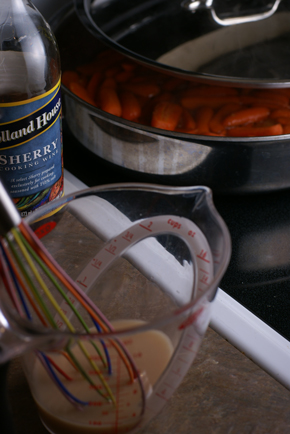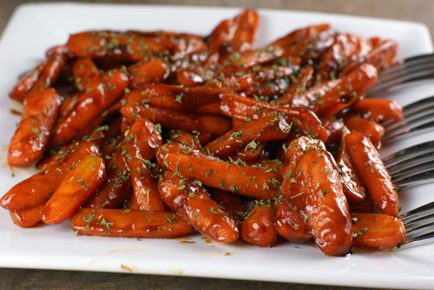 Nom.
Nom.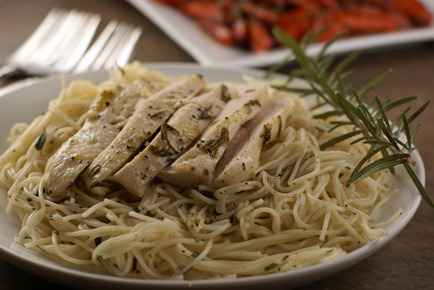 A delightful holiday meal!
Ingredients
Garlic Rosemary Chicken
1

cup

Holland House white cooking wine

1/4

cup

Holland House white wine vinegar

1/4

cup

olive oil

2

stalks fresh rosemary

leaves chopped

4

garlic cloves

crushed

1

tsp

salt and pepper

each

4

small boneless

skinless chicken breasts, about 1/3 lb.

1

lb.

angel hair pasta noodles

1

Tbsp

rosemary leaves

chopped

Salt and pepper
Sherry-Simmered Carrots
1

lb.

baby carrots

halved lengthwise

1

Tbsp

butter or

dairy-free margarine

1

Tbsp

brown sugar

1

tsp

lemon juice

1

tsp

dijon mustard

1/2

tsp

rosemary leaves

chopped

2/3

cups

Holland House Sherry cooking wine

divided

1

tsp

cornstarch

Salt and pepper

to taste
Instructions
In a small container with a lid, shake the white cooking wine, white wine vinegar, olive oil, fresh rosemary leaves, crushed garlic, salt and pepper. Place the chicken breasts in a shallow baking dish or bowl and pour the marinade over the top.  Let marinate for at least 2 hours, ideally overnight.

Pour the chicken and marinade into a baking dish that will hold it (I used an 8x8 glass pyrex). Bake at 350 for 50-55 minutes, or until chicken is cooked through.  Cooking time will vary with the thickness of the chicken.

Prepare the pasta noodles as directed on the package.  Drain and save 1/2 cup of the cooking liquid.  Place the noodles into the serving bowl and toss with the reserved liquid, the rosemary leaves and salt and pepper.

Prepare the sherry-simmered carrots.  Cut all the baby carrots in half, lengthwise.  In a large skillet, melt the butter and brown sugar.  Add the lemon juice and dijon mustard and combine.  Add the chopped rosemary and 1/3 cup of the sherry cooking wine.  Cover and let simmer over medium low heat for a few minutes.

In a measuring cup, or small bowl, whisk together the other 1/3 cup of the sherry cooking wine with the cornstarch.  Pour over the cooking carrots and stir together.  Sauce will thicken quickly.  Remove from heat and serve warm.

Serve Baked Garlic Rosemary Chicken over pasta with Sherry-Simmered Carrots.
(Oh, and double up the Sherry-Simmered Carrots for the perfect holiday side dish for under $5!)
Disclosure: This is a Holland House sponsored post. I received compensation to use their products and share my opinion. Opinions are my own.