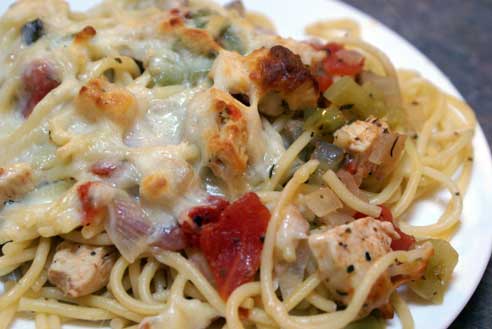 This dish sorta turned into an experiment. I started with a plan in mind. And it kept changing as I found new things in the fridge to add to the dish!
I needed to use the eggplant and Cubanelle peppers I picked from the garden this week. And I had 2 green tomatoes in the fridge (more on the green tomato situation in the next garden update!). Why not throw those in too?
So this is what we got!
Ingredients
12 oz. spaghetti noodles ($.65)

2 tsp olive oil ($.06)

1

medium

yellow onion, chopped ($.30)

2 green tomatoes, diced (from the garden)

1 Cubanelle (aka Italian frying) pepper, seeded and diced (from the garden)

1

small

eggplant, diced (from the garden)

1 tsp garlic powder ($.05)

1 tsp Italian seasonings ($.05)

Salt and pepper to taste

1 15 oz. can diced tomatoes, undrained ($.65)

2

small

chicken breasts, diced ($1.79) About 1 lb.

1-2

cups

shredded mozzarella cheese ($.62-$1.25)

About 1/2 lb. green beans (from the garden)
Instructions
In medium saucepan, cook spaghetti noodles as indicated on the package. Drain and place into greased 9x13-inch baking dish.

In large skillet, add olive oil, onion, green tomatoes, pepper, eggplant, garlic powder, Italian seasonings, salt and pepper.
Cost $4.80