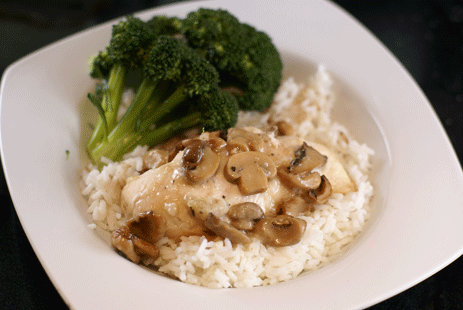 So I'm still sorta doing the pantry challenge…using up what I find…and everything in this meal came from the pantry/freezer minus the broccoli!
One of my dear friends moved to Alaska not long ago…and she left me with a few of her goodies from her pantry…including the Marsala cooking wine you see below!!! Not something I normally buy, but after this meal…I'd totally buy it! I finally remembered to look at the price at the store, so I'd know how much it would have cost…so here you go…
Baked Chicken Marsala
Scrumptious!!!
Ingredients
1.4

lb

package boneless skinless chicken breast ($2.64) On sale regularly for $1.89/lb

1/2

cup

flour ($.10)

1 tsp Italian seasonings ($.05)

1/2 tsp salt and pepper each

1

Tbsp

olive oil ($.10)

1/3

cup

Marsala cooking wine ($.50)

1 4 oz. can of sliced mushrooms, drained ($.49) On sale regularly at Walgreens

1

cup

white rice ($.20)

2

large

heads broccoli ($.79)
Instructions
In a small bowl, mix together the flour, Italian seasonings, salt and pepper. Coat each of the chicken breasts in the flour mixture. Place into baking dish.

Drizzle the olive oil and marsala cooking wine over the coated chicken breasts.

Top the chicken with the sliced mushrooms. Bake at 350 for 50-60 minutes, or until chicken has cooked all the way through. Cooking times may vary depending on thickness of the chicken breast.

Cook the rice according to package directions.

Steam the broccoli in stove-top steamer or in a microwavable bowl with 1/4 cup of water, covered with plastic wrap, for 4-5 minutes.

Serve Baked Chicken Marsala with Rice and Steamed Broccoli.