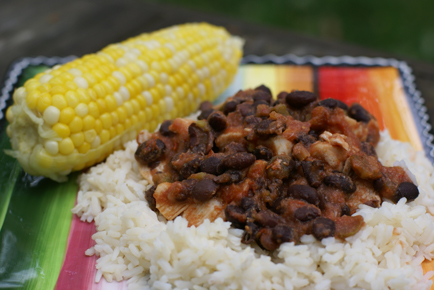 See that corn up there?!? The "summer price" of $.25/ear is here a bit early this year! I couldn't help myself and snagged a few for this week. The boys L-O-V-E corn and I love watching them munch it off the corn. It's sorta cute!
This *might* just become my new "go-to" meal. It's way low maintenance…as long as you get it into the oven in time! It was delicious according to all 4 "table food eating" members of the family! Totally passed the "kid test!"
(Also, I would totally do this in the slow cooker, except I don't like the way chicken breasts turn out when slow-cooked. They get a funny texture. And I'm not a fan!)
Ingredients
1 1.3 lb package chicken breasts ($2.32) Other chicken cuts would totally work!

1 1/2 cups salsa ($1) Bought recently on sale, plus store promotion and coupon

2

cups

cooked black beans ($.40)(Or learn how to cook your own beans here.)

1 teaspoon ground cumin ($.05)

1 teaspoon garlic powder ($.05)

Salt and pepper to taste

1

cup

rice ($.20)

4 ears corn ($1)
Instructions
Place the chicken breasts into an 8x8 inch glass baking dish. Pour the salsa over the top and then stir in the black beans, cumin and garlic powder. Sprinkle with a little salt and pepper. Bake at 350 for 55-60 minutes, or until chicken is no longer pink in the middle. Dice the chicken and mix it all up with the salsa and black beans.

Prepare rice as directed on package.

Remove husks and threads, then boil the ears of corn for 4 to 6 minutes.

Serve Black Bean and Salsa Chicken on Rice with Corn Cobs.
Cost $5.02