A Balanced Plan for After School or Work Cleaning Routines
As we approach the return to campus, I have been paying very close attention to studies and information about recommended cleaning protocols that are being implemented in school buildings.
Along those lines, I've been thinking about my own cleaning routines and "protocols" for our home, to keep the boys as safe as possible being back on campus, hanging out with their friends, and being back in the classroom with their fabulous teachers.
I keep coming back to one word: balance.
Here's the thing…
I don't want to be using and spraying harsh chemicals in my home all afternoon and evening when they get home. With this extra, repetitive cleaning that's happening now and in the future, I need a safer cleaning product.
One that is safe to use around kids and pets, and one that is going to cut the grease and get rid of the dirty!
One that is strong enough to power through the day to day cleaning that happens around here. As we know, THE MESS IS REAL.
(If you missed the 5 Stages of a Mess and how to tackle it once and for all, read this!)
What is this safer natural cleaning product?!
Art of Green® wipes and spray!!!
Art of Green is all of these things, wrapped into one amazing cleaner…and it is perfect for the daily mess. Here's why…
No harsh chemicals
Amazing scent based on essential oils
Tough on grease and grime
Safe to use around Cody (and our new puppy, Daisy!)
Safe to use around the boys
That's why I'm using it for all the DAY TO DAY cleaning in the house.
Check out these two scent options…Lavender Eucalyptus and Citrus & White Flowers.
Both scents are essentials oils based and have a beautiful way of lingering in the space you've just cleaned. So delightful!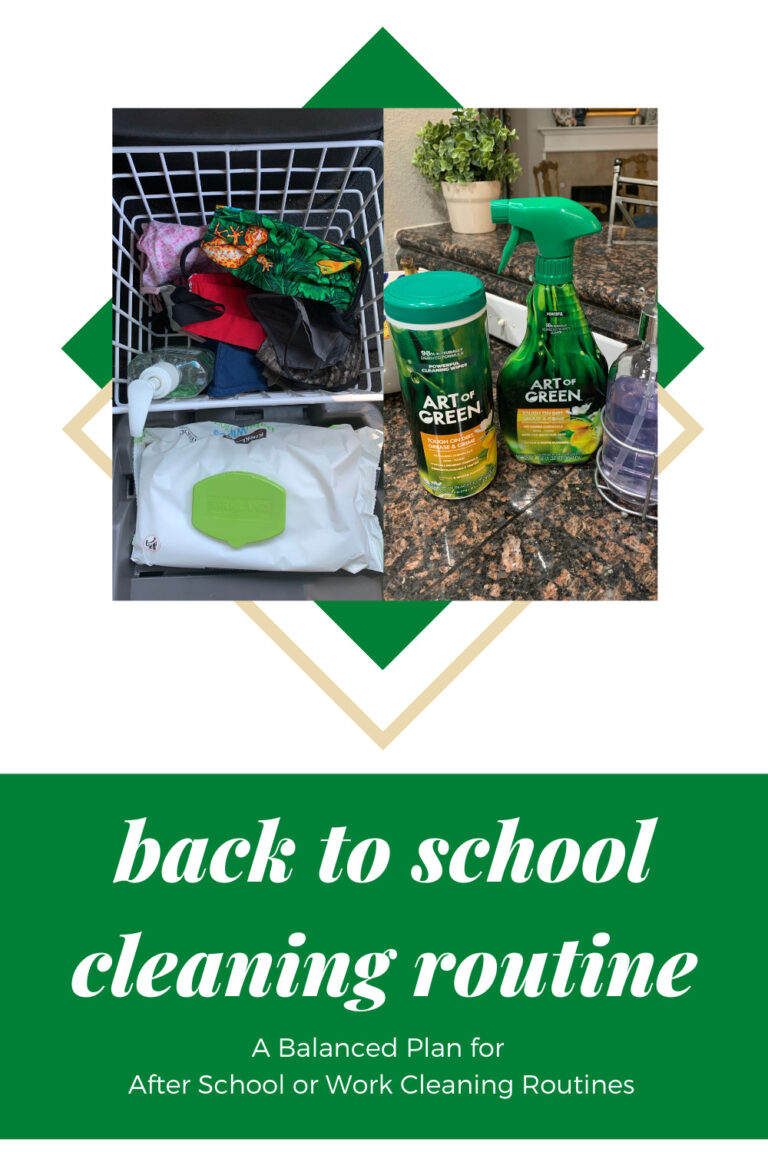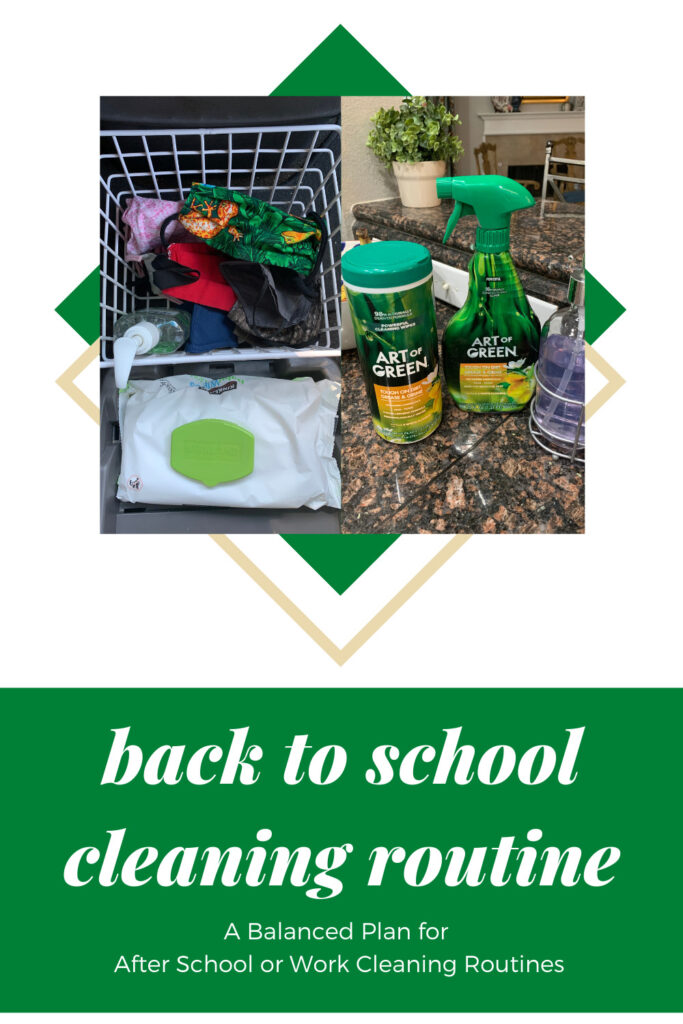 You ready for my Back to School (or Work!) Cleaning Routine?!
Below includes details about how and when I plan to wash, clean, and disinfect the various items that will be traveling back and forth from school each day.
This is loosely based on what a nurse or physician would do after being at work all day in a higher risk environment. While I understand that studies show the transmission of this virus happens most often via respiratory emissions, I also understand that a school is like a petri dish – think strep throat, the flu, etc. Given the current pandemic, I am going to consider school a higher risk environment and take extra pre-cautions.
Because of the invisible transmission possibilities of the virus, I want to take realistic and practical approach to cleaning after school.
My goal with this plan is to strike the right balance of cleaning and disinfecting, practicing positive infection control measures, without going overboard and being paranoid.
BALANCE, my friend…that is the key and goal here.
Please note: this is my personal plan and you should follow protocols that you are most comfortable with 🙂
A walk through video, explaining and showing different parts of my Back to School Cleaning Routine!
Back to School Cleaning Routines and Hacks
WASHING HANDS IN THE VAN
When the boys get into the car, they will "wash" their hands with wet wipe and then hand sanitizer.
The reason for this has to do with the way viruses are transmitted via mucus. The idea is to wipe off any mucus with the wipe, then sanitize with an alcohol based sanitizer.
They will then wash with soap and water when we get home.
SHOES AND CLOTHES
While this isn't really a new routine for us, I thought I'd mention it in this list.
Their shoes will stay in the garage in the shoe basket, and they will change into "play clothes" (or whatever you call that for teenagers!!!) and leave their school clothes in the laundry room to be washed.
PHONES
My 2 oldest boys have phones, but they are not allowed to use them at school. They also have cases that have antimicrobial technology built in.
For these reasons, we will wipe them clean every few days as we always have with Art of Green wipes.
If your child carries a laptop or tablet device back and forth each day, I'd suggest cleaning it daily.
ENTRYWAY
I will disinfect high traffic areas like doorknobs and light switches daily, upon return home from school.
MASKS
Fresh, clean masks will be worn to school each day, so we will get on a mask washing routine and cycle.
I'm going to have some hooks in the laundry room near the backpack station that will hold their clean masks.
BACKPACKS, WATER BOTTLES AND LUNCH BOXES
Water bottles, lunch boxes, and backpack zippers will be cleaned daily in the dishwasher or with Art of Green wipes.
Backpacks will be sprayed weekly with disinfectant.
SCHOOL SUPPLIES
While I don't exactly know what our school is expecting in terms of school supply use for different assignments and projects, I do plan to have a second set of all the crayons, markers, scissors, red pencils, etc. at the house. This will reduce the transmission potential with high touch items. I trust the school to make sure students are using their own supplies and not sharing them.
KITCHEN
The kitchen is the hub of our home and an area that gets dirty all the time…because we have been doing school at home these past few weeks and are cooking all.the.meals. and snacks…or because we are back on campus and bringing back in all kinds of items that need to be cleaned.
I have Art of Green wipes and spray bottle right next to the sink and use them throughout the day to get tough spots off the counter, wipe off the stove top (see picture below from when we really cleaned the stove!!!), clean the faucet and sink handles, as well as wiping down any smudges on our new white cabinets or drawer pulls.
BATHROOMS
The only extra pre-caution that I will take here is additional cleaning and wiping of the downstairs bathroom faucet and handles.
Otherwise, I plan to keep the regular sink, toilet, shower and tub cleaning routine we already have in place.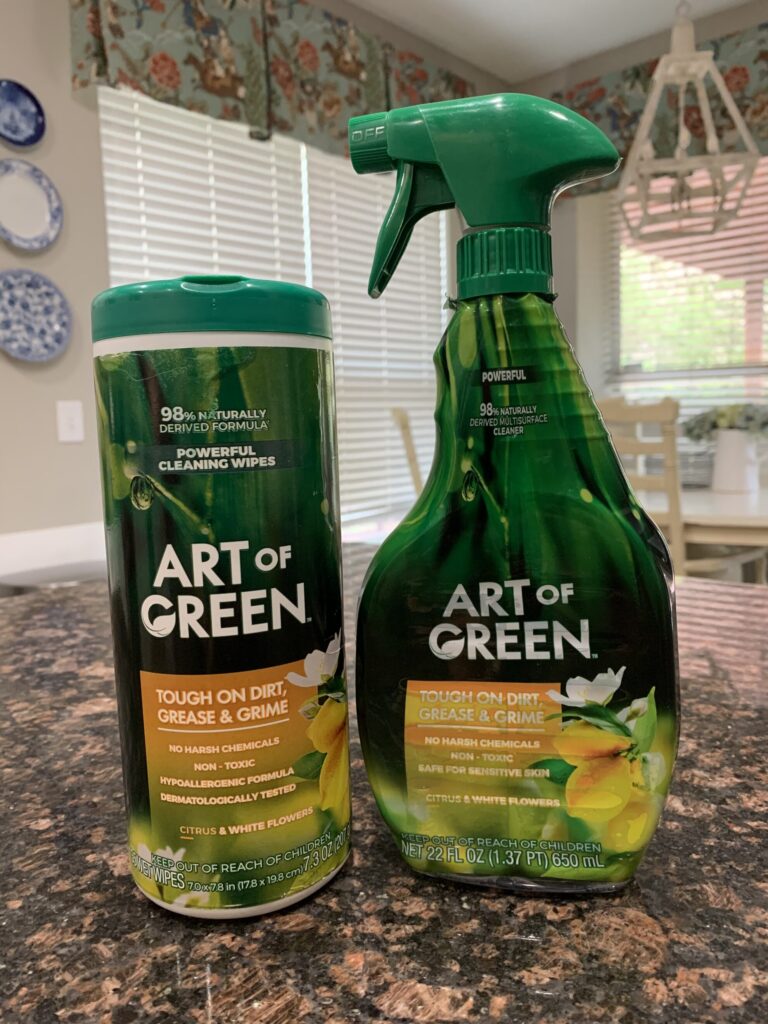 Order Your Art of Green Today
GUESS WHAT!!! BIG NEWS!!!
Art of Green is now available for EVERYONE, EVERYWHERE.
Go right now, get your Art of Green wipes and spray bottles ordered or onto your shopping list, and be on your way to a green, clean home!
Art of Green wipes now available at Target.com and other select retailers.
Disclaimer: This post is sponsored by Art of Green. Opinions and love of the product are my own.