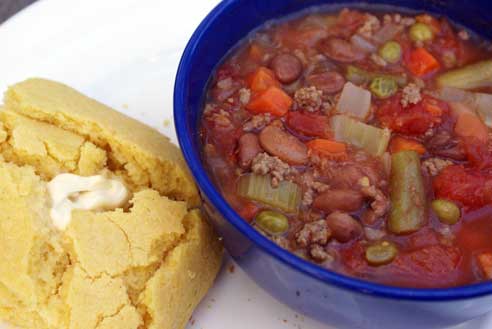 Kristie sent me this super easy and "throw together" recipe for Bachelor Stew.
Ingredients…
1 lb ground beef (Kroger had it for 1.97/lb where I live)
1 can of Vegetable Soup
1 can of Ranch Style Beans ($.79)
1 box of Corn Bread ($.44)
Cook the meat in a large pot then drain. Dump in the soup and beans, mix together, and simmer for 30 minutes.
When I make the cornbread I throw in a bit of sugar when mixing to add a bit of sweetness.
Since the cans of vegetable soups that I checked out all had potatoes (which my oldest is allergic to!), I decided to forgo using the can and just add some frozen veggies in with some canned tomatoes to give the same flavor. And I used some frozen pinto beans from a big batch instead, added a dash of salsa and we'll call them Ranch Style Beans!
Ingredients
1

lb.

ground beef ($1.39) On sale this week!

1/2

small

yellow onion ($.15)

1 tsp garlic powder ($.05)

Salt and pepper

1 celery stalk, chopped, about 1 cup ($.10)

1

cup

frozen peas and carrots ($.33)

1 1/2 cup pinto beans ($.15)(Or learn how to cook your own beans here.)

8 green beans (the last from the garden) Substitute with 1 cup frozen green beans

1 can stewed tomatoes ($.66)

1 can tomato paste ($.19) Used coupon!

1

cup

salsa ($.50)
Instructions
1 3/4 cups yellow cornmeal ($.50)

1/2 cup flour ($.10)

1 Tbsp baking powder ($.05)

2 Tbsp sugar ($.05)

1/2 tsp salt

2 Tbsp canola oil ($.10)

2 eggs ($.20)

1 cup milk ($.10) Use rice milk to stay dairy-free!

Optional, serve with Butter ($.20) and Honey ($.30)