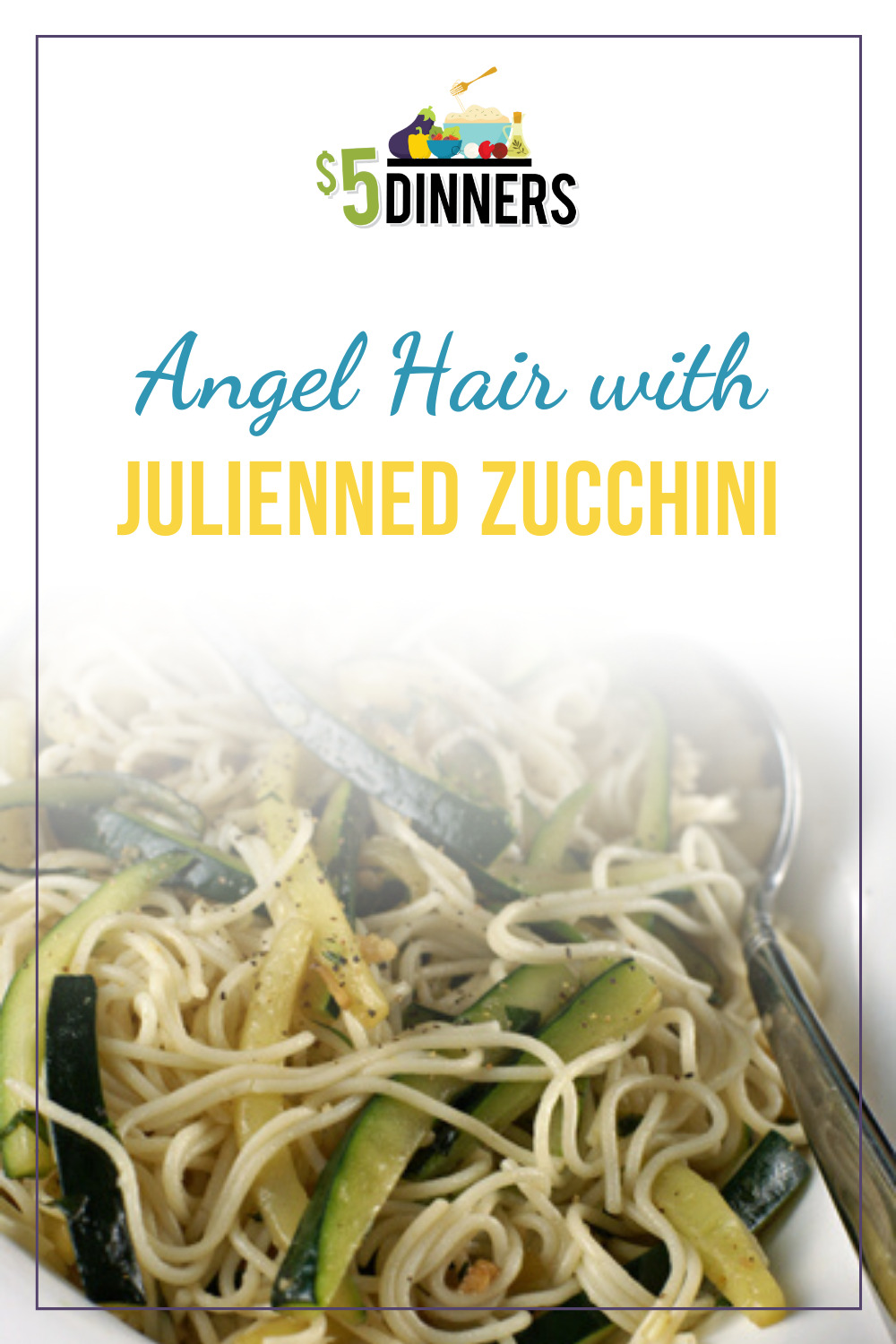 So I am just having the WORST luck with the veggies in the garden this year. I thought for sure (just like I did with the radishes and the yellow squash) that the zucchini would be in by now…but NO…it's taking its sweet precious time getting going! And I just noticed yesterday that the "powdery mildew" is starting to form on some of the smaller leaves too. 🙁
But…it seems that I'm not the only one having trouble! I talked with a local farmer at our nearby farmer's market on Thursday about the garden's slow growth…and he said "this is just about the worst growing season I've seen in all my years."
So it's not just me!
The good news is…the farmer's market has zucchini for as little as $.50 per zuke! And you might even find an amazing deal like this one too!
Last summer Amy compiled quite the list of zucchini recipes…if you are looking to try something new, I highly recommend checking her zucchini recipes list for some ideas!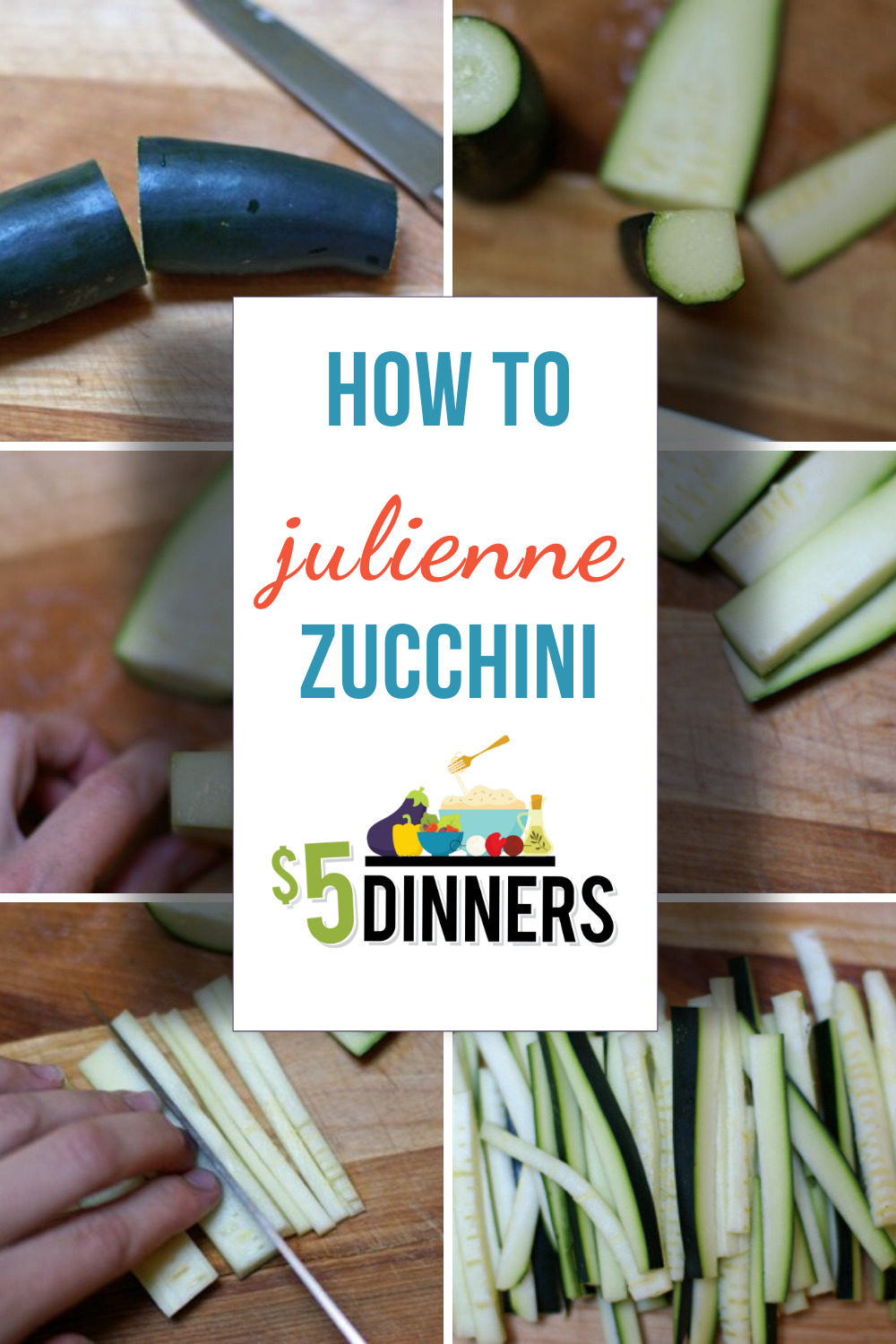 A light and refreshing dish!
Ingredients
1

medium

zucchini

Couple basil, oregano and thyme leaves

1

large

or 2 smaller garlic cloves, crushed

1-2

Tbsp

olive oil

Salt and pepper to taste

3/4

lb.

angel hair pasta
Optional
2

cups

grilled and diced chicken

1/2

cup

grated or shredded Parmesan cheese
Instructions
First up…Julienne the Zucchini…

The Julienne is a 2 1/2 inch long and 1/8-1/4 inch wide cut on vegetables like carrots and zucchini. It is typically done after peeling the veggies…but as you can see, I like to include the green skin in the julienne cuts. For the color, and the nutrients!

Chop of the head and tail of the zucchini.

Cut into about 2 1/2 inch long sections.

Cut off the green edges, creating a square…as best you can!

Cut the square into 1/8 inch wide slices.

Then slice those slices into 1/8 by 1/8 inch pieces. There…it's julienned. Simple, right?!

Make similar cuts to the green skin pieces.

Pile high the julienned zucchini.

Wash and pat dry the fresh herbs.

Place the smaller herbs, like the thyme and oregano leaves, inside the larger leaves.

Roll up like a cigar and run a knife through the fresh herbs.

Peel a large garlic clove…or 2 smaller ones.

In a small or medium skillet, heat the olive oil for 2-3 minutes, then crush the garlic into the oil.

Saute the garlic for a little less than a minute, or until begins to brown. And make your house smell like food heaven.

Add the julienned zucchini.

And toss with the fresh herbs and sauteed garlic. Season with a little salt and pepper.

Let saute, stirring often, for 4-6 minutes, or until begin to turn opaque and some turn brown.

While the zucchini is cooking, prepare the angel hair pasta in a saucepan.

Be sure to separate it well. Angel hair is famous for clumping together!!! Drain pasta when finished cooking.

Toss the cooked pasta with the sauteed julienned zucchini. Season with salt and pepper.