(No. I did not forget about my "dessert of the month" promise. Yes. I do realize that it's the last day of the month. I work best on a tight deadline! Translation: I am one giant procrastinator.)
A match made in food heaven…
Lime. and. Pistachios!
I made this earlier this month when we had some friends from church over for dinner. I made the angel food cake the night before, let it cool (upside down on a cooling rack), and then added the glaze and drizzles just before serving it.
Minus the pistachios and lime, you probably already have the rest of the ingredients on your "baking shelf."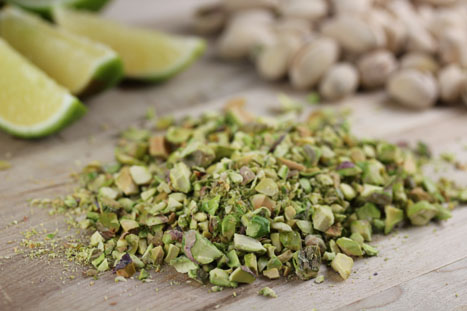 (I bought some pistachios right after the holidays when there was a printable coupon out. There was also a digital coupon that I loaded on my Kroger card (which I did not see when I was loading coupons last night), so I was able to get 2 bags for $1.99 each. We snacked on some. And we used some to make this magnificent dessert!)
Licking my lips as I type.
Ingredients
1

cup

cake flour

1 1/2 cups sugar, divided

1/4 teaspoon salt

10

large

egg whites, room temperature

2 teaspoons finely grated lime peel

1 teaspoon vanilla extract(or use homemade vanilla extract!)

1 teaspoon cream of tartar
Instructions
1/2 cup sugar

4 tablespoons fresh lime juice, divided

1/2 cup unsalted raw pistachios (about 2 ounces), finely chopped in processor

1/2 cup powdered sugar