(No. I did not forget about my "dessert of the month" promise. Yes. I do realize that it's the last day of the month. I work best on a tight deadline! Translation: I am one giant procrastinator.)
A match made in food heaven…
Lime. and. Pistachios!
I made this earlier this month when we had some friends from church over for dinner. I made the angel food cake the night before, let it cool (upside down on a cooling rack), and then added the glaze and drizzles just before serving it.
Minus the pistachios and lime, you probably already have the rest of the ingredients on your "baking shelf."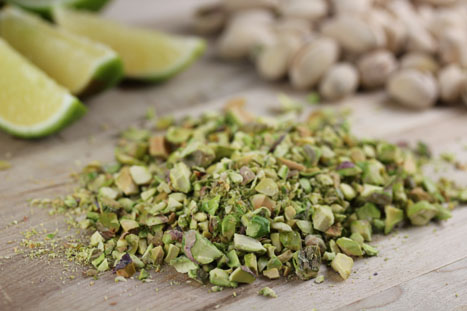 (I bought some pistachios right after the holidays when there was a printable coupon out. There was also a digital coupon that I loaded on my Kroger card (which I did not see when I was loading coupons last night), so I was able to get 2 bags for $1.99 each. We snacked on some. And we used some to make this magnificent dessert!)
Licking my lips as I type.
Lime and pistachios are a match made in heaven!
Ingredients
1

cup

cake flour

1 1/2

cups

sugar, divided

1/4

tsp

salt

10

large

egg whites, room temperature

2

tsp

finely grated lime peel

1

tsp

vanilla extract

1

tsp

cream of tartar
Instructions
Preheat oven to 350°F.

Sift flour, 1/2 cup sugar, and salt into medium bowl; repeat sifting 3 times.

Using electric mixer or stand mixer, beat egg whites, lime peel, and vanilla on medium speed in large bowl until frothy. Add cream of tartar; increase speed to high and beat until soft peaks form.

Gradually add remaining 1 cup sugar, 2 tablespoons at a time, beating until stiff peaks form. Sprinkle 1/3 of flour mixture over whites and gently fold in until incorporated. Fold gently in remaining flour mixture in 2 more additions just until incorporated.

Transfer to ungreased 10-inch angel food cake pan with 4-inch-high sides and removable bottom. (If you don't have an angel food cake pan, then buy the angel food cake…or the pan!)

Bake cake until pale golden and tester inserted near center comes out clean, about 38 minutes. Upon removing cake from the oven, flip it upside down and place it on a cooling rack. Cool cake completely before flipping back over.

Once completely cooled, cut around cake sides with a long thin knife, and the center tube to loosen. Lift out center tube with cake still attached; run knife between cake and bottom of pan to loosen. Invert cake onto the serving piece.

To make the lime syrup and lime glaze, combine sugar and 3 tablespoons lime juice in small saucepan; stir over medium heat until sugar dissolves, then brush syrup all over top and sides of cake. Immediately press pistachios onto top and sides of cake. The syrup will be quite sticky and the pistachios will stick to it.

Stir powdered sugar with remaining 1 tablespoon lime juice in small bowl until smooth. Drizzle glaze over top of cake.

Let stand until glaze sets, about 10 minutes.

Serve at room temperature to hungry family and/or guests!