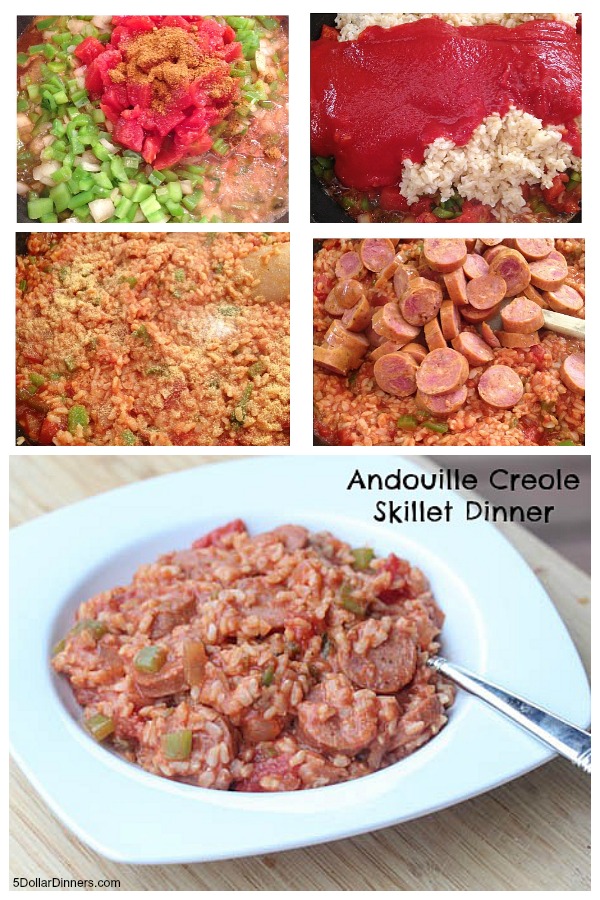 Y'all…if I ever write a 'feeding teenage boys on a budget' cookbook or satire in the future, this will be the headline recipe. It's super filling, super delicious, and super budget friendly. Whenever I use a more expensive ingredient, in this case andouille sausage, I work hard to come up with or find a recipe that calls for other inexpensive ingredients to keep it balanced and frugal. Rice is uber inexpensive, as are canned tomatoes, onions and celery stalks. Find the third in the Cajun trinity, green peppers, for $.50 each or less and you're golden on this recipe.
Here's how it goes down. Step by step photos below the recipe.
Saute and sweat out the Cajun trinity, onions, celery and green peppers.
Add the diced tomatoes and cajun seasoning (chili powder will do if you don't want to buy a new ingredient!).
Add the rice and tomato sauce.
Add the sliced andouille sausage.
Mix & serve.
(Note: The rice does need to be precooked, so be sure to plan to cook that ahead so you can get this ready in a matter of minutes. About an hour before dinner, I started the rice in the rice cooker so it would be ready for the skillet just before dinner.)
(Another note: We all enjoyed this dinner…except every few bites the boys would complain of the spice. So take note if feeding to littler people. Adjust heat to your family's preference.)
Bursting with flavor and easy to prepare!
Ingredients
1

onion, chopped

1

green pepper, seeded and diced

2

celery stalks, chopped

1

15 oz. can diced tomatoes, with juices

1

Tbsp cajun seasoning mix (or chili powder)

3

cups

cooked rice

1

15 oz. can tomato sauce

1

tsp

garlic powder

12

oz

precooked andouille sausage, sliced

Salt and pepper to taste
Instructions
*Cook rice ahead of time, or use leftover rice from previous meal.

Add the chopped onion, green pepper and celery to a 12" cast iron or other large and deep skillet. Saute for a few minutes, stirring often, until onions become translucent.

Stir in the diced tomatoes, seasoning, then fold in the cooked rice and tomato sauce. Sprinkle the garlic powder and a little salt and pepper over the top.

Gently stir in the sliced andouille sausage. Let simmer on low heat for up to 10 minutes before serving.

Serve Andouille Creole Skillet Dinner, right out of the skillet, along with a favorite veggie or small salad.
How To iPhone Picts…
(Forgive the fuzzy!)
From these, you can see that it's a few step "dump and stir" kind of recipe…super simple. Super tasty. Super awesome.