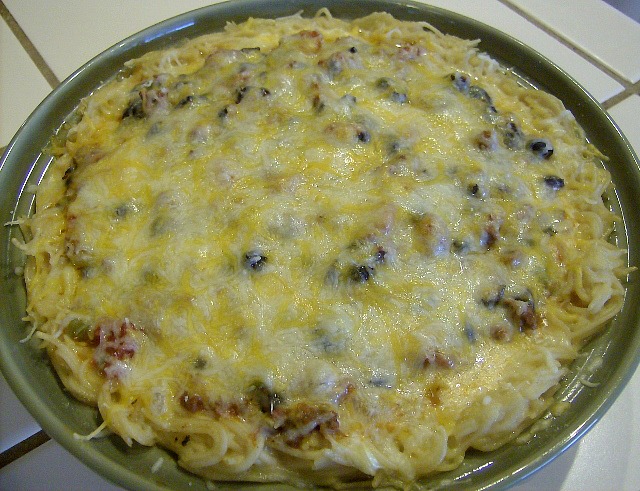 This recipe is born of a desire to not waste leftovers.
When my kids were young and their palates were limited I often had a spaghetti night and a taco night. At the end of the week when I cleaned out the fridge I often had mix matched ingredients. Leftover noodles, but no sauce. Leftover taco meat, but no tortillas. Instead of throwing them out I decided to combine them. My kids enjoyed the unlikely pairing so much that I created a recipe that could be made even when I didn't have leftovers.
Since this recipe uses half a pound of hamburger and half a package of spaghetti, it is an easy recipe to double.
Ingredients
8

oz.

cooked spaghetti

1/2

lb.

ground beef

1

Tbsp

minced onion

1/4

cup

green bell pepper

diced

2

tsp

minced garlic

15

oz.

can diced tomatoes

undrained

15

oz.

can black beans

drained

1

tsp

chili powder

1

tsp

cumin

1

tsp

fresh cilantro

1/2

tsp

paprika

1/4

tsp

cayenne pepper

2

eggs

1

cup

shredded cheese
Instructions
Cook pasta according to package directions. Drain water and set aside.

Brown hamburger with onion, bell pepper, and garlic. Drain fat.

Stir diced tomatoes, beans, and spices into the hamburger. Cook for several minutes, until heated through.

In a large bowl, beat eggs. Add spaghetti and toss until the noodles are completely coated with the egg.

Spoon spaghetti into a greased deep dish pie pan. Push spaghetti up the sides of the pan to form a crust.

Spoon hamburger and bean mixture into the pie shell. Bake for 15 minutes at 350o. Sprinkle cheese over the top of the pie and bake for an additional 15 minutes or until the cheese is melted and the spaghetti begins to brown. Let the pie rest for ~ 10 minutes before serving.