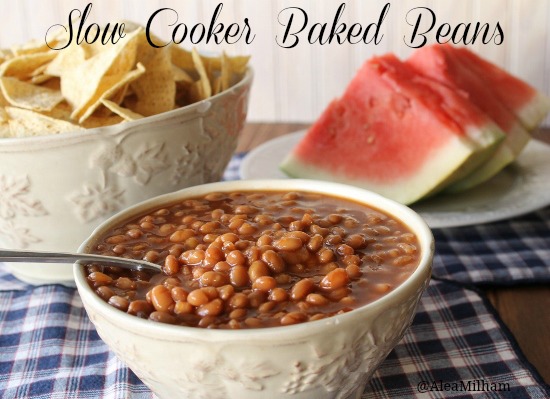 I love baked beans. They are an essential part of our summer barbecues and picnics. But who wants to turn on their oven for several hours on a hot summer day? Not me! So I cheat and make my baked beans in a slow cooker.
This slow cooker baked beans recipe is really easy to make. It is made of common pantry staples, but if you do not have molasses on hand, replace it with brown sugar.
Confession: I don't like pork in my baked beans. And the great thing about making baked beans from scratch is that I can leave it out. However, if you like bacon in your beans, you can add a 1/4 pound of diced salt pork to the slow cooker when you add your beans. Another way to get a nice pork flavor to your beans without spending extra money is to use a leftover ham bone in place of salt pork. Just remember to remove the bone before serving.
Ingredients
2 pounds dried navy beans

2

cups

water + more for soaking and simmering beans

1

cup

ketchup

3/4

cup

brown sugar

1/4

cup

molasses

2 tablespoons Worcestershire sauce

2 teaspoons dry mustard

1 1/2 teaspoons onion powder

1/4 teaspoons salt

1/4 pound salt pork, diced (optional)
Instructions
Place rinsed beans in a large pot. Cover the beans with water. Cook over a high flame until it reaches a boil. Turn the heat off, place a lid on the pot, and let the beans soak for an hour. Drain the water from the beans.

Cover the beans with fresh water and simmer for one hour or until tender. Drain the water from the beans.

Place the beans in the slow cooker. Add ketchup, brown sugar, molasses, dry mustard, onion powder, salt, Worcestershire sauce, and water. Stir well.

Check on the beans occasionally and add additional water if necessary.

Cook the beans on low for 8 hours or on high for 6 hours or until beans are tender.

If your slow cooker has a warm setting, you can turn it to warm until you are ready to serve.