My family is pulled in so many directions during December: Church Christmas pageants, caroling, recitals, school finals, parties, and shopping. All of these activities make it harder for us to sit down as a family and enjoy a meal together. My solution? Fast and easy recipes that can be assembled in minutes and made with ingredients that will convince everyone to find room in their schedule to sit down and enjoy dinner together.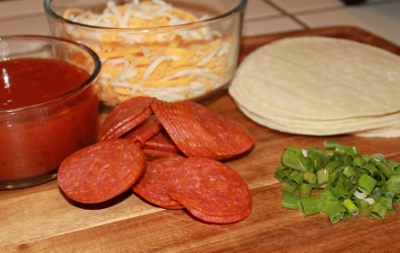 Pizza Quesadillas fit my "hectic schedule" requirements. They are easy to make, come together quickly, and my kids love any recipe with pizza in the name. This recipe is flexible; use your favorite pizza ingredients.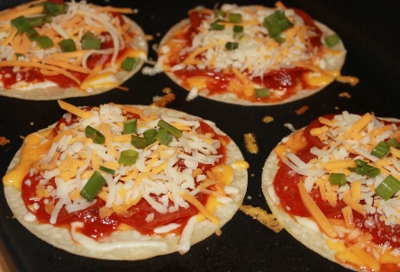 I put the tortillas on the pan, then pile the ingredients on top. Add another tortilla, then flip once the bottom tortilla is browned.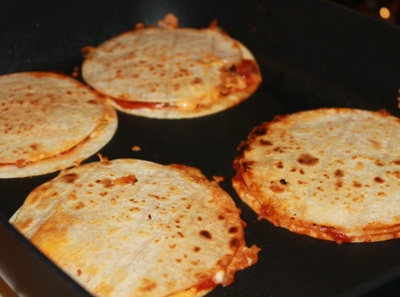 Pizza Quesadillas smell absolutely fantastic while cooking. No need to call the kids to dinner, the aroma will do it for you!
Ingredients
8 tortillas

2

cups

cheese

1/2

cup

pizza sauce (easy pizza sauce recipe)

16

slices

pepperoni

any other pizza ingredients you enjoy (mushrooms, onions, olives, etc.)
Instructions
Brush the pan with oil. Heat the pan over a medium-high flame (or to 350 degrees if you are using an electric skillet)

Place tortilla on the pan.

Sprinkle with ~ 3 tablespoons of cheese.

Spoon ~ 2 tablespoons of pizza sauce on the cheese.

Place 4 pepperoni slices on the pizza sauce.

Add any other pizza ingredients that you like.

Sprinkle with ~ 3 tablespoons of cheese.

Put tortilla on top. Cook until bottom tortilla is browned, 3 -5 minutes.

Flip and cook until the bottom tortilla is browned, approximately 3 - 5 minutes.

Repeat process for the other quesadillas.

Use a pizza cutter to cut the quesadilla into fourths. Serve while warm.