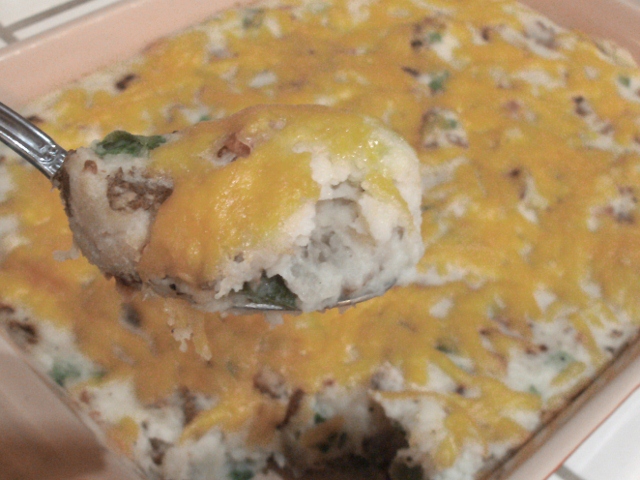 I always make too many mashed potatoes for Thanksgiving dinner. I assume everybody will want to eat as large of a serving of mashed potatoes as I do. Shockingly, that is not the case and I am left with a bowl of leftover mashed potatoes. I don't mind though because that means I have enough mashed potatoes to make Loaded Mashed Potato Casserole.
This is a fast and easy way to repurpose leftover mashed potatoes. It also is a great way to salvage mashed potatoes if you have accidentally made them too runny.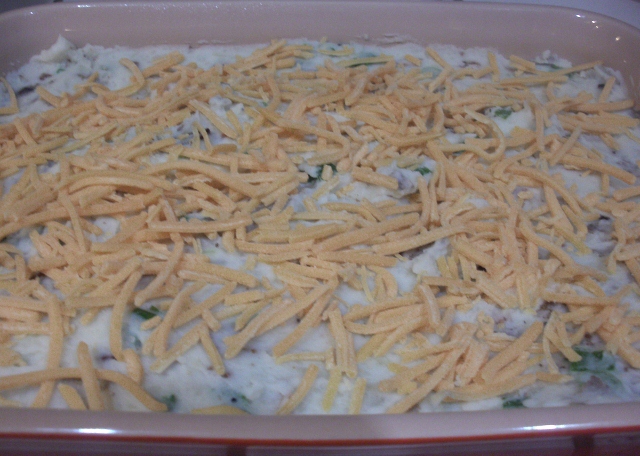 I made this casserole using leftover Mashed Red Potatoes, but you can use any mashed potato recipe as the base. I left the skins on my potatoes because I am lazy. I reconcile my laziness with the knowledge that leaving the skin on provides more nutrients and fiber in a dish that my husband describes as a "carbohydrate bomb".
Leftover mashed potatoes dry out a bit while in the refrigerator and cooking them in the oven will dry them out further, so you will want to add enough milk to the leftover mashed potatoes to make them quite moist. Some potato casseroles recommend adding sour cream or cream cheese, but I find that the onions and bacon add so much flavor that you don't need the added calories or added expense of those items; milk will do quite well.
The best way to use up holiday leftover potatoes!
Ingredients
4-6

cups

mashed potatoes

2/3

cup

milk

3

green onions, thinly sliced

8

strips bacon

3/4

cup

cheddar cheese
Instructions
Cook bacon in a skillet. Then crumble it into small pieces

Add milk to the mashed potatoes until they are very soft and creamy.

Add sliced onions and bacon bits to potatoes and thoroughly combine.

Spoon potato mixture into a greased casserole dish.

Sprinkle cheese over the top of the potatoes.

Bake at 350 degrees for 20 minutes or until cheese is bubbly and the potatoes are heated through.