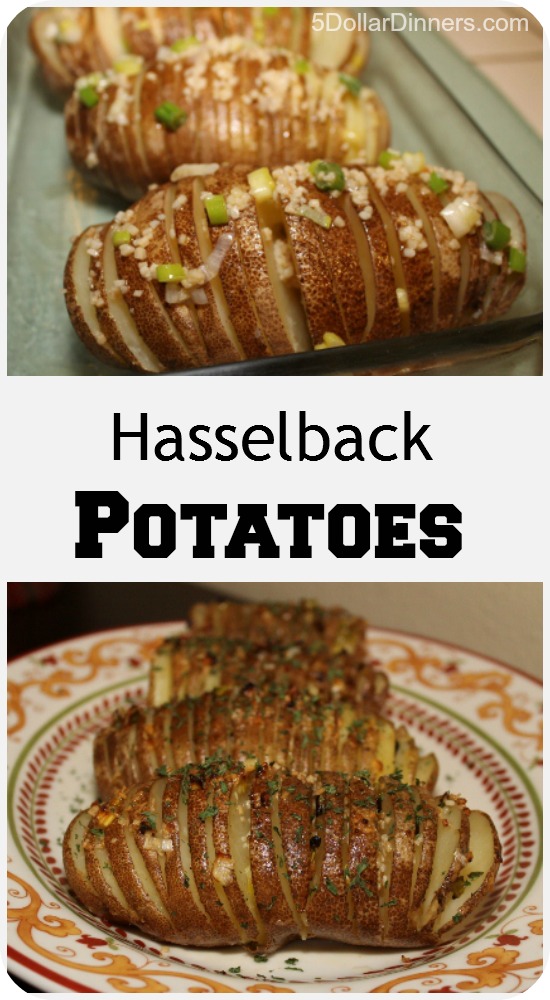 My family loves Hasselback potatoes. They are soooo delicious, but they are also a little tedious to make. Last fall, I decided to come up with a fast and easy method, so I could make them more frequently…and then promptly forgot about my resolution.
My idea was finally put into place on Christmas day. My oven was so full of other items that I didn't have room to make Hasselback potatoes. I put the potatoes in the microwave and baked them. They were almost done baking in the microwave when the oven was finally freed up. I pulled the potatoes out of the microwave, quickly cut them, drizzled butter with olive oil, garlic and onion over the cut potatoes and placed them in the oven. And in the process created the fastest Hasselback potatoes ever.
My "Aha!" Moment: Partially cooked potatoes are much easier to cut than uncooked potatoes. This method, not only reduces the cooking time, it also reduces prep time by enabling you to cut the potatoes in a fraction of the time it takes to make traditional Hasselback potatoes.
These are a great side dish for any meal!
Ingredients
4

medium

potatoes

1/4

cup

butter

1/4

cup

olive oil

1

Tbsp

garlic

1/4

cup

green onions, diced

pepper

parsley
Instructions
Preheat oven to 450 degrees.

Scrub potatoes and prick them with a fork

Place in the microwave and cook on high until just fork tender, approximately 8 - 15 minutes, depending on the size of the potatoes and your microwave.

While the potatoes are in the microwave, melt the butter. Add oil, garlic, onion, and pepper to the butter and stir well.

Remove potatoes from microwave and thinly slice.

Place potatoes in a baking dish and drizzle the butter mixture over potatoes.

Place in the oven and bake at 450 degrees for 10 - 15 minutes or until tops are browned and potatoes are very tender.

Sprinkle with parsley and serve.