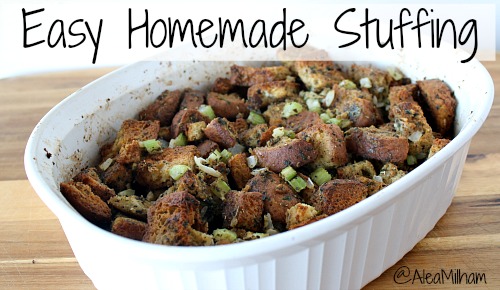 Start saving your dried out bread, the odd leftover hot dog bun, that one extra roll from dinner, and the ends of the bread that your kids refuse to eat. All of those odd pieces of bread that might normally go to waste can be turned into a delicious stuffing for your Thanksgiving dinner. Just freeze them for now and then the day before Thanksgiving pull them out and use them to make croutons.
To make croutons from your odd and end bread pieces, you just need to cut them into bite size pieces, brush them with oil, sprinkle them with some of your favorite herbs and spices and bake them at 450 degrees for approximately 8 minutes. You can use these directions to make Fast and Easy Garlic and Herb Croutons. If you don't have any leftover dried out bread, you can use sandwich bread to make croutons. To have enough croutons for this recipe you need 12 slices of sandwich bread.
This recipe makes enough dressing to fill a 10 – 12 pound turkey, but I never stuff my turkey before cooking it because it increases the cooking time. You can shave about 30 minutes off your cooking time when you cook an unstuffed turkey.
Ingredients
2 green onions, thinly sliced

2 stalks celery chopped

1/3

cup

butter

6

cups

croutons

2 eggs, beaten

1 teaspoon poultry seasoning (homemade poultry seasoning recipe)

1/4 teaspoon seasoned salt

1/8 teaspoon pepper

1/2

cup

turkey, chicken or vegetable broth
Instructions
Saut onion and celery in the butter until the onions are translucent.

Combine onion mixture with bread, eggs, salt, and spices in a large mixing bowl.

Stir in the broth until the croutons are well moistened.

Bake in a greased covered shallow casserole at 325 for about 35 to 45 minutes or use to stuff a 10 - 12 lb turkey.

Take the cover off the last 10 minutes to brown.
This recipe is featured on Meal Plan Monday #138.