Be Inspired by These Simple Ways to Save Money on "Green" and Natural Products
Do you ever suffer from "green guilt" – meaning you want to get the best, natural products to use in, on, and around your home, family and life…but just can stomach the sticker price?!
Well…I have some ideas that will help you incorporate more green and natural products into your budget.
(ALERT: $1/1 Coupon below…so keep reading!)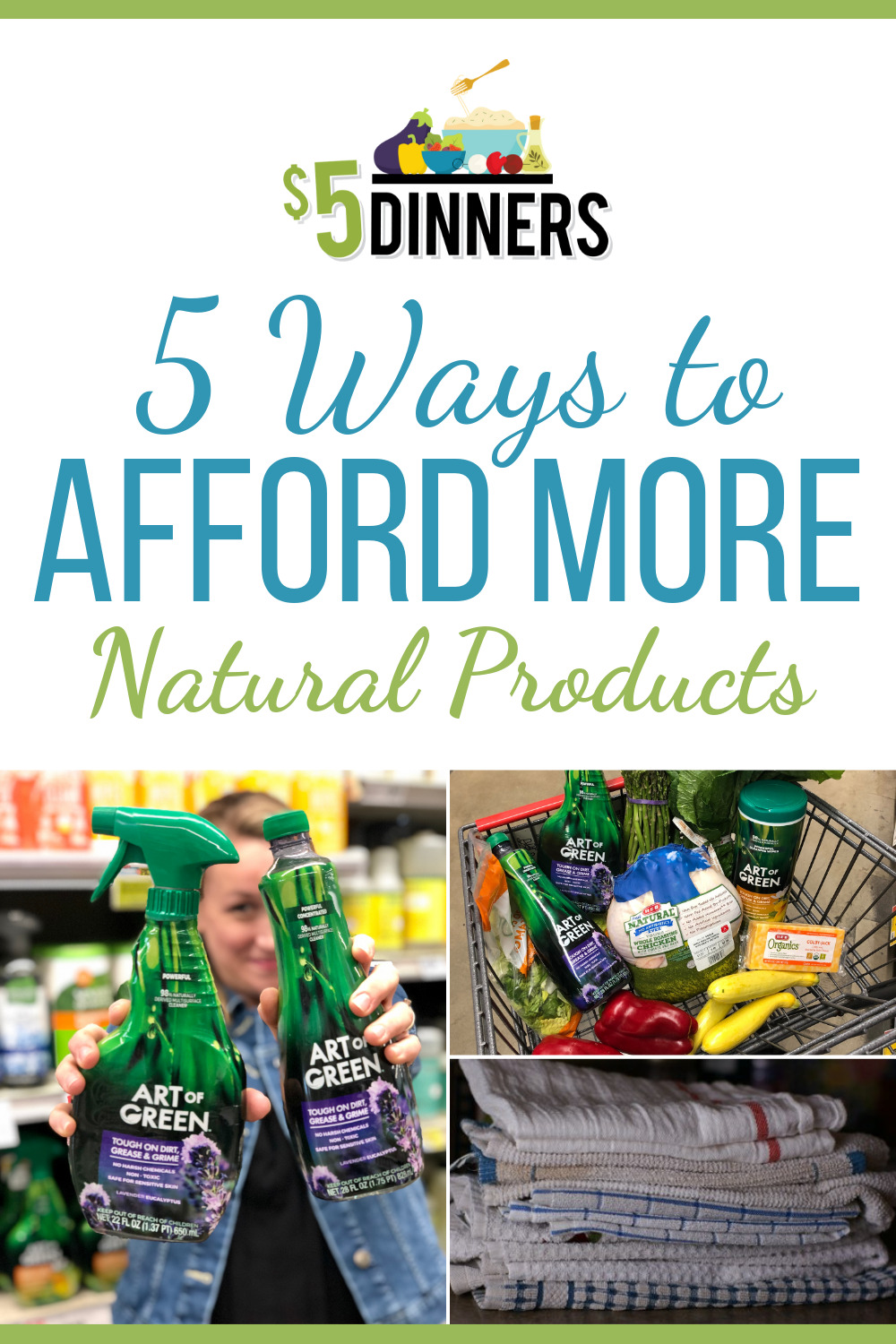 As a busy mom of 4 boys, there are many demands and convictions that I want to follow related to our money, as well as purchasing the best quality products and ingredients within our budget. I do my very best to get the best quality ingredients and products, without busting my budget. And I've learned a few tricks and hacks over the years…and do my best to keep up with new, affordable products too.
Below I'm sharing 5 ideas and products that will help you stop feeling the "green guilt" and start incorporating more natural ingredients into your life and grocery budget.
5 Simple Ways to Afford More Green and Natural Products
#1 Buy Affordable, Natural Cleaning Supplies
Affordable and natural – that sounds kinda like an oxymoron. I always thought that natural products were SO EXPENSIVE…and TBH, rarely bought them.
That is until a few weeks ago when I heard about these brand new cleaning supplies at my HEB – Art of Green™.
As soon as I saw them, I legit spent some TIME hanging out on the cleaning aisle, studying the labels and was quite surprised to see…words that I could actually pronounce. So I grabbed them all and have been using them for about a month…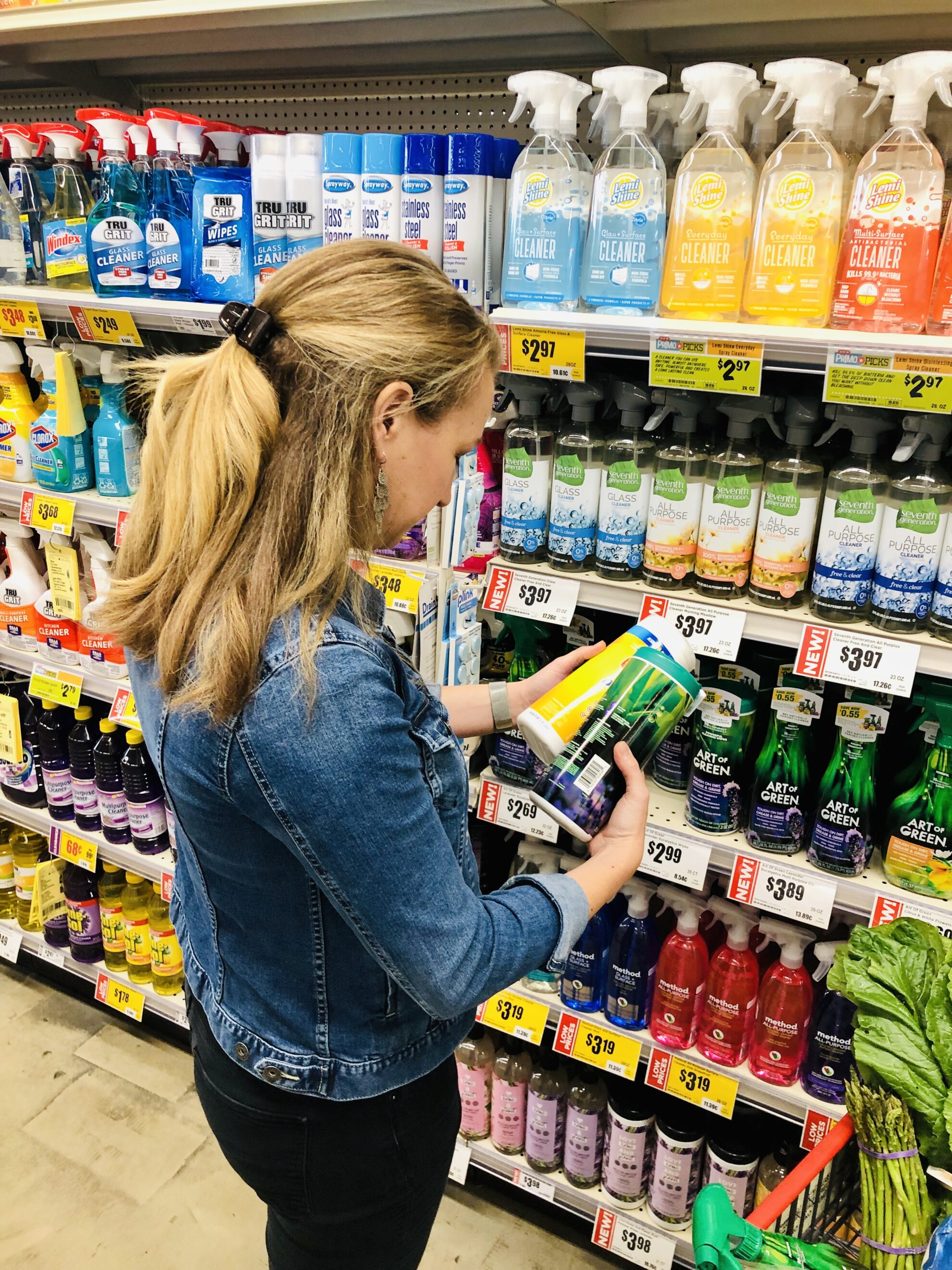 And I ADORE ADORE ADORE them.
Seriously, they clean just as well as the "other cleaners" – tough on dirt and grime – and they work their magical cleaning powers on my kitchen countertops and in the bathroom. And I love using the wipes for quick buzz throughs of the bathroom counters, sink fixtures, and doorknobs!
Right now, they have a multi-purpose spray with a refill (HELLO, more savings!!!) and cleaning wipes – available in 2 scents. And when I say scents – they are actual scents…more along the lines of oily scents, not harsh chemical smelling scents. You'll know what I mean when you get some and use it yourself.
Here's the skinny on the new Art of Green™ cleaners:
They are tough on dirt, grease and grime – they work as well as your current chemical-based products.
They contain no harsh chemicals and are non-toxic.
They are safe for sensitive skin.
They are safe to use around kids and pets.
They were created with the purpose of making green available and affordable for everyone (yes!!!!!)
They the perfect choice for switching from the regular cleaners that have harsh chemicals in them.
Right now, Art of Green is available at HEB stores in Texas. You can tap here to learn more about Art of Green.
Tap here or below to Print Your $1/1 Art of Green Coupon
Check out this final price – $1.69/bottle the spray. And if you use the coupon on the wipes, the final prices is $1.99! WAHOOO!
Tap the photo for your coupon…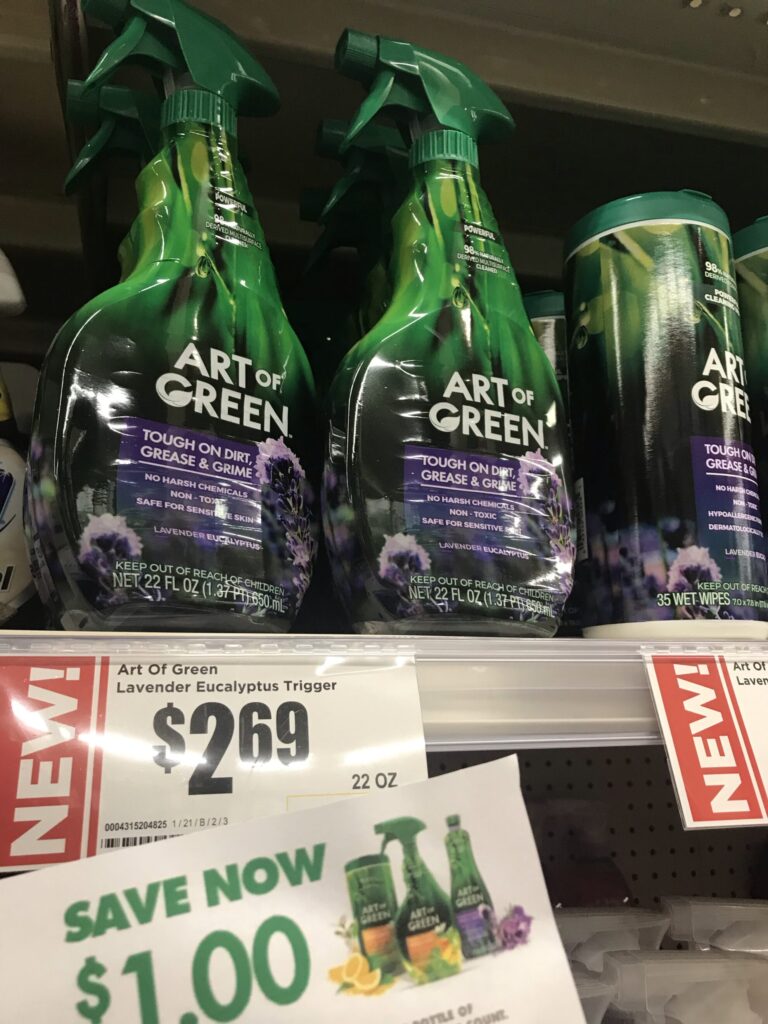 Watch as I clean my own kitchen – YIKES!!!
#2 Stop buying paper towels. Use reusable dish cloths instead.
No need to buy paper towels when you have a stack of sturdy dishtowels to use!
While I do buy paper towels on occasion, I use them sparingly…or they end up sitting in the back pantry not being used. My dad, a chronic paper towel over-user, always jokes that he's going to get me a subscription delivery of paper towels as a Christmas gift each year. But I assure him that they wouldn't get used!
Reusable dish towels last YEARS and get tossed into the laundry with our other towels once a week or so, and it's pretty easy to keep up with them.
(Hint: my boys do a great job of folding and putting them away!)
Bonus points for you if you use your new Art of Green™ cleaners with reusable dish towels!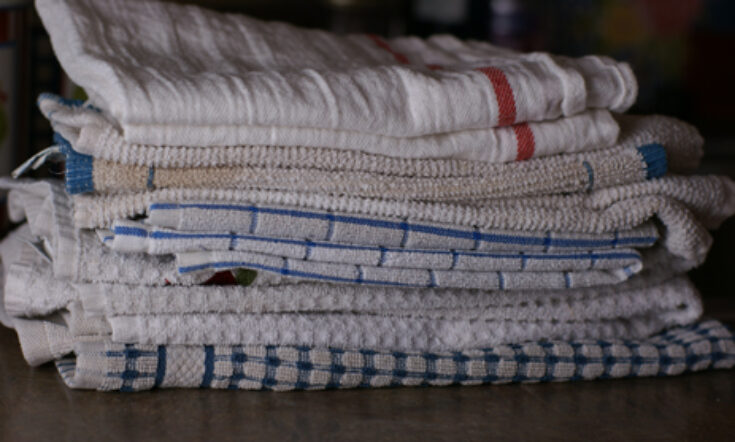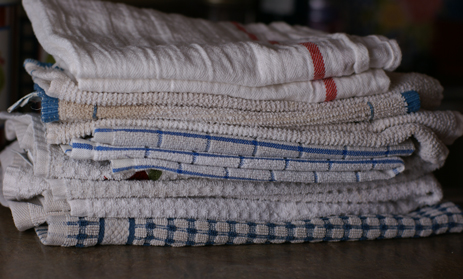 #3 Wash and reuse plastic baggies.
When you finish using up a freezer baggie or a baggie that stored something not too messy, turn it inside out, wash with dish soap and hot water and rinse.
Place the slightly wet plastic baggie, still inside out and upside down so the water will drain off, up to a clean painted wall (doesn't work on wallpaper or textured walls). The baggie will stick to the wall and dry.
Once dry, fold it back to the correct side and store for use another time.
Note: do not reuse any plastic baggie once contained raw meat.
#4 Extend the life of organic ingredients
Yes, organic ingredients are more expensive, but you can stretch them out.
Let's talk a whole chicken – an organic whole chicken can easily be turned into 2-3 meals, depending on your family size. I like to slow cook them and then shred the meat to use in different meals. Then, I'll boil the bones and make some stock.
STRETCH IT OUT.
I've also found that I can get organic frozen vegetables at Costco, for the price as conventional frozen veggies at my regular grocery store. So…I get them in bulk at Costco!
Costco is by far my favorite place to get organic fresh spinach, organic pastas, organic chips, and more. When you're wanting to incorporate more organic food items into your budget, it's crucial to take the time and a piece of paper and do some price comparisons. You'll quickly come up with your own list of what to buy where – and if you have a Costco in your area, start there!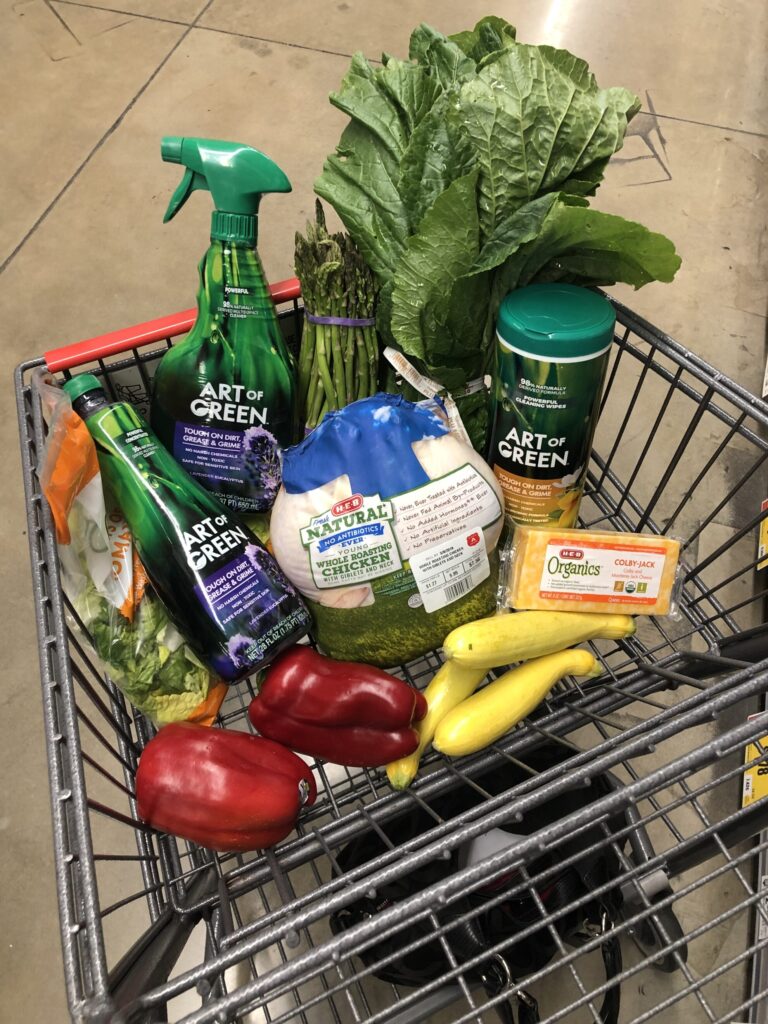 #5 Think "Half" When Doing Laundry
When doing laundry, use half the dryer sheets and half the fabric softener…and they'll last twice as long 😉
I don't recommend using half the laundry soap though – especially if you have 4 sweaty, smelly boys like me! Sometimes I have to use extra laundry soap. 😉
But, I always cut dryer sheets in half…or use them for a few loads. Grab dryer sheets and fabric softener with a coupon and/or sale and then use half…and you'll end up stretching your budget and the products as far as you can – booooom!
Your turn – I would love to hear how you save money on natural, green products!
Please leave a comment and share your ideas with our community!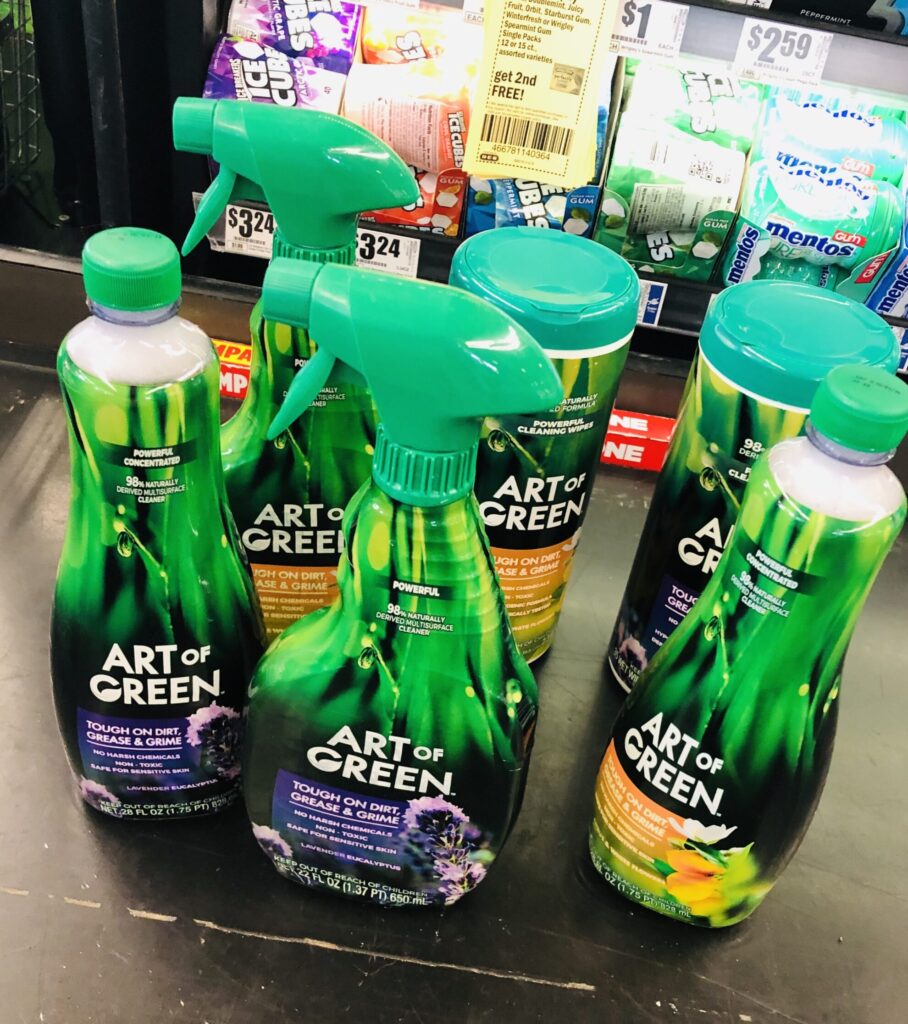 Disclaimer: This post is sponsored by Art of Green. Opinions and experience are my own.