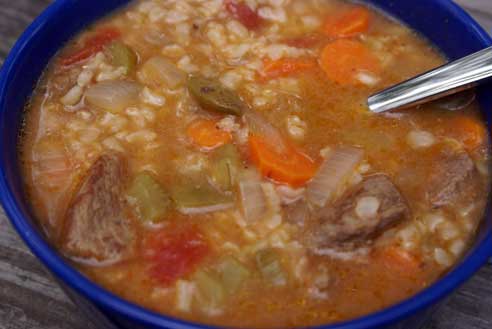 This was the perfect meal to come home to after an afternoon adventure/walk to the park! It was just cold enough outside to be chilly, but not so cold that we didn't enjoy ourselves! Arriving home to this soup was lovely!
Warmed our tummies right up!
Here is the "doubled" version of the recipe! The total cost is not under $5…but since it is two meals worth…we divide by 2 and the overall cost is well below $5 per meal. The other half is going into the freezer!
Ingredients
2

Tbsp

olive oil ($.20)

1.7

lb.

stew beef ($4.77) 2 packages both purchased on Manager's Special

10

cups

water

4

large

carrots, peeled and diced ($.40)

4 stalks celery, diced ($.20)

1 onion, chopped ($.30)

2

cups

frozen Italian style green beans ($.50) On sale for $1/4 cups last week!1 15 oz. can diced tomatoes ($.59)

2 tsp rice or white vinegar ($.05)

1 5 oz. bottle A1 steak sauce ($.29) Used $2 coupon to buy the bottle!

2

cups

brown rice ($.80)

Served with garlic toast ($.50) Used "reduced for quick sale" mini French loaves I had in the freezer. Plus butter/margarine/dairy-free margarine and garlic powder/salt. Omit bread or serve alternative if GF.
Instructions
In large pot, heat the oil. Add the stew meat and sear/brown on all sides to seal in the juices. Once the meat has browned, add 10 cups of water.