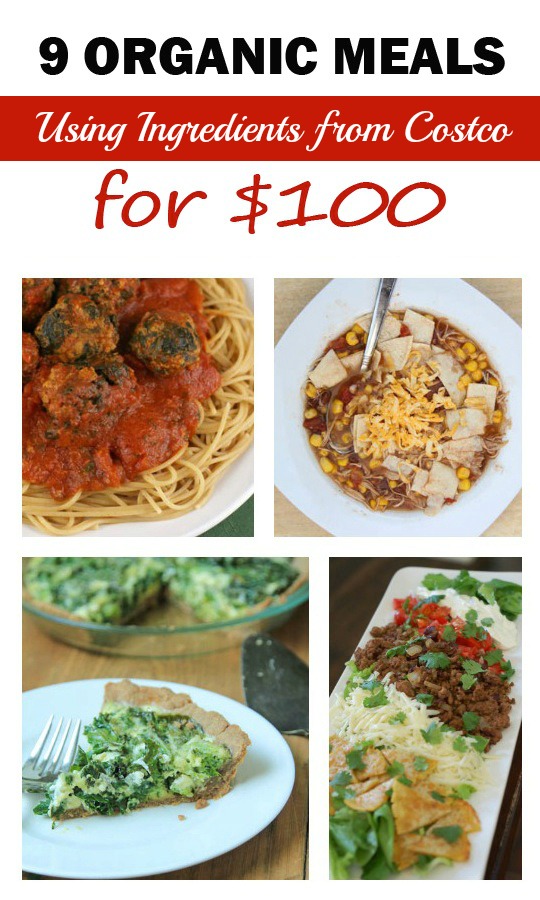 I'm honored and thankful to be included as a guest on Lisa's amazing blog, 100 Days of Real Food!  So as my readers know, I'm pretty much addicted to my 20 meals for $150 meal plan series, using ingredients from Costco.  We've done THREE so far including a highly popular completely gluten free meal plan.  So, I made another one.  This time we changed it up a little and created a…
9 Organic Meals for under $100 meal plan, using organic ingredients from Costco!
While I don't purchase 100% organic for my family, I do try and purchase as much as my budget allows.  Thankfully, Costco has a fantastic selection of organic food all priced very competitively with my other grocery stores.  Win-win!  This organic meal plan includes 9 meals using 5 different recipes with lots of ingredients leftover for additional meals.  In the meal plan, we've included:
Chicken Taco Salad
Slow Cooker Chicken Tortilla Soup
Spaghetti & Meatballs
Sloppy Joes
and Kale Quiche
Hop on over to 100 Days of Real Food to see the complete recipes, shopping list with price breakdown, ideas for leftover ingredients and more…all for FREE!