Whole Foods is a one stop shop for all of your favorite healthy, organic, and natural food choices. And while Whole Foods has a great selection and some of the best healthy living brands around, you will find that these products can come at a cost. Shopping at Whole Foods can cost more than your other big box grocery stores, but the good news is there are ways to save money when you shop.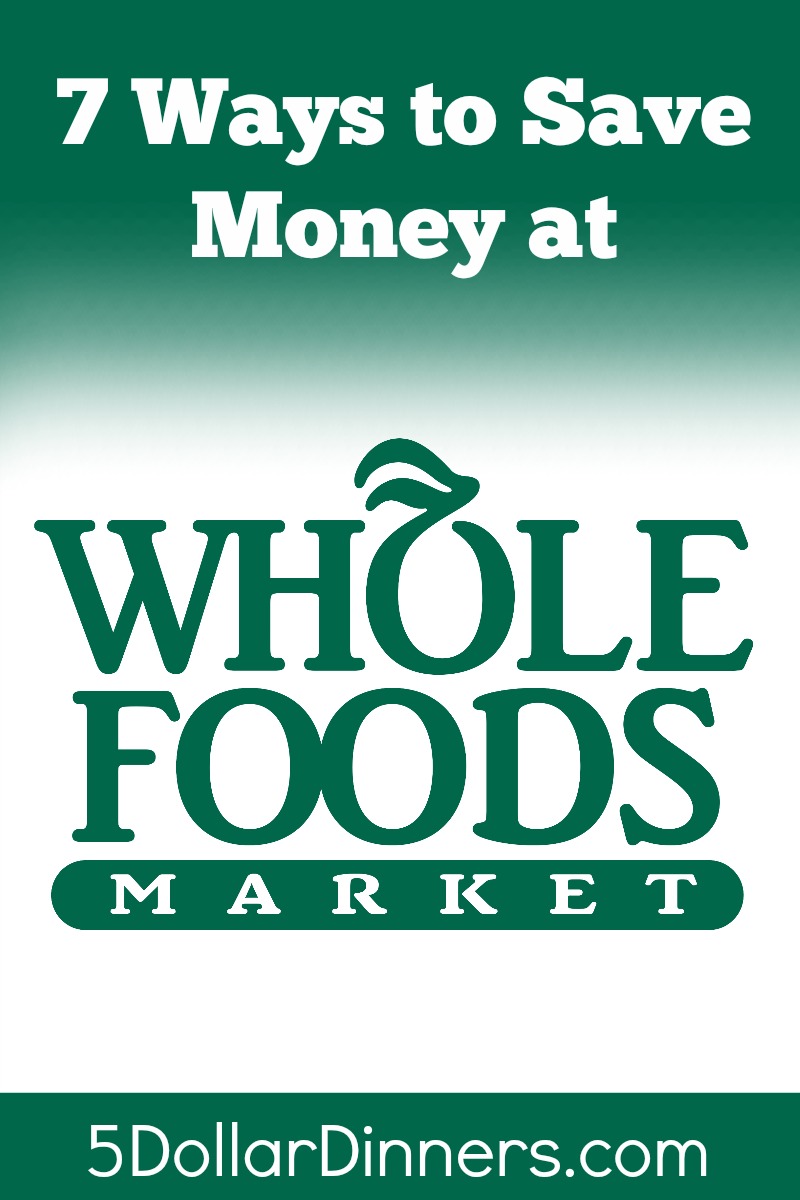 Take a look below at 7 Ways to Save Money at Whole Foods, so you can get all of the products you love for less.
1. Print coupons from their website.
Head over to the official Whole Foods website where you will find printable coupons waiting for you. Switch your printer settings to black and white printing only, so you not only save money but save ink too. Your selection of coupons will change often, so keep an eye on this page often.
2. Always bring your own bags and bulk containers.
If you don't bring your own shopping bags and containers for bulk goods you will be charged for them. Instead, save the planet and save some cash when you bring your own bags and bulk containers. Keep these items in your trunk so no matter when you stop to shop, you are prepared.
3. Sign up for their email/mailing list.
While you are at the Whole Foods website printing out coupons, be sure to sign up for their mailing list. When you register as a customer you will get offers sent to your email and mail. You also get sale notifications, event notifications, even healthy living tips.
4. Follow them on social media on the local and national level.
Not only does Whole Foods have social media pages for their national chain, but your local store may have its own page as well. Be sure to follow both the local and national store sites. You will find out about recent sales and specials, get coupon opportunities, and also get healthy living tips.
5. Stack your coupon savings whenever possible.
Don't just print out the Whole Foods website coupons, but look for manufacturer coupons for your favorite products too. This way you can stack your savings and use both the printable coupon and the manufacturer coupon on the items.
6. Join the Whole Foods Kids Club.
If you have little ones, you should join the Whole Food Kids Club. With this club kids get access to freebies and samples plus healthy living fun. Head to the website or ask in store about getting signed up for the Whole Foods Kids Club today!
7. Wednesdays are the best day to shop.
Most Whole Foods stores start their sale cycles on Wednesdays. You will find the best selections on these days and get first dibs on the sale items. At the same time, you might notice some heavy markdowns on the Tuesday before a new sale cycle starts, since the store will be liquidating the previous week's sale items.
See how simple it can be to save money at Whole Foods? Give these tips for saving money at Whole Foods a try and see how much you can save!