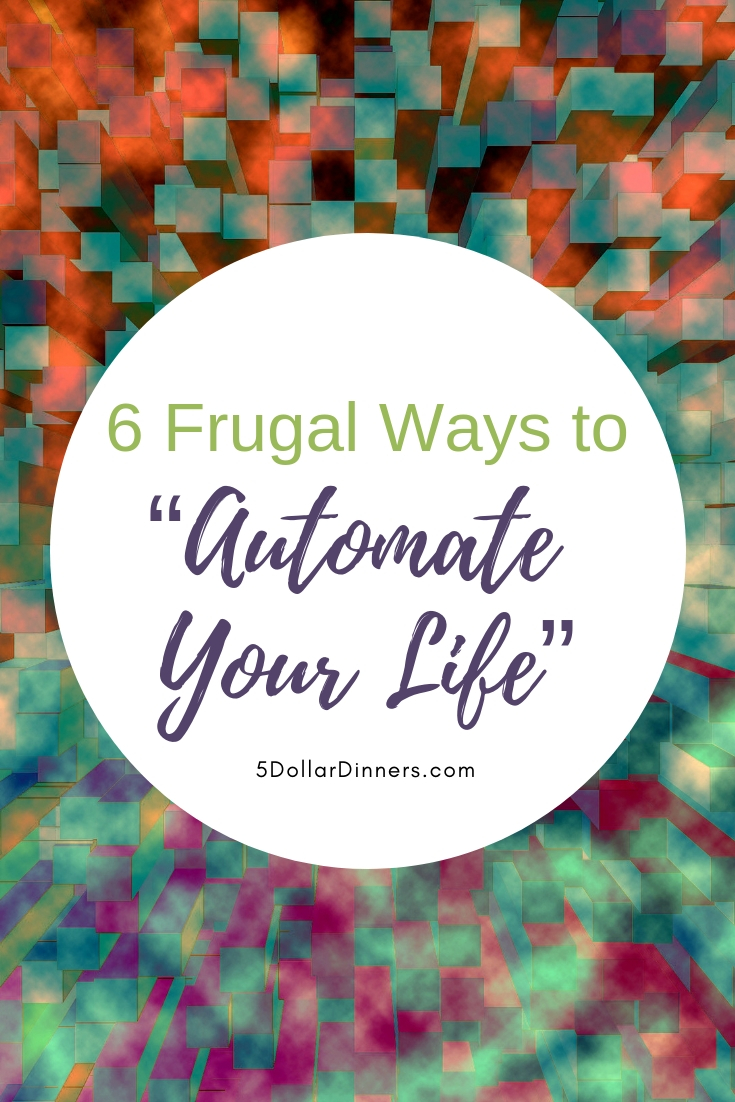 How many times do you wake up and think "man it would be nice if that task would just take care of itself?" Or lay in bed wondering how you're going to get it all done.
Sometimes you need to work smarter…not harder. This is my motto in life and in business. (Side note: if you were able to peek under the hoods of our businesses and see the automation that's set up to keep things running smoothly, your head might explode!) Beyond my businesses, there are other instances where I've "automated my life," and I want to share those with you.  Automating your life often comes with a "price," and you have to weight the cost vs. convenience factors to decide if it's worth your money, and time setting up!
I've done some of this "weighing of options" for you and have implemented these into my life. So I thought I would share!
Check out these 5 frugal ways to you can automate your life….
1. Use Alexa to help you remember!
If you have an Alexa, I wonder if you're using it to its fullest potential. Alexa can set timers for you! She can set alarms and reminders too. If you have the Echo Show, she can display your calendar for you. And if you don't have an Echo Show, she can read your calendar or to-do list to you. You can ask her to make a to-do list and remind you of it at a certain time. Stop trying to remember everything for yourself because Alexa is like an inexpensive robot to help you automate your life. So, use Alexa to set those timers, alarms, and reminders!
You can order any of the Alexa devices from Amazon.
2. Set up air filter delivery with Filter Easy!
When I heard about this air filter delivery/subscription option, I couldn't get to the website fast enough. This is one of those items and tasks that I always forget about, and end up running out to grab and not getting the best deal.
When I heard about it, I thought would be way more expensive than it is. I'm glad I looked. My oldest son has a SEVERE dust mite allergy, so we are supposed to change our filters monthly AND get the highest level of filter possible. I assumed this would be uber-expensive with Filter Easy, but it wasn't.
Now I have filters being delivered to my door…so I don't have to run out in a panic to get more, and so I don't have to remember to change them monthly. They arrive, we change, and I don't have to worry about Ryan's sneezing! Hooray for relief on multiple fronts!
Get started with Filter Easy today! Your first delivery is free!
3. Automate Dinner with Make-Ahead Freezer Meals!
Making meals ahead of time has been a time saver for me, as you may already know!
Make-ahead freezer meals are one way to automate your life. Those nights that you're super busy and the last thing you want to think about is dinner, freezer meals save you! MyFreezEasy is something that can help you get started on automating that part of your life. I believe that so much, that I built an amazing program (and apps!) to help make dinner easier for you!
All of the meals are budget friendly, so investing in a MyFreezEasy membership will (most likely, we rarely hear otherwise!) help reduce your overall grocery spending!
Get started with our FREE Freezer Cooking Workshop to learn how it all works and fits into your life!

4. Grocery Pickup (or Delivery)
This is one of those tasks that makes you feel like a SUPER MOM, even on days when you really don't feel like it. Grocery pickup is sweeping the nation and moms with littles are all cheering and praising this new option.
Yes, there are fees – a personal shopper fee, or ingredient markups. But…it just might be worth it, depending on your stage and season in life. (See below for how to decide what to spend extra on to automate things.)
Grocery pickup is one of those things you might have told yourself you'd never do. However, it's one of the most time saving things you can do! When you're shopping pick items that aren't name brand to help you save even more money. Also, choose a grocery pickup that's free or reduced, so you're not spending a chunk of your grocery budget on just the pickup portion.
It's definitely worth considering – for either your 'weekly' shopping trips' or your 'just need to grab a few things' shops.
I shared more in-depth about the Pros and Cons of Grocery Pickup and Delivery here.
5. Subscribe and Save for Household Goods
Many of you are already Amazon Prime members, so this isn't going to cost you anything extra. Instead, you can automate part of your life in a frugal way. Choose items you use every month and set up the Subscribe & Save option. It's super easy to make adjustments in your Amazon account, or from the Amazon app. You'll save with the option, but it's also important to price compare across all retailers – online, big box and grocery store.
Choose the Subscribe & Save feature, when ordering, and you'll save money, plus have items delivered to your door every month! It's pretty awesome, especially if you're a busy mama! Not a Prime member, try it FREE for 30 days!
You can save with Subscribe and Save options on many popular products on Amazon.
6. Meal Prep Services
Have you ever used a meal prep service? I know, I know…they are expensive. And their marketing is MEH. (Like price is just $9, but that's $9 per serving.) I have tried them a handful of times in the past, in very specific situations…and I have to say, it was awfully convenient. (Even for me, the uber home chef girl!)
Everything you need is delivered right to your door, which can save you time and energy…but at a cost.
Read my Review and Thoughts on Marley Spoon!
Now, how do you decide what to automate?!?
Price Compare!!!!!
Look at your Budget!!!
Ask yourself, if I can automate this, and it costs this, and it will save me this…then it's worth doing!
Choose that "one thing that I just hate doing" and start there. Or the "I can never remember to…" and choose that one.
Little by little, you can make your life easier and more efficient! Families today are busier than ever, which means we have to find ways to make life easier. I hope these ideas have been helpful and that you'll get started today with automating something that's a struggle or challenge for you!
What are your tips for automating your life, while still being frugal?
Disclaimer: As an Amazon Associate, I earn commissions on qualifying purchases. Reviews, opinions are my own.