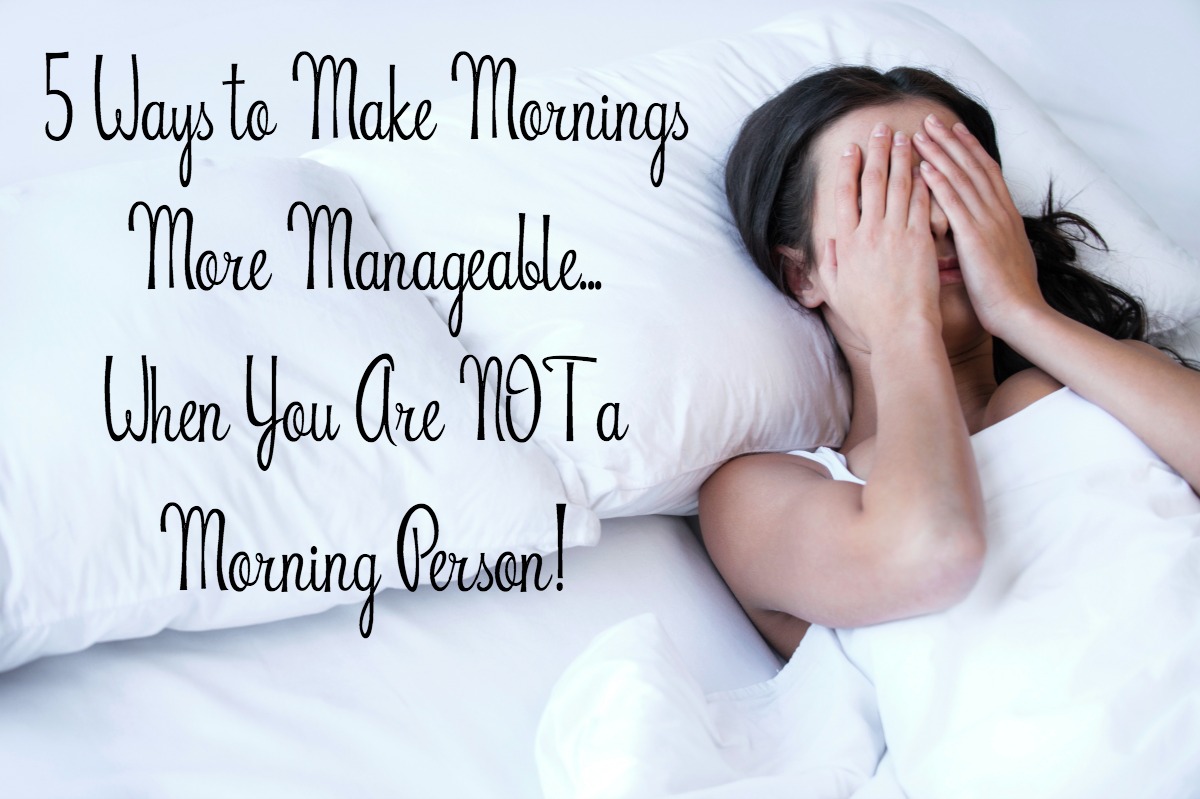 Hi. I'm Erin. And I'm not a morning person. Like, not at all.
I've tried to be a morning person. I really have. And I'm just not one.
So I gave up trying to be one.
I have read countless articles about getting up at 5 am and working, being most productive and hustling hard, then getting family and kids ready for the day. These articles claim that's the only way to "do it all well" and to be successful…but I completely disagree. That works for them. But that doesn't work for me…the non-morning person.
My prime "work hours" are 9-2…so that's how I've set up my schedule. Kids to school, exercise, work. It's perfect for me…but I still have work to do each morning. Including everything that has to happen in my "morning work block."
Being a non-morning person does, however, present a problem when you have 4 children that have to be ready, fed and out the door every morning for school…some mornings, there just isn't enough coffee!
Even still, I have learned to make the most of it..and have set up a few systems, checklists and routines that help make our mornings more manageable. There are many factors that come into play in the morning at our house…who woke up on the wrong side of the bed, whether or not Cuatro (age 3!) wakes up and needs 'snuggle time' before he's ready to be moving about on his own, what time our oldest (not a morning person, like his mother) gets out of bed, etc.
Our children are at different stages of needing assistance in getting ready for the morning, so it often feels like a juggling act in both getting them ready and supervising/watching them get ready on their own. I am very much a believer in equipping our boys for independence and the morning rush is actually an ideal time to do that…but challenging when you're not quite awake yet and would rather be sleeping. 😉
Ryan (almost 11) – he is pretty much on his own in the mornings. Some mornings I have to intervene, but not often.
Charlie (almost 9) – he is pretty much on his own in the mornings too, but still needs some verbal reminders.
Tyler (6) – he is having trouble with 'sequencing things' in general, so we are working on simplifying his morning routine and what he is responsible for and what I help him with. Some mornings are better and smoother than others, but he's the most "work in progress" kid for me right now.
Cuatro (3) – he can make his own cereal and toast, but I have to make his lunch and pack his school bag.
Here are some of my coping mechanisms, routines and strategies for making mornings manageable at our house:
1. Set up checklists and timers. The main reason that Ryan and Charlie are on their own in the mornings is because they have a checklist to follow. And my phone has timers that go off with different songs/tunes for reminders throughout the morning, but we mostly rely on it to all know when we need to be out the door!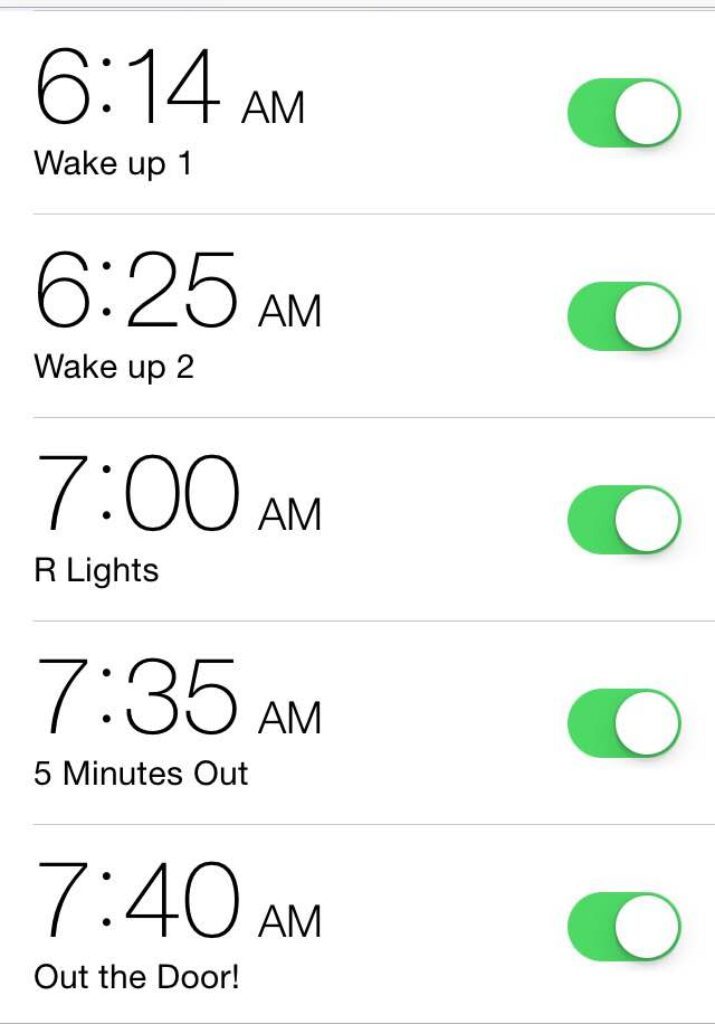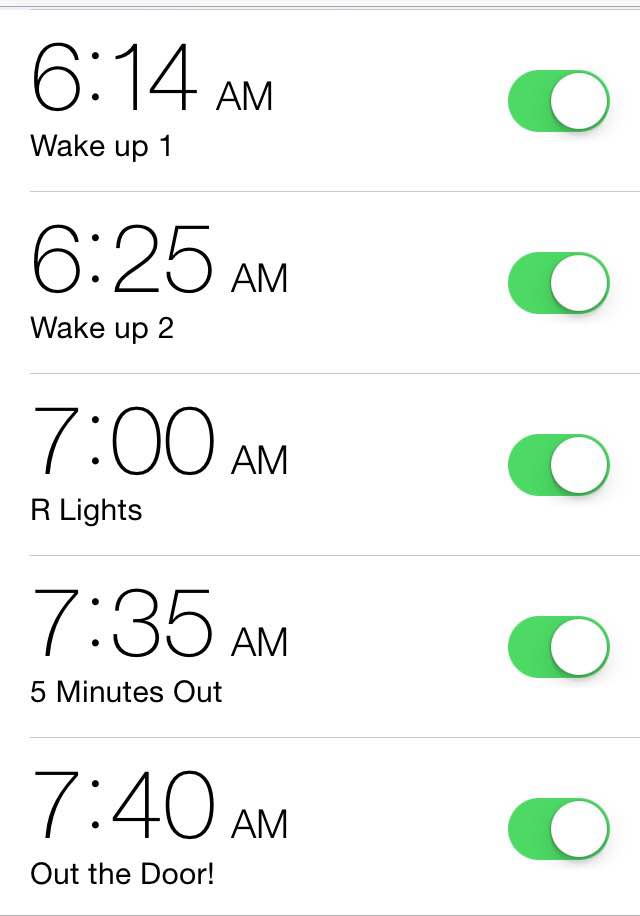 2. Allow for sleep to wake transition. This one goes for myself and my Ryan. (At least I understand and can empathize with his desire to keep sleeping! lol)
Use the snooze.
And use it well.
I have 2 snoozes/alarms every morning. Then, I force myself to roll out of bed. Then I act as Ryan's snooze button. He gets 2 warnings as well. The first I turn on his light, and he promptly covers his head with his comforter. The second, I pull the covers back and verbally tell him it's time to get up. And then he forces himself to roll out of bed, just like his mama.
Building in time for the sleep to wake transition for us has helped cut back on the crankiness level for us both! 😉
3. Use your night-owl-ness to your advantage. Every evening, I spend a few minutes getting ready for the next day – including reviewing and revising my work action item list, prepping for lunch or breakfast, and pulling out ingredients or meals from the freezer. Every little bit helps, but I'm also always thinking…What's one new thing you can do the night before to make life easier in the morning?
Some ideas for things to do the night before:
Chop fruit or veggies for lunch boxes.
Pre-pack snacks like chips, crackers and non-fridge food items.
Set lunch boxes and water bottles out onto counter.
Set out workout clothes & pack work clothes into work bag. (I do this on my running days.)
Tidy up or arrange items in stations for backpacks and bags.
Update or review kids' checklist with them before bed. Discuss new routines or strategies.
Pull out dinner to thaw.
4. Quiet time. This is a challenge for me…the whole finding quiet time in the morning. And I want to share I'm perfectly OK with that. Quiet time doesn't have to happen in the morning. It's actually better to make it happen when you are in your prime zone. Whether it's reading Scripture, doing yoga, meditating or just being quiet and still, plan that time into your schedule when you are awake, happy and ready for it. I utilize the time I have in the car waiting to pick up the boys every afternoon (long story about our school's pick up line…but it's a long wait and I sit completely still for a good 20 minutes every afternoon, before the line starts moving!) I use this quiet time every afternoon as a time to prepare myself for the after school 'storm.'
Also, resist the urge to fill your quiet time with other tasks or chores!
5. Use scents to wake you up. Let your favorite scents and smells help wake you up. Maybe it's the coffee machine firing up and brewing your favorite java. Maybe it's an energizing blend of essential oils that you have in the diffuser or put onto your wrists. Maybe it's your favorite body wash fragrance in your morning shower.
While my favorite moisturizer doesn't actually have physical properties to make me feel awake, just rubbing it on my arms and neck make me feel like I'm up and ready for the day…even if my brain isn't quite turned on yet.
Whatever it may be, find a scent that helps get your brain firing in the morning.
Now, your turn…I want to hear from you (whether you're a morning person or like me!) What helps you make your mornings more manageable???