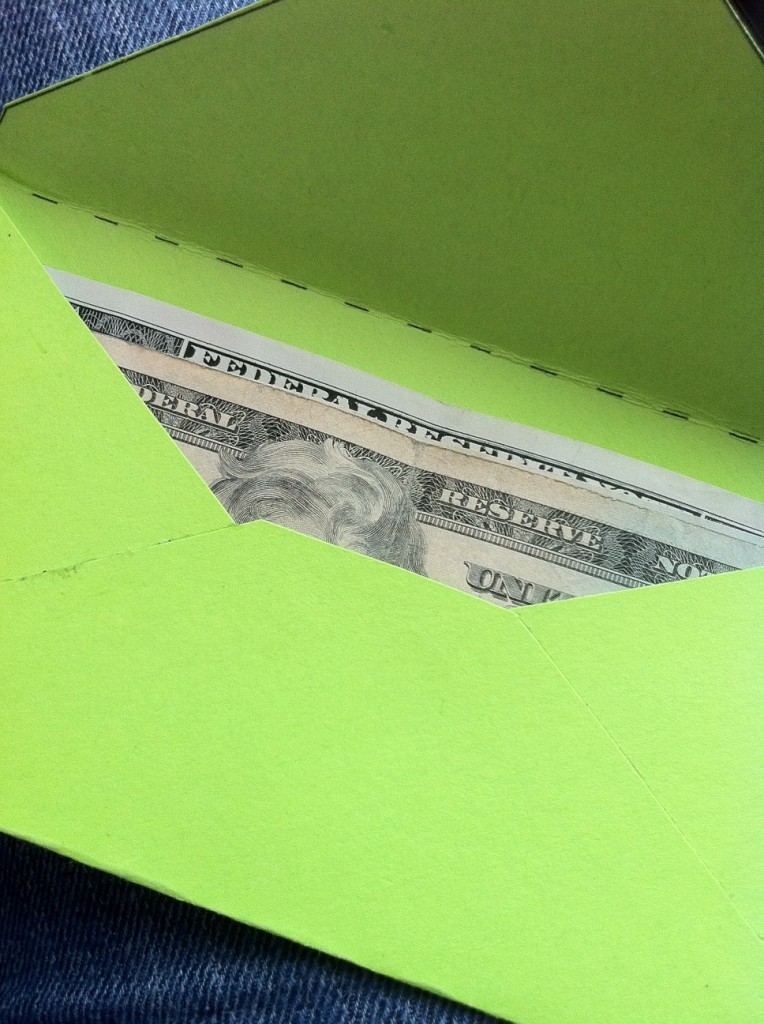 I've been using my cash envelopes faithfully, each month of this year. I have 4 envelopes for groceries, 1 for each week of the month. 1 envelope for "lunches out." And another envelope for "blow money." We recently added the "blow money" envelope because we found that our miscellaneous monthly expenses were going beyond what we had intended.  By putting these kinds of expenses into "blow money" and using cash only, we have seen a significant drop in our miscellaneous expenses.
Steve keeps the "restaurants" envelope and we use it for those days when this mama needs a break from cooking.  We often eat at Subway and take advantage of the 3/$12 footlongs after 4 pm…which is plenty to feed our family.  And for date nights we splurge and go somewhere more exciting and fancy 🙂
Overall, using the cash envelope system for all of our food expenses, grocery to lunch to dining out, as well as our miscellaneous expenses, has been such a blessing to us and to our financial situation.
Once you can get past the "but I just want to get" emotions when you are out of, or almost out of cash, you will be on the road to better financial (and emotional, spiritual, mental) health.
Here are 5 reasons why I love using my cash envelopes…
1. Accountability. When you are out of cash, you are out of cash.  Using cash helps keep you accountable to your planned expenses, and to your budget.
2. Emotional Separation. I have tried a number of different tactics for grocery shopping specifically…using the debit card, using a pre-loaded gift card, and using cash…and there is just something different about cold hard cash.  As opposed to cold hard plastic. Swiping your card means nothing.  You don't see the $$ leave your bank account. You don't "feel" it leave your bank account. And you may not even see the end of the month statement, if you don't handle the family finances.  In this case, it really does mean nothing to you. It's like it's free money…floating around in cyber-bank-grocery land. But using cold hard cash requires a physical transaction, that has emotional meaning. There is an emotional separation aspect to using cash that is just not present when using whatever type of plastic.
3. Focus. Using cash forces you to focus, day in and day out, on your spending. It forces you to think ahead.  It forces you to focus on your goals (more on those in a few).  Lose the focus and your money will start slipping through your fingers.  Perhaps I could liken using cash to taking ritalin. Ritalin is to a child with ADHD as cash is to an overspender or shopaholic. It helps you focus! (Does that work…it makes sense in my brain!?!)
4. Planning your Purchases. You won't know how much cash you will need unless you plan your purchases.  Once a week, Steve and I sit down for a "Sunday Night Meeting."  These meetings allow us time to look at the big and small picture of our finances.  They allow us to plan our purchases and help us make decisions about things big and small, like when to buy the big filing cabinet, when we can plan to replace our bed, and how much we can be putting away for retirement and college funds. These meetings helped us to pay off our van debt in a year and to up our retirement and start college funds for the boys.  Without this time where we discuss our planned purchases and expenses for the week, we'd still be making van payments long after we needed to be!
5. Financial Goals. As mentioned, using cash has helped us attain our family financial goals at a much faster pace than if we'd not be using cash and paying such close attention to our spending.  I can tell you this for sure, we would not be debt free, we would not be saving for retirement and we would not be setting money aside for college funds if we were not using cash on a daily, weekly and monthly basis.
With a few goals, a little planning, some focus, accountability and cash envelopes in hand, you'll be well on your way to financial freedom.
Do you use cash envelopes for grocery shopping or other parts of your family budget?! What do you like, not like, about them?!  If you haven't used them, are you willing to give them a try?!