That's right – $5 Dinners turns 11 this week.
It was August 22, 2008 that the first ever post was shared here on the website. And we've come a LONG LONG LONG LONG way since then!
It has been a joy and privilege to get to spend the evenings with you at your dinner table over the years.
And to get to speak encouragement and knowledge into your world and life.
And to share so many delicious recipes, frugal ideas, and money-saving hacks with you over the years.
I've also listened and heard you ask for this and that. And am so grateful to have been in a position to create and build so many amazing resources and tools for you.
When this little blog started 11 years ago, I had absolutely no clue the impact that it could/would have in so many family's lives.
Not long ago, my boys were asking how many people had ever visited the $5 Dinners website.
I wasn't sure, so I looked it up.
60 MILLION.
I mean…what???????
I'm completely blown away by that.
I had no clue that this little corner of the internet could/would morph into a business that would bless both our family and millions of others too.
11 years is a LONG time to be in business here on the internet, and basically makes me a grandma in the internet business world. (lol)
To CELEBRATE…….we are going to SALE-ebrate.
(See what I did there!)
We have all kinds of savings happening this week – on some of our RESOURCES AND TOOLS.
Because each are unique, we have some unique codes and options for you.
All around the number 11.
11% off.
$11 off.
Free Shipping.
We have everything listed and spelled out for you here on the 11th Anniversary page!
Tap the banner above, or this link to score you savings!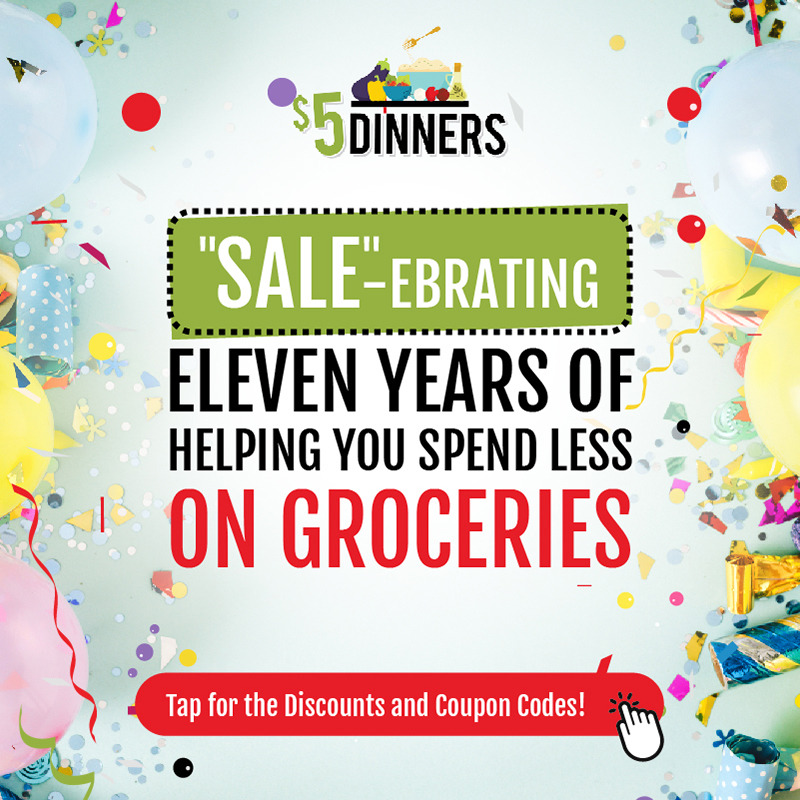 Want to get to know Erin and $5 Dinners better? Sign up for her free email newsletter and she'll fill you in on all that we have happening around here each week!