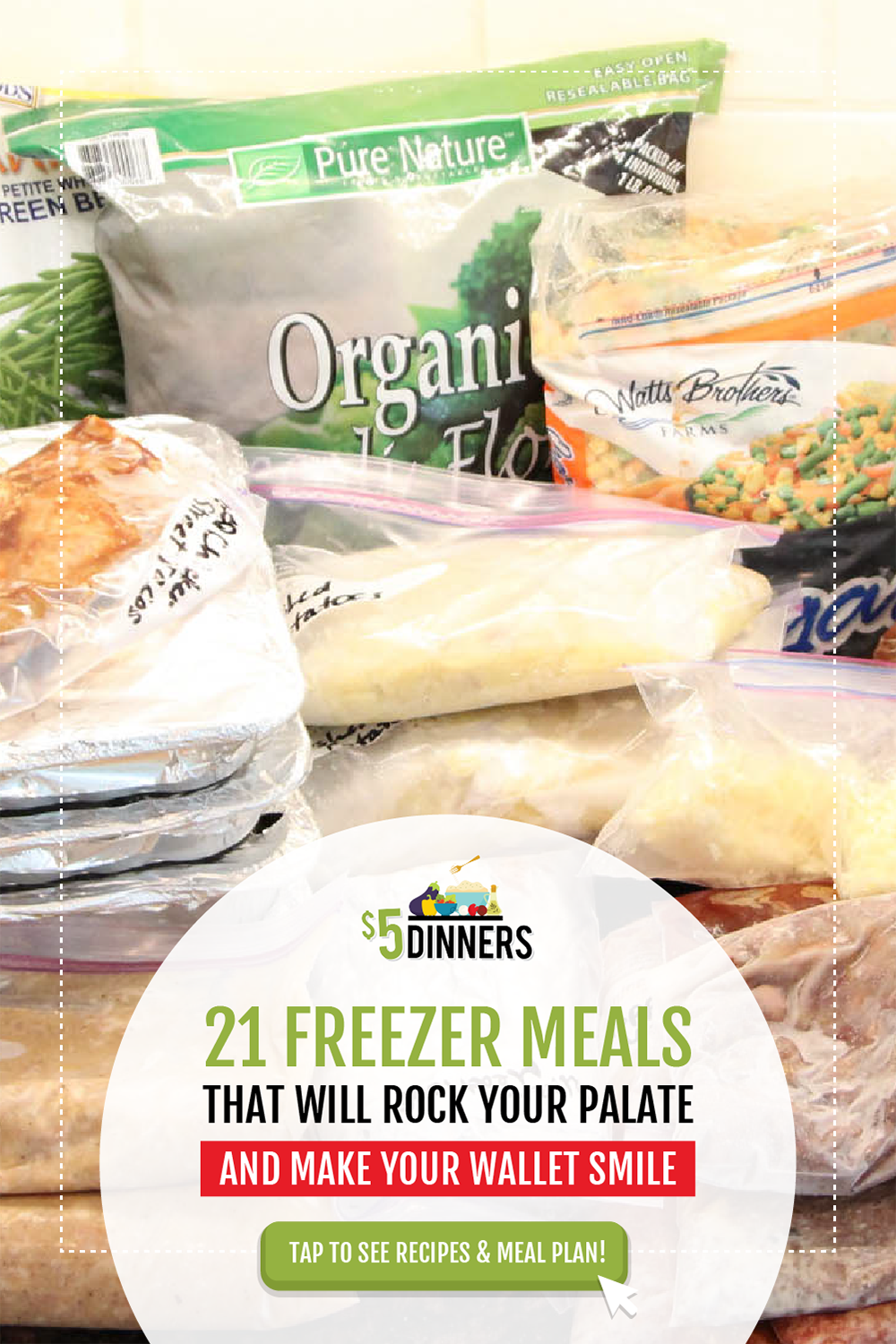 Friend. Can we chat for a minute?! I am completely blown away by how much you love these meal plans. Seriously, THANK YOU for sharing these plans with your family and friends, emailing me, sharing on Instagram and Facebook and for whatever way you spread the word about these meal plans. I'm filled with gratitude and will continue to work hard to provide great meal plans for you….including this next one.
I absolutely adore the meals and recipes that are in this plan. If I had to make a list of our family's top 20 meals, all of these would be on that list. These are tried and true recipes, some that have been around for years and other newbies that will not disappoint. I wanted to add a note that these are NOT the same as the slow cooker freezer packs from the last plan…these are sauces and roasts with marinades and other dishes that are freezer friendly!
I've pieced together another amazing plan with favorite recipes that will not disappoint!
And to answer the burning question of why these dinners are more than your typical $5 price point…I realize this makes for roughly $7.50 dinners. Meat at Costco is more expensive than sale prices at grocery stores, and many argue that the quality is better, which according to their policy of only carrying Choice and Prime grade meat makes sense! If you have other questions about these plans, you can learn more on our 20 Meals for $150 Plan's FAQ & 'Disclaimers' page.
Before we get to the plan, I need to share the MAJOR IMPROVEMENTS that we've made to the plans and to the website…
We made dramatic changes to the Assembly Process & Instructions and they will be much more clear for you to use as you assemble and cook the meals in this plan.
We had a professional come in to shoot the videos of the assembly process…no more blurry screen and difficult times hearing me…the downside of shooting videos in your kitchen from my laptop! I brought the big guns in and you're going to love these exclusive videos (and all the 'live bloopers' too)!
We are offering a gluten-free version of this plan.

Now, let's dig into the plan….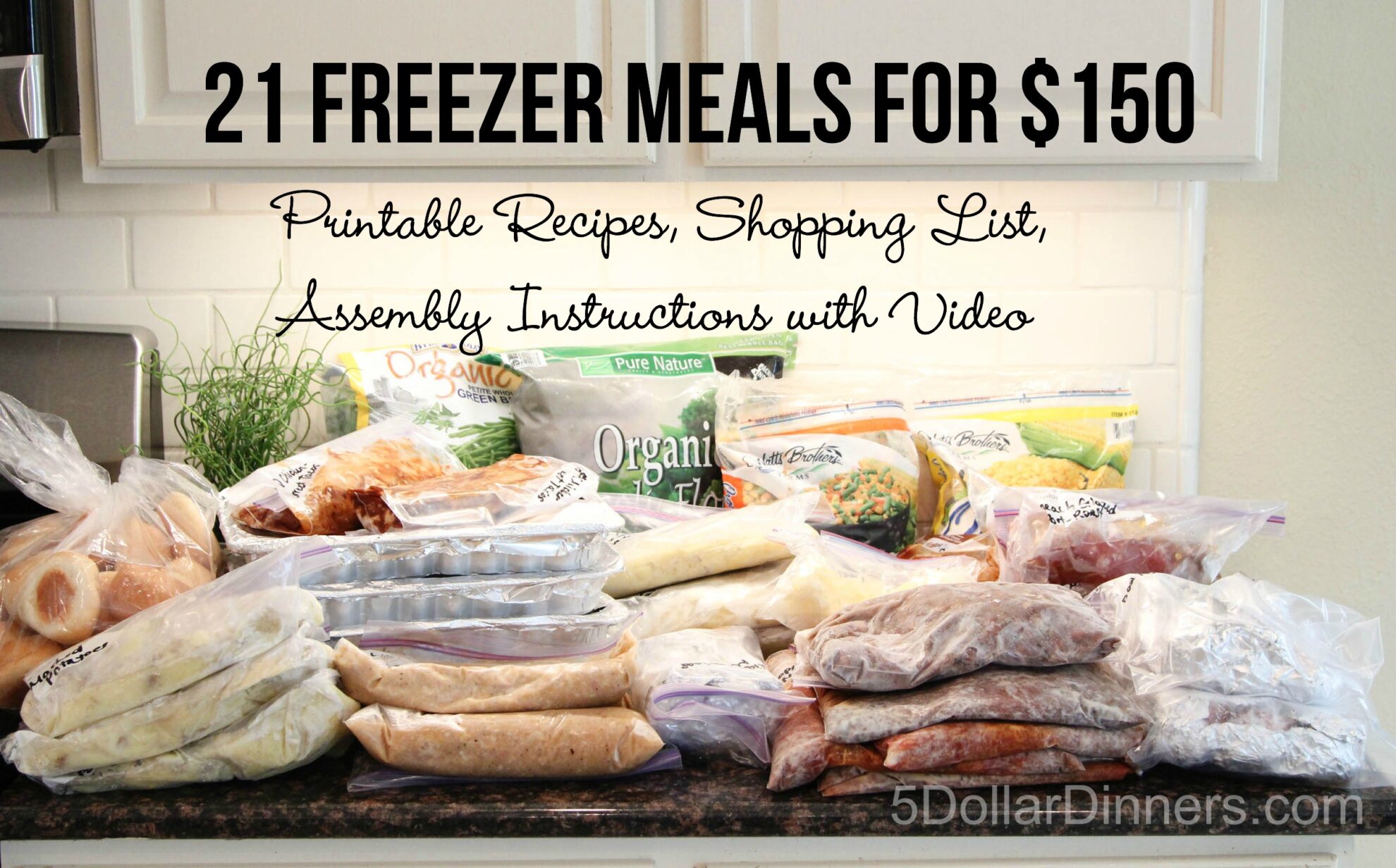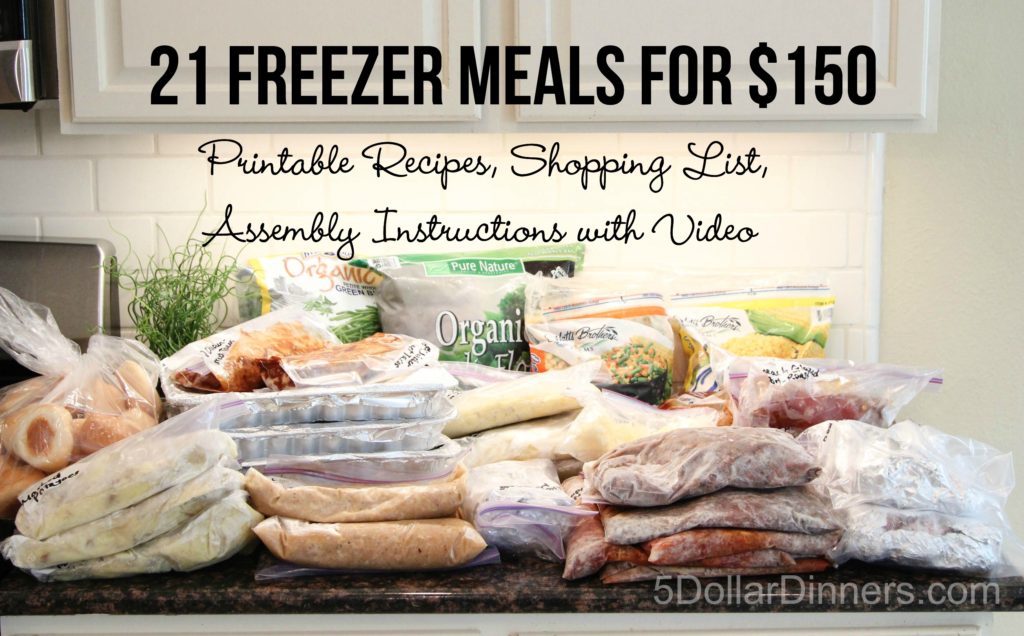 Recipe List
Each recipe serves a family of 4. Larger families or families with bottomless pits (also known as teenage boys!) will need to adjust the plans and ingredient amounts to meet your family's needs.
BBQ Meatball Sliders with Frozen Vegetables
Herbed Meatballs with Pasta & Frozen Vegetables
Italian Meatloaf with Mashed Potatoes & Frozen Vegetables
(2) Black Bean Chili with Mashed Potatoes & Frozen Vegetables
(2) Sloppy Joe Sliders with Frozen Vegetables
(2) Classic Spaghetti with Meat Sauce & Frozen Vegetables
(2) BBQ Pulled Pork Roast with Mashed Potatoes & Frozen Vegetables
(2) Peach Glazed Pork Roast with Mashed Potatoes & Frozen Vegetables
(2) BBQ Chicken Street Tacos with Black Beans & Corn
(2) Red Chicken Enchiladas with Salad
(2) Cajun Chicken with Spaghetti with Frozen Vegetables
(2) Black Bean & Corn Enchiladas with Salad
Did you know that I've developed a super cool software that will allow you to create your own Costco plans?!? Click to learn more!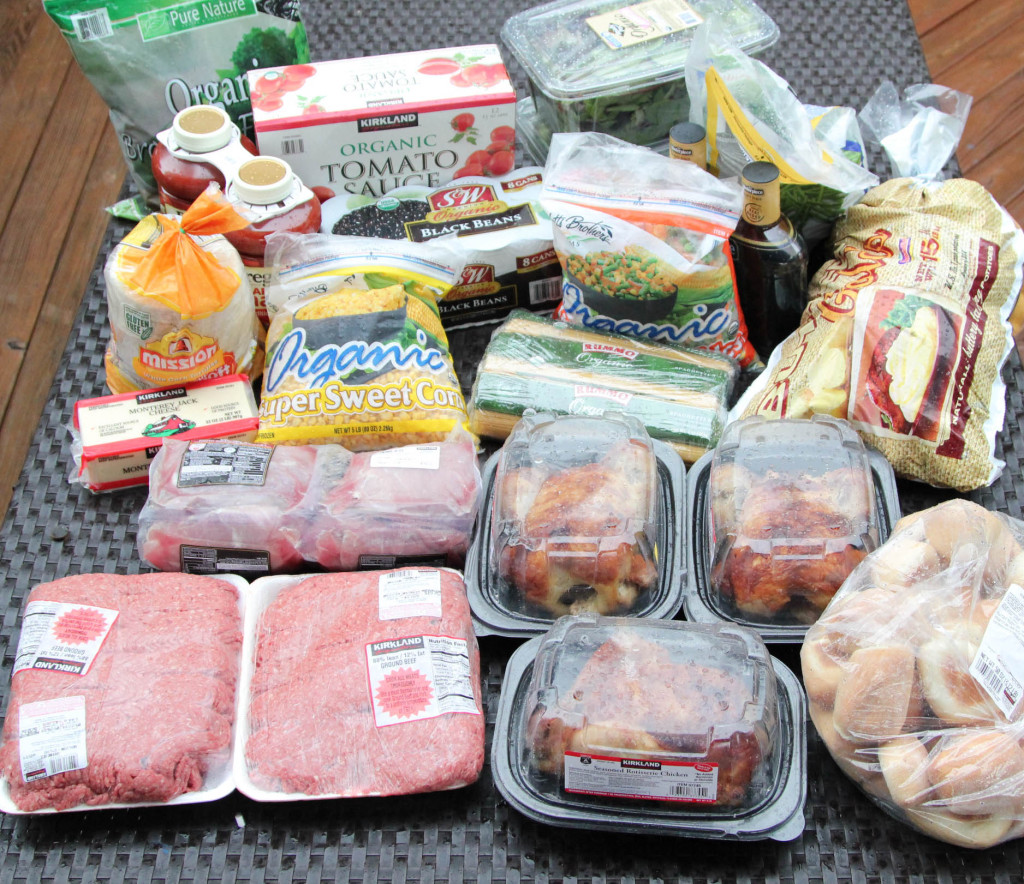 Freezer Meals – Ingredients & Price List
2 – 5ish lb. packs ground beef – $20.65 & $19.72
1 – 4 pack pork roasts, about 8 lbs. total or 2 lbs. per roast – $19.72
3 – 3 lb. rotisserie chickens – $4.99 each, $14.97
36 ct. bag Costco dinner rolls – $4.49
100 ct. corn tortillas – $3.19
15 lbs. gold potatoes – $7.49
Salad – 2 clamshells – $3.99 each, $7.98
1 – 5 lb. bag frozen mixed vegetables – $6.69
1 – 5 lb. bag frozen broccoli -$6.29
1 – 5 lb. bag frozen green beans – $6.79
1 – 5 lb. bag frozen corn – $5.99
2 pack – 45 oz. bottles BBQ sauce – $5.99
12 pack – 15 oz. cans tomato sauce – $7.59
8 pack – 15 oz. cans black beans – $6.79
2 pack – 67 oz. jars spaghetti sauce – $7.49
6 pack – 1 lb. pasta noodles – $6.59
2 lb. cheese block, Monterey Jack variety – $5.99
Total – $164.41
Anticipated Leftovers
28 corn tortillas $1
3-5 lbs. potatoes $2
BBQ Sauce $3
Spaghetti Sauce $2
1 lb. pasta noodles $1
2 cans black beans $1
4 cans tomato sauce $2
Estimated Cost After Leftovers $152.41
There are a variety of additional items you'll need to have stocked in your pantry or purchase at the grocery store like chicken broth, butter, eggs, milk, spices, etc. All of these items are too expensive to purchase at Costco or come in way bigger containers than needed for these 21 meals.
Subscribe to our free weekly recipes email newsletter so you don't miss any exciting new plans and recipes! !
Make it simple…with 1 of these 2 packages!
Let us make the experience of preparing these meals simpler and easier. There are 2 packages to choose from…
Complete Package
One of the most challenging parts to pulling together a large number of meals like this at once is knowing what to do first, next, then and last. When you do things 'out of order,' it really can mess up the assembly process and cause you to waste a.lot of time in the kitchen. I've created several new printables and instructional videos that will actually make the assembly as smooth and quick as possible for you. Seriously, I might have done a celebratory dance when I finished the assembly…and you will want to as well!
Complete Package – Printable Recipes, Grocery List & Assembly Instructions

Printable Assembly Instructions – step by step guide to pulling all these meals together and into the freezer
Printable Labels – you can print these out onto Avery #6874 label paper and stick them to your plastic baggies or containers.
Instructional Assembly Videos – exclusive access!
Full Recipes & Grocery List Printables are included as well
Basic Package
Basic Package – Printable Recipes & Grocery List Only

Printable Recipes
Printable Shopping List
You don't need to purchase this if you purchase the Complete Package above!
You can find the ALL of the Costco Meal Plan Printables, plus more in the new E-store page. Once you've chosen all the ones you need, you can checkout and get all the printable at once!
NOTE: Please download these files directly to your computer within 72 hours, then you can add to your e-reader/phone/tablet. If you have issues with the download, PLEASE EMAIL ME! I'll be able to help you out!
Did you know that I've developed a super cool software that will allow you to create your own Costco plans?!? Click to learn more!

Interested in a weekly meal planning service that takes all the headache and stress off your shoulders?! Sign up for a FREE 4-Week Trial at 5DollarMealPlan.com!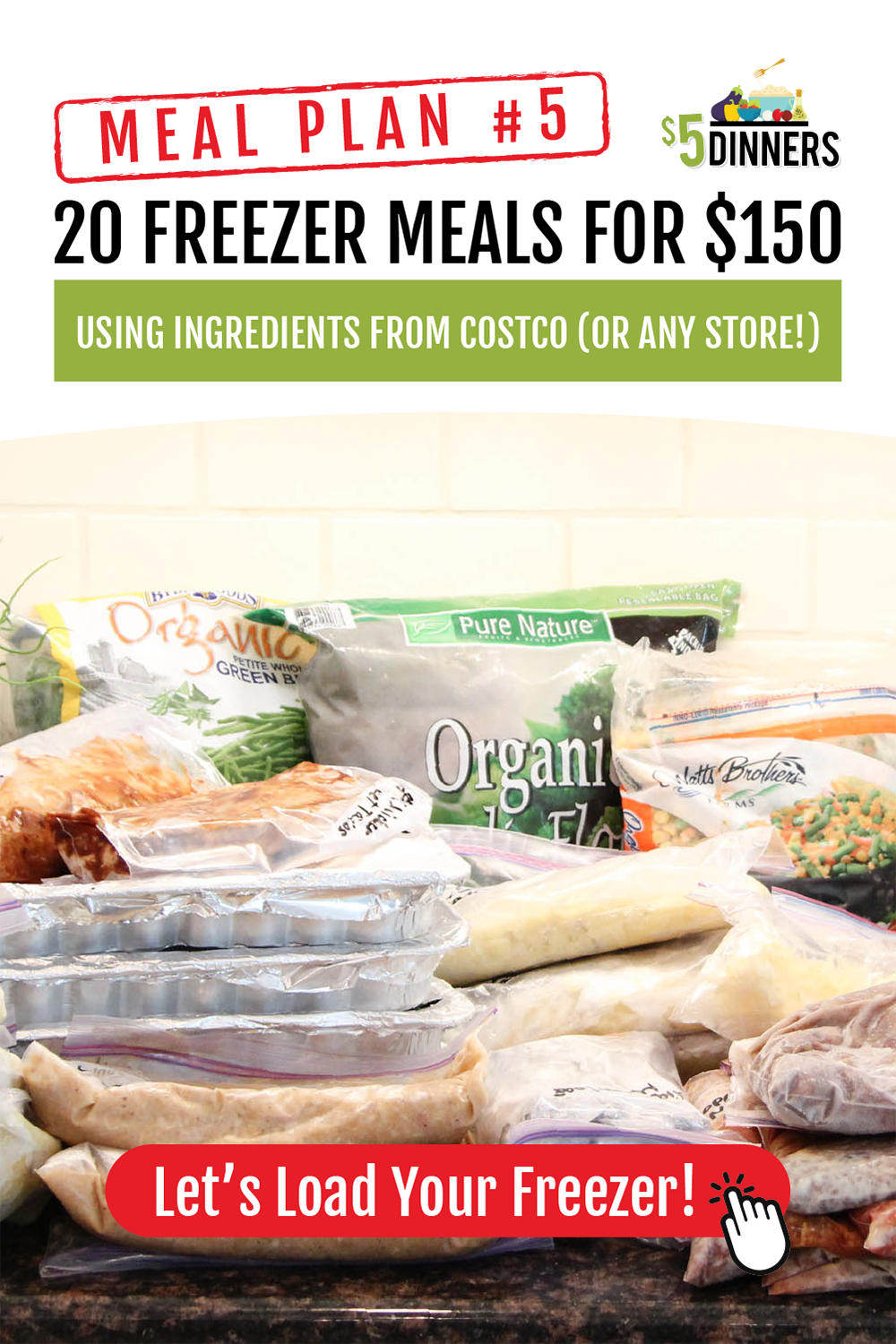 Disclaimer: I have no formal relationship with Costco and am not paid by them to share these plans. I created these plans to help myself (and you!) spend less money at Costco, while using up all the bulk ingredients without them going to waste. Hope they help your family as much as they help our family!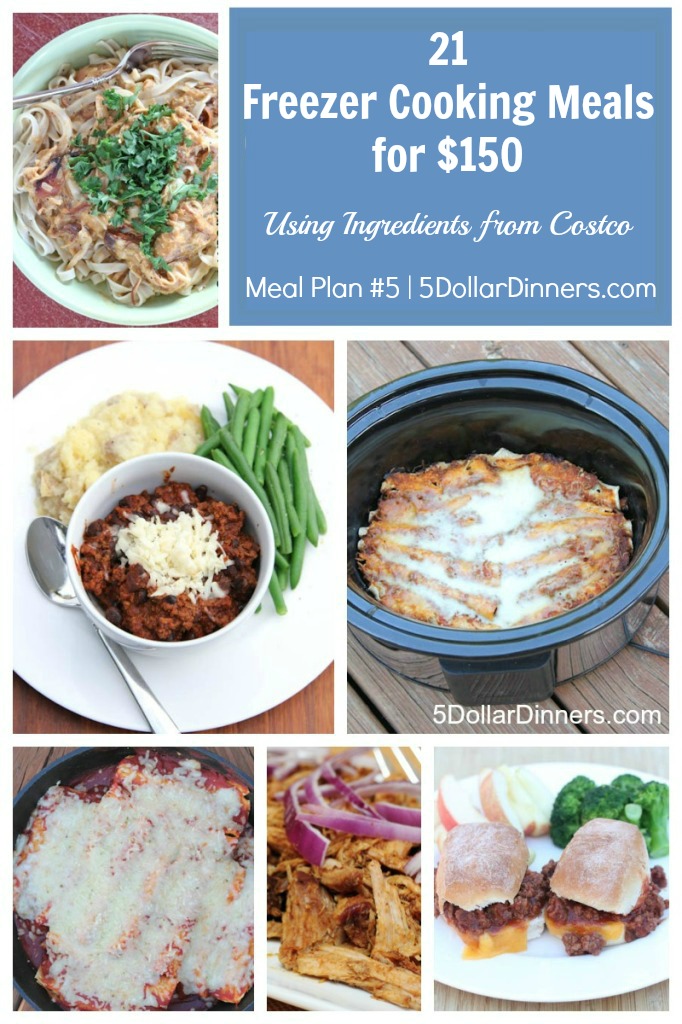 Disclaimer: As an Amazon Associate, I earn commissions on qualifying purchases. Reviews, opinions are my own.