"Goal Get 'Em!"
Words to live by, right in the front of the 2020 Powersheets & Goals Planner from Cultivate What Matters
"You know all those things you want to do. You should go DO THEM."
Those are Lara Casey's words and also words that I've lived by for years. Even before I knew Lara.
Just Do The Thing.
"Those who fail to plan, plan to fail." (Or just not accomplish as much!) Ben Franklin and Winston Churchill got this right too.
If you ask me how I've been able to build such amazing resources over the past few years as a "solo-preneur with a small part-time team" – the answer involves the following:
My team is AMAZING. And they believe in our mission, and work hard to meet your needs.
I have laser sharp focus on what we need to do, and how we need to do it.
I have said no to all.the.things. (And yes to all the important things.)
I stay the course.
That begs the questions….
How do you know the course and stay on it?
Well…in my experience and opinion, knowing the course has 3 different levels.
High Level: The general road map and plans for your work. (This is where Powersheets come into play.)
Mid Level: Things that need to happen in the next week or two.
Daily Level: Things that need to happen today, this hour, and right now.
Keeping these levels and tiers in line has been the KEY TO MY SUCCESS.
And it starts with the "high level" planning that I do every quarter and month in my Powersheets notebook.
What's New with the 2020 Powersheets & Goals Planner
The first thing I noticed were the 4 gorgeous new colors.
And I chose pink…because I have a whole lotta blue in my life! 😉
The second thing I noticed was the cover is now officially hardcover with corner protectors.
And third – they are now made with metal (vs. plastic in years past – see photo below) coil binder.
The interior pages are very similar to years past and I can't wait to dig into the 2020 pages soon.
How I Use Powersheets Specifically
I fill in my Powersheets at the beginning of the year for the upcoming year. Then, I do a review of them every quarter to assess my progress. And then I fill out the monthly tending list…every single month. Without fail.
This helps me keep a "birds eye view" of all the projects that are happening in my businesses, as well as any personal goals or milestones that I'm trying to meet. And I include goals for my boys on that list too.
Having a big picture view – all the way down to the monthly view helps me fight off any overwhelm…because "I know I have time and energy to get that done."
Yes, it's a bit of a skill that needs developing and a discipline that needs to be practiced.
But BOY OH BOY…when you start tracking, achieving and setting greater and greater goals — WATCH OUT WORLD.
I am starting on my SIXTH YEAR with Powersheets (you can see that I have one in a binder, before they were even coil bound!)
Follow @iamerinchase on Instagram and I'll tell you more in Stories/archives!
Powersheets have been a huge driving force for me – both personally and professionally.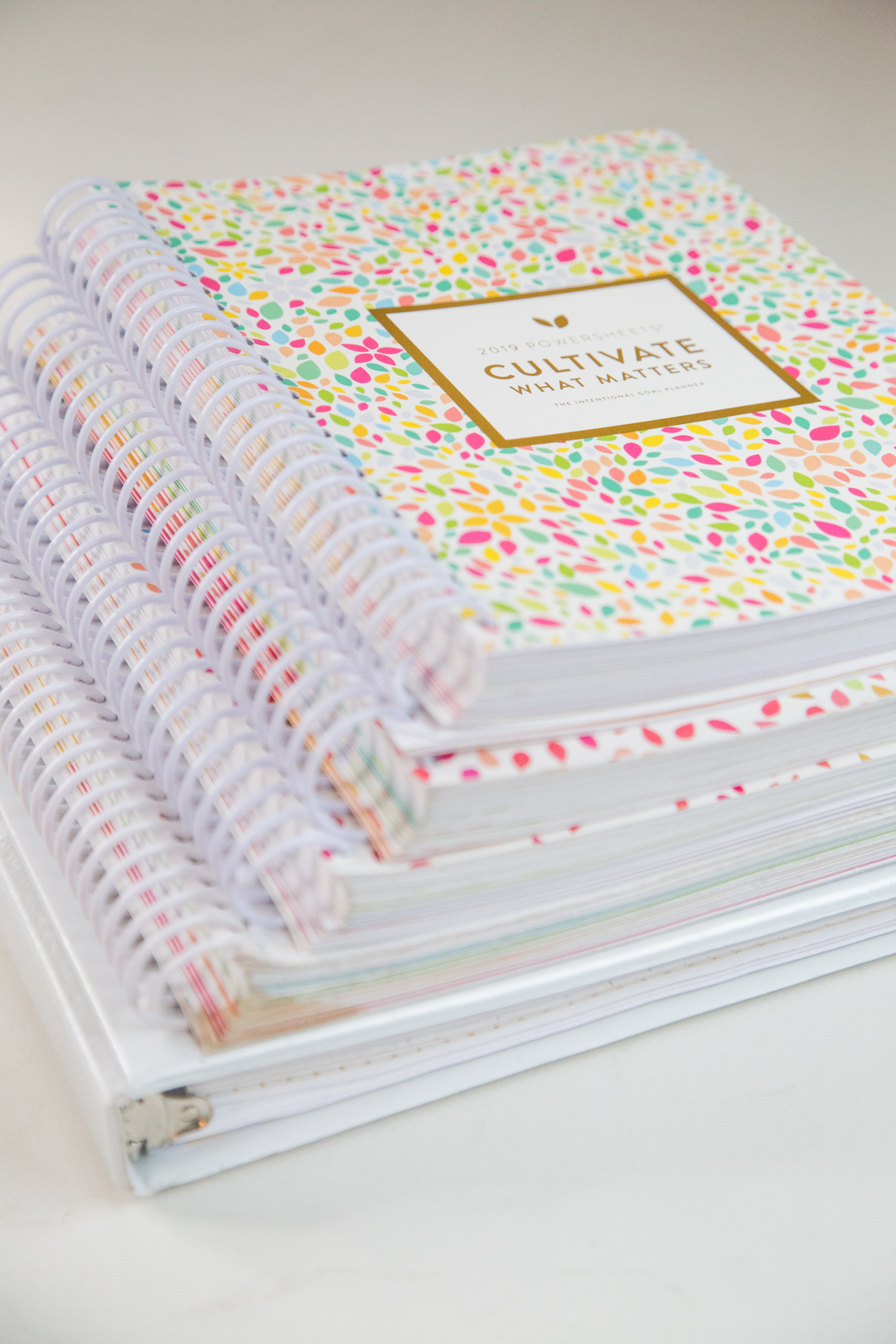 This is the past 5 years of my powersheets – well used and loved!
Tap here and see how you can bring your goals and dreams to life!
Disclosure: This post contains affiliate links and a small commission is generated when you order your Powersheets. Opinions and my Powersheets fangirling is just me being me. 😛