Erin's 2020 Black Friday Deals & Doorbusters!
The information for the Black Friday-Cyber Monday deals is below.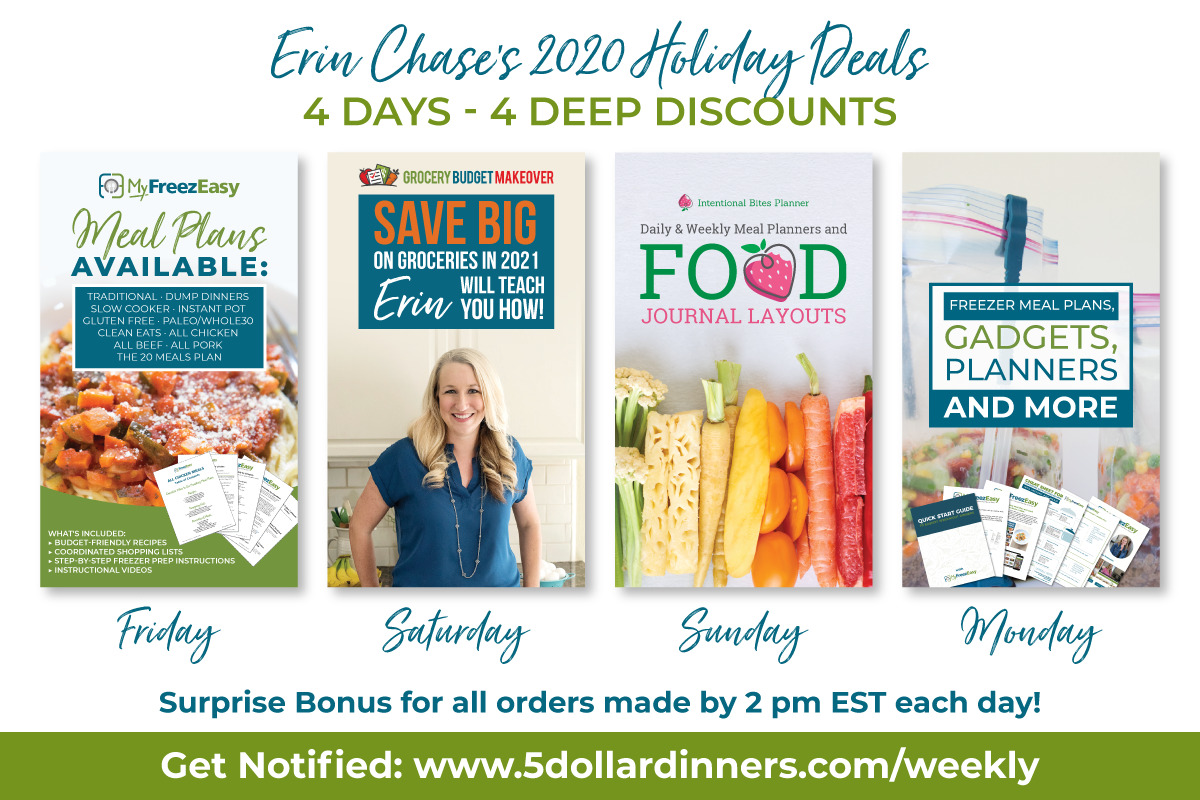 Because 2020 has just been a different year (to say the least), I thought I'd do something a little different with our annual Black Friday-Cyber Monday sale.
This year, we've added DOORBUSTERS TO EACH DAY of the sale.
For all orders of made before 2 pm of each day, a different Doorbuster Bonus Product will be added to your order.
Watch this little explanation below…
THINGS TO KNOW:
Coupon Code: TWENTY (valid all day, all four days)
Doorbuster Deals: only available on the day listed below, and only for orders submitted before 2pm EST
Friday, Nov 27 – MyFreezEasy Memberships 20% OFF
**Doorbuster Deal: FREE set of bag holders for any Annual or Quarterly Membership signup**
This deal is for you if you: NEED EASY DINNERS.
Or to spend less time in the kitchen. Or have more time to watch cat videos or dust your ceiling fan or play with those little cherubs in your home. 😉
Saturday, Nov 28 – Grocery Budget Makeover 20% OFF
**Doorbuster Deal: FREE GBM Workbook**
This deal is for you if you: ARE TIRED OF SPENDING ALL YOUR MONEY ON GROCERIES.
Workbook will be mailed to you.
Sunday, Nov 29 – BOOKS 20% OFF
WOAH. There are three different doorbuster deals for this special day!
COOKBOOKS
**Cookbook Doorbuster Deal: FREE Quick Start Guide**
This deal is for you if you: LOVE COOKBOOKS AND EASY RECIPES AND FREEZER MEALS
INTENTIONAL BITES PLANNER
**Intentional Bites Planner Doorbuster Deal: FREE Digital Bonus Pack**
This deal is for you if you: NEED TO GET YOUR MEAL PLANNING ORGANIZED
WHIS-KID GUIDEBOOK & VIDEO LESSONS
**Whis-Kid Doorbuster Deal: FREE silicone oven pinch mitts**
This deal is for you if you: NEED YOUR KIDS TO COOK YOU DINNER. Okay, or you just want them to learn important kitchen skills! 🙂
Monday, Nov 30 – Erin Chase Store 20% OFF
All physical products are TWENTY percent off. Discount is automatically applied to your cart! 🙂
**Doorbuster Deal: Surprise fun freebie, handpicked by Erin, added to your package**
This deal is for you if you: LOVE ONLINE SHOPPING AND COOL STUFF
Note: the surprise doorbuster bonus will only be available for physical product orders and not digital PDFs.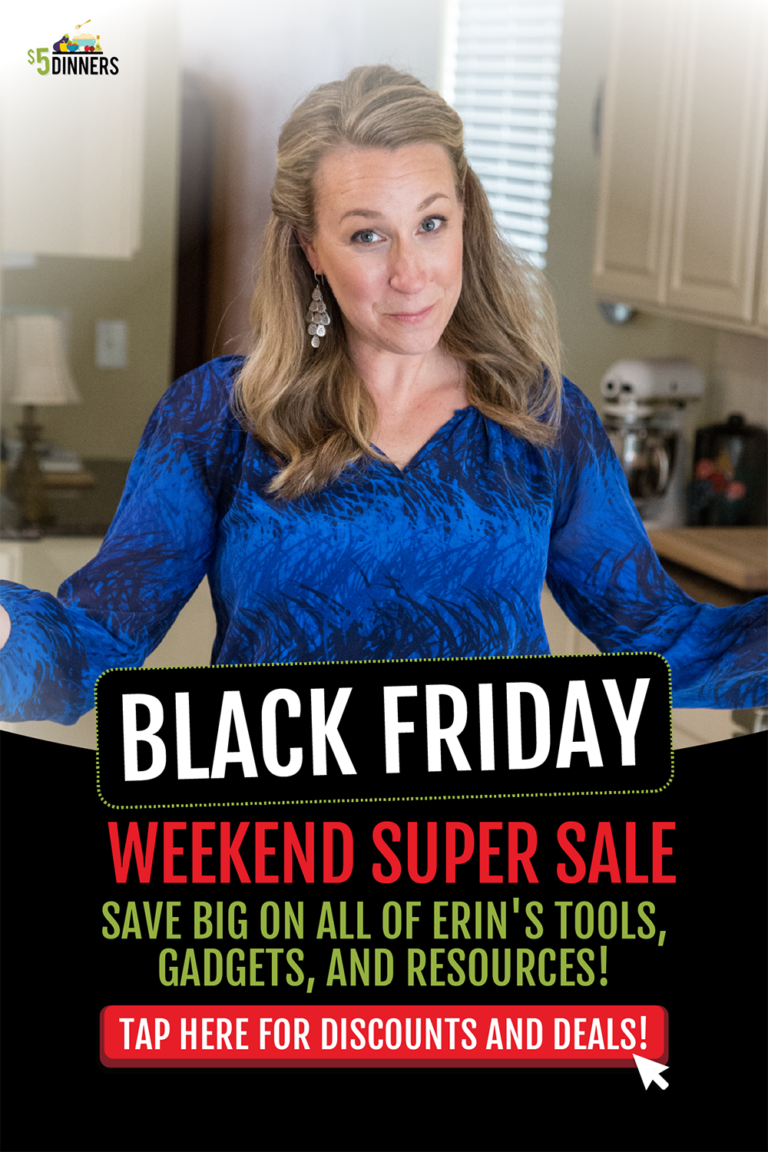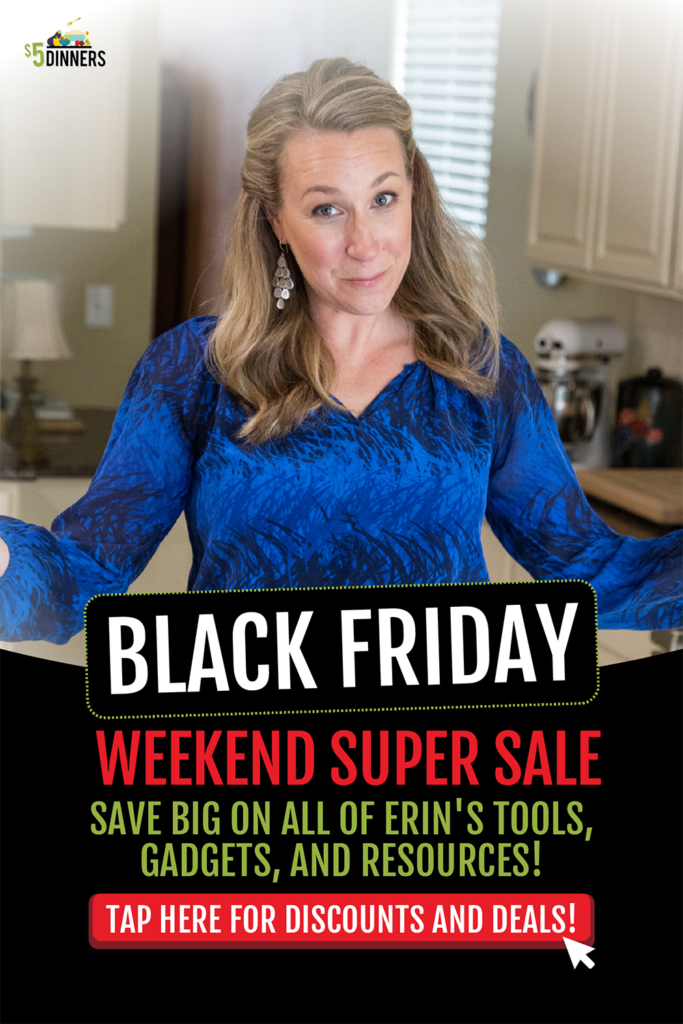 Still have questions? We have answers!
Can you order something each day? Absolutely!
How is the bonus delivered? All doorbuster bonus deals items will be mailed out next business day. Except for the Intentional Bites Bonus Pack, that will arrive instantly into your inbox!
For more answers, email us at [email protected] or tap the little chat box in the lower right corner on any of the websites!
xo
Erin