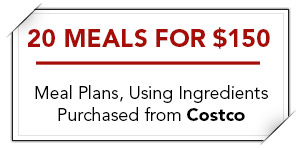 Did you know that I've developed a super cool software that will allow you to create your own Costco plans?!? Click to learn more!

Have you been following along with our Warehouse Store Meal Plans found here?  If you are new to the series, then you'll want to read the following Frequently Asked Questions about our Costco plans:
Why is the price for each meal in these plans greater than your normal $5/meal price?
I realize this makes for roughly

$7.50 dinners

. Meat at Costco is more expensive than sale prices at grocery stores, and many argue that the quality is better, which according to their policy of only carrying Choice and Prime grade meat makes sense!  Plus, you'll have LOTS of leftovers, which you'll see on each plan that helps reduce the actual meal prices!
You could absolutely play the game of getting the meat when it's on sale at the grocery store and get the remaining bulk ingredients at the warehouse store. I would estimate you would save between $15-25 in savings by getting the meat when it is on sale at another store.
Will I find the exact same pricing in my area?
Hopefully! But, know that prices may vary by region and season.
How many people does each meal feed?
Meals are for a family of 4. Larger families, or families with teenagers will need to adjust quantities.
Are any of the meals freezer friendly?
Will my family (especially my kids) enjoy the meals?
Meals are as kid friendly, family friendly, and allergy friendly as I could make them. Hopefully you will enjoy them!  As always, you are responsible for reading labels and ensuring that everything meets your family's needs, especially on our Costco Gluten Free meal plan.
Do you have any food allergy friendly Costco Meal Plans?
Do I have to stick to the exact recipes and ingredients in the Costco plans?
Absolutely NOT!  I encourage you to "Mix and Match Meals" because of the bulk purchasing!  This is really a game of mixing and matching ingredients. The ingredients are very common and work in a wide variety of recipes, so feel free to use them in other recipes besides those listed on each plan.  Nothing is set in stone!
Will I have to purchase any other ingredients to make the meals?
Some pantry and fridge ingredients like milk, butter, spices etc. are not listed on the Ingredients List, since most household already have those items.  However, every ingredient you need for each recipe is listed on each individual recipe linked on each plan AND on the Printables at the end of each plan.
Do I have to purchase the printables to use the meal plans?
No, you are not required to purchase the printables.  To make your life easier, we have created very helpful printables with all of the information you need including full recipes, Costco shopping lists, a list of additional items from your pantry or grocery store you'll need, freezer instructions, and more.  We think you'll find the inexpensive printables well worth the price!
Can I use these plans at other stores?
Absolutely! You could also get the printables and make adjustments to what you would find in a traditional grocery store or other warehouse store. You can find all of the printables here.
Disclaimer: I have no formal relationship with Costco and am not paid by them to share these plans. I created these plans to help myself (and you!) spend less money at Costco, while using up all the bulk ingredients without them going to waste. Hope they help your family as much as they help our family!