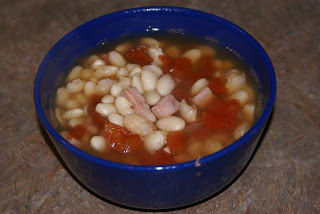 Ingredients
1

cup

dried great northern beans ($.30)

6-8

cups

of water

6 garlic cloves, sliced ($.05) I bought some garlic heads for $.10 a piece a few weeks back 🙂

.6

lb

ham, diced ($2.64)

1 can organic no salt added diced tomatoes ($.50) Bought with $1 Q when on sale for $1.50

1 tsp Italian seasoning ($.05)

2

cups

chicken broth

Salt/pepper, to taste

1

cup

rice ($.20)

Serve with 1 bunch (lb) asparagus ($1.49) Price matched at WM

2-3 tsp extra virgin olive oil ($.05)
Instructions
Rinse beans. Soak white beans in water overnight, or in HOT water for at least 2 hours. Drain water and place beans in pot. Add 6-8 cups of water. Bring to a boil. Then reduce heat and cook on medium for 1 to 1.5 hours.

Once beans are cooked and soft, add can of tomatoes, garlic slices, chicken broth and ham. Cook on medium-high for 10 more minutes.

Cook 1 cup of rice in 2.5 cups of water. Bring water boil. Add rice. Return to boil. Cover rice and simmer for 20 minutes. Add salt and pepper to taste.

Saute asparagus in extra virgin olive oil for 4-5 minutes, until turns brighter green.

Serve soup with a side of rice and sauteed asparagus.
P.S. This soup would have been a little tastier if I had used some of my FREE chicken broth from the freezer. Now I know for next time. And might I suggest 2 cups or a can of chicken broth be added to this recipe!